PICTURES 2012


BILDER 2012


BILDER 2012




March in Dalsland - much warmer than normal - winter has almost gone, only the ice on the lakes is left...


März in Dalsland - viel wärmer als normal - der Winter ist eigentlich schon vorüber, nur das Eis auf den Seen ist noch da...


Mars i Dalsland - betydligt varmare än normalt - vintern är så gott som över, bara isen på sjöarna finns kvar...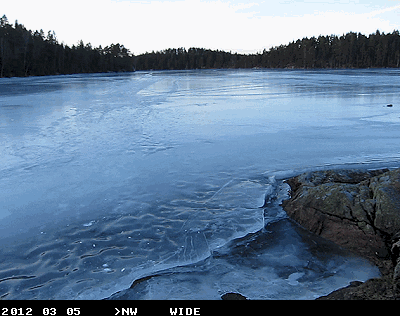 Spring is on it's way...


Der Frühling kommt...


Våren är på väg...




... though there is some new snow once again...


... wenn auch dann nochmal etwas Schnee fällt...


... även om det kommer lite snö en gång...




Impressions from a walk through the woods...


Impressionen von einer Wanderung durch die Wälder...


Impressioner från en vandring genom skogarna...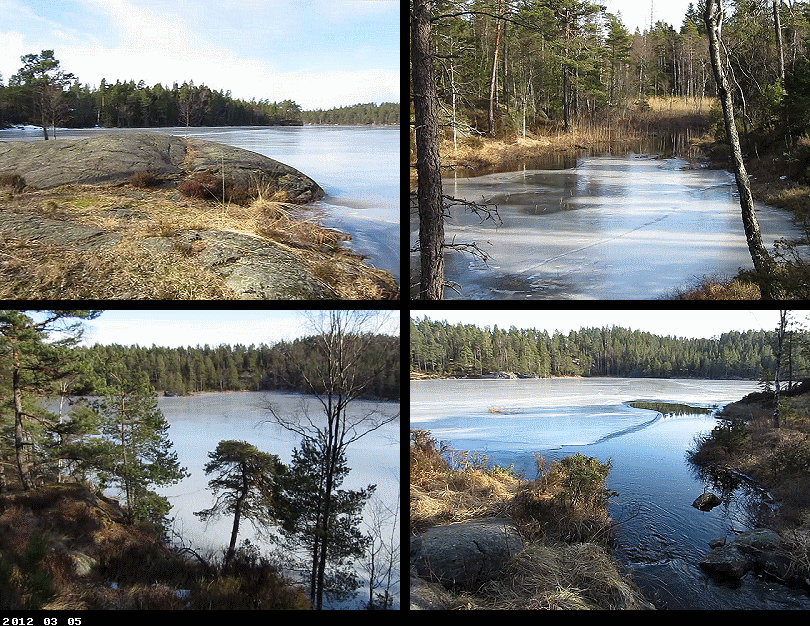 At the end of April we "reside" with our VW T3 Syncro 16" at an exceptional place in the same region...


Ende April "residieren" wir mit unserem VW T3 Syncro 16" an einem außergewöhnlichen Platz in der gleichen Gegend...


Vid slutet av april "residerar" vi med vår VW T3 Syncro 16" på ett enastående ställe i samma trakt...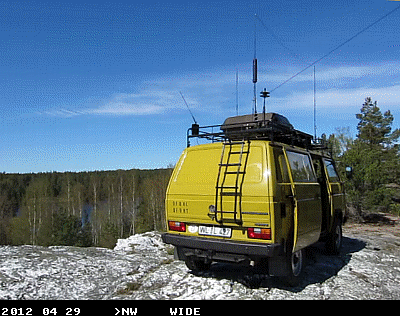 Near to an abyss, but with a magnificent view...


Nahe einem Abgrund, aber mit einem großartigen Ausblick...


Nära en avgrund, men med en storartad utsikt...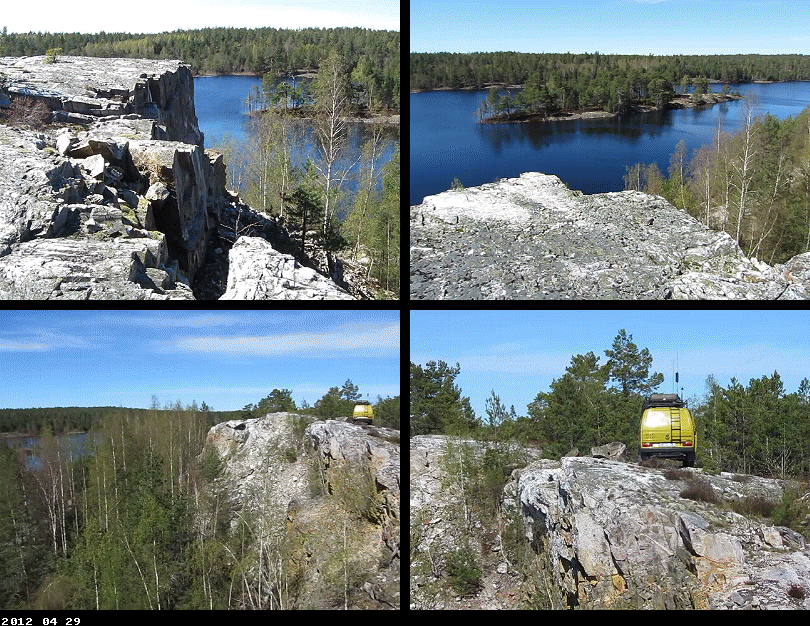 One day we take a walk to the mountain "Sörknatten"...


Eines Tages machen wir eine Wanderung auf den Berg "Sörknatten"...


En dag gör vi en vandring på berget "Sörknatten"...




The view from the top...


Die Aussicht vom Gipfel...


Utsikten från toppen...




Two months later we are in a water-rich area in Bergslagen and make a boat-trip...


Zwei Monate später befinden wir uns in einer wasserreichen Gegend in Bergslagen und sind unterwegs auf einer Bootstour...


Två månader senare befinner vi oss i ett vattenrikt område i Bergslagen och är ute på en båttur...




We pass by a promontory with an old summer pasture settlement, beautifully situated...


Wir passieren eine Landnase mit einer alten Almsiedlung in idyllischer Lage...


Vi passerar ett näs med en gammal fäbod i idylliskt läge...




...until the horizon nearly meets infinity...


...bis Horizont und Unendlichkeit fast eins werden...


...tills horisonten nästan möter oändligheten...




We proceed to the north with a lot of rainy weather, but even with fascinating impressions created by the light...


Unsere Reise geht weiter nordwärts mit viel Regenwetter, aber auch mit faszinierenden, vom Licht geschaffenen Stimmungen...


Vi fortsätter vår resa längre norrut med mycket regnväder, men även med fascinerade stämningar skapade av ljuset...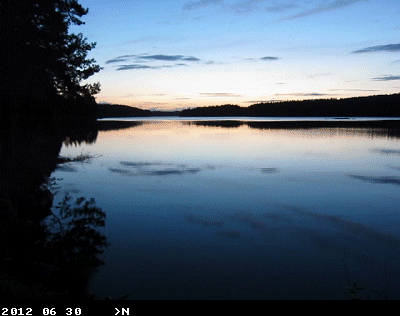 Near Lövberga (north of Strömsund) we are looking for the remains of "Flåsjökajen". For about 100 years ago, when the Inland Railway had just been built, there were hardly any drivable ways further to the west. In order to transport the floated timber (which was pulled across Flåsjön by steam boat) further, a railway track was built as conjunction between the timber-quay and the Inland Railway. You can still find the position of the quay and the railway track if you scrutinize an actual aerial photo or even better, the economical map from 1971...


Bei Lövberga (nördlich Strömsund) suchen wir nach Resten des "Flåsjökais". Vor ca. 100 Jahren, als die Inlandsbahn gerade gebaut war, gab es kaum fahrbare Wege westwärts. Der Holztransport geschah durch Flößerei. Um das Floßholz (das über den Flåsjön mit Hilfe eines Dampfschiffes geschleppt wurde) weiter zu transportieren, wurde ein Bahngleis als Verbindung zwischen Floßholzkai und Inlandsbahn gebaut. Bei genauer Betrachtung kann man die Lage des Gleises und den Kai noch auf heutigen Luftaufnahmen erkennen, noch besser auf der Ökonomischen Karte von 1971...


Vid Lövberga (norr om Strömsund) spanar vi efter rester av "Flåsjökajen". Ca 100 år tillbaka, då Inlandsbanan var nybyggd, fanns knappast några körvägar mot väst. Timmertransporten skedde genom flottning. För att kunna transportera flottningstimret (som bogserades över Flåsjön med hjälp av en ångbåt) vidare, byggdes ett järnvägsspår som förbindelse mellan flottningskajen och Inlandsbanan. Man kan se spårets och kajens läge även om man tittar noggrannt på aktuella flygfoton eller ännu mer på Ekonomiska Kartan från 1971...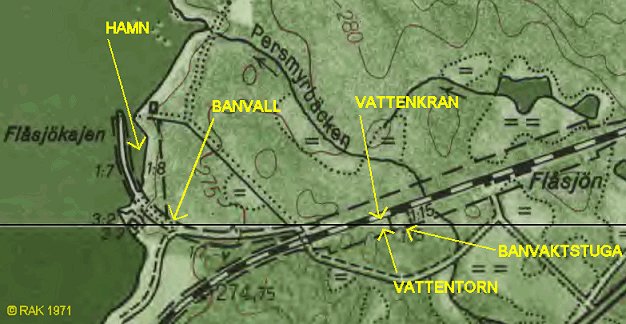 Water tower and water crane...


Wasserturm und Wasserkran...


Vattentorn och vattenkran...




On the former railway...


Auf dem ehemaligen Bahndamm...


På den gamla banvallen...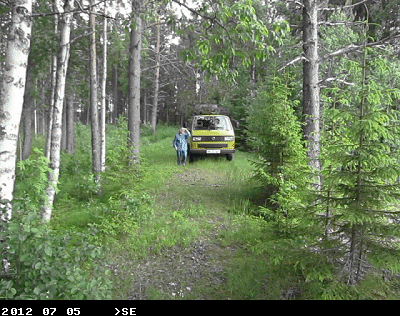 The quay...


Der Kai...


Kajen...




This old photo shows steam boats operating on the Flåsjön during the first half of the 20th century. By the way one of these boats, "AKTIV", is actually lying in Alanäs for restauration...


Dieses Foto zeigt Dampfboote, die in der ersten Hälfte des 20. Jahrhunderts auf dem Flåsjön verkehrten. Das eine Schiff, "AKTIV", liegt übrigens jetzt in Alanäs zur Restaurierung...


Denna gamla fotografi visar ångbåtar som tafikerade Flåsjön under första hälften av 1900-talet. Den ena båten, "AKTIV", ligger nu förresten i Alanäs för restaurering...



The journey goes on northward to Lappland and we already cross the border between Västerbottens and Norrbottens län...


Die Reise geht weiter nordwärts nach Lappland und wir passieren bereits die Grenze zwischen Västerbottens und Norrbottens Län...


Resan går vidare norrut till Lappland och vi passerar redan gränsen mellan Västerbottens och Norrbottens län...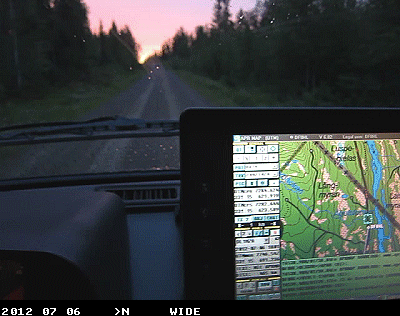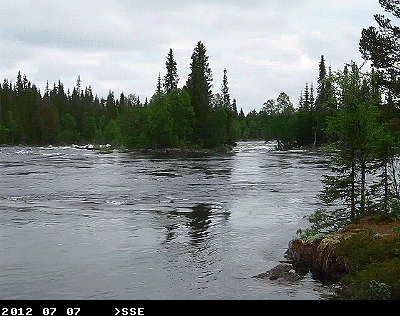 At a remote place in pure nature, where you can feel wonderfully lonesome - no mobile phone supply or terrestrical TV. Amateur radio (call sign DF8HL) on shortwave is the only connection with the outer world...


An einem abgelegenen Platz mitten in der Natur, an dem man sich herrlich einsam fühlen kann - ohne Mobiltelefonversorgung oder terrestrisches Fernsehen. Amateurfunk auf Kurzwelle (Rufzeichen DF8HL) ist die einzige Verbindung mit der Außenwelt...


På en avlägsen plats mitt i naturen, där man kan känna sig härligt ensam - utan mobiltäckning eller markbunden TV. Amatörradion på kortvåg (anropssignal DF8HL) är den enda förbindelsen med yttervärlden...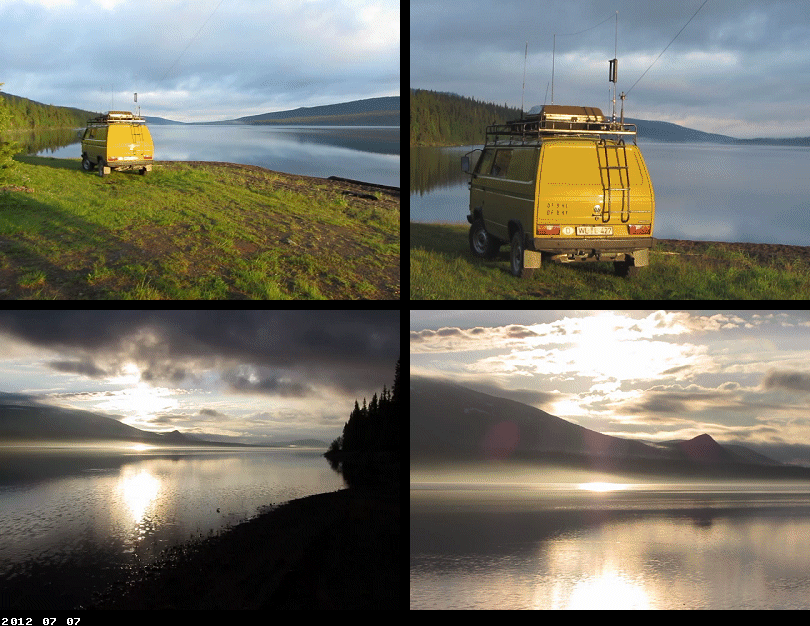 Late in the evening mist, fog, and light create a mysterious mood - in the end we are so enchanted by the situation, that we take a bath in the lake, in spite of a water temperature of only 8 degrees...


Spät am Abend schaffen Nebel, Wolken und Licht eine märchenhafte Stimmung - schließlich sind wir so verzaubert von der Situation, dass wir ein Bad im See nehmen, trotz einer Wassertemperatur von nur 8 Grad...


Sent på kvällen skapar dimmoln och ljuset en sagolik stämning - slutligen blir vi så förtrollad av situationen, att vi badar i sjön, trots en vattentemperatur av bara 8 grader...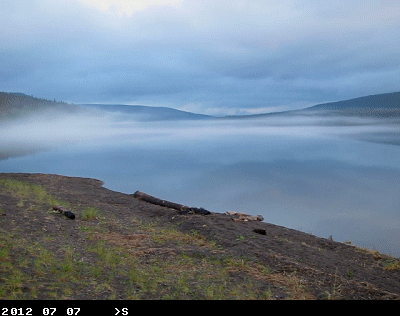 The journey goes southward again, here we stand at Ströms Vattudal...


Die Reise geht nun wieder südwärts, hier stehen wir an Ströms Vattudal...


Resvägen går söderut igen, här står vi vid Ströms Vattudal...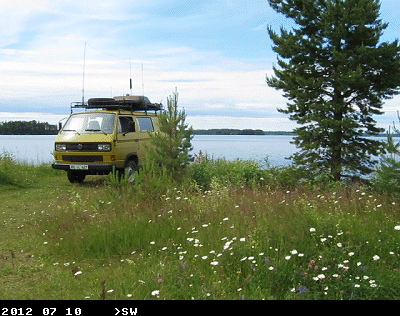 We pass Ulriksfors with its dam facilities and Inlandsbanan's bridges across the branches of Faxälven...


Wir passieren Ulriksfors mit seinen Dammanlagen und den Brücken der Inlandsbahn über die Äste des Faxälven...


Vi passerar Ulriksfors med sina dammanläggningar och Inlandsbanans broar över Faxälvens grenar...



After some hours of driving to the west we find ourselves in (nearly) untouched wilderness...


Nach einigen Stunden Fahrt Richtung Westen befinden wir uns in (nahezu) unberührter Wildnis...


Efter några timmars körning mot väst befinner vi oss i (nästan) orörd vildmark...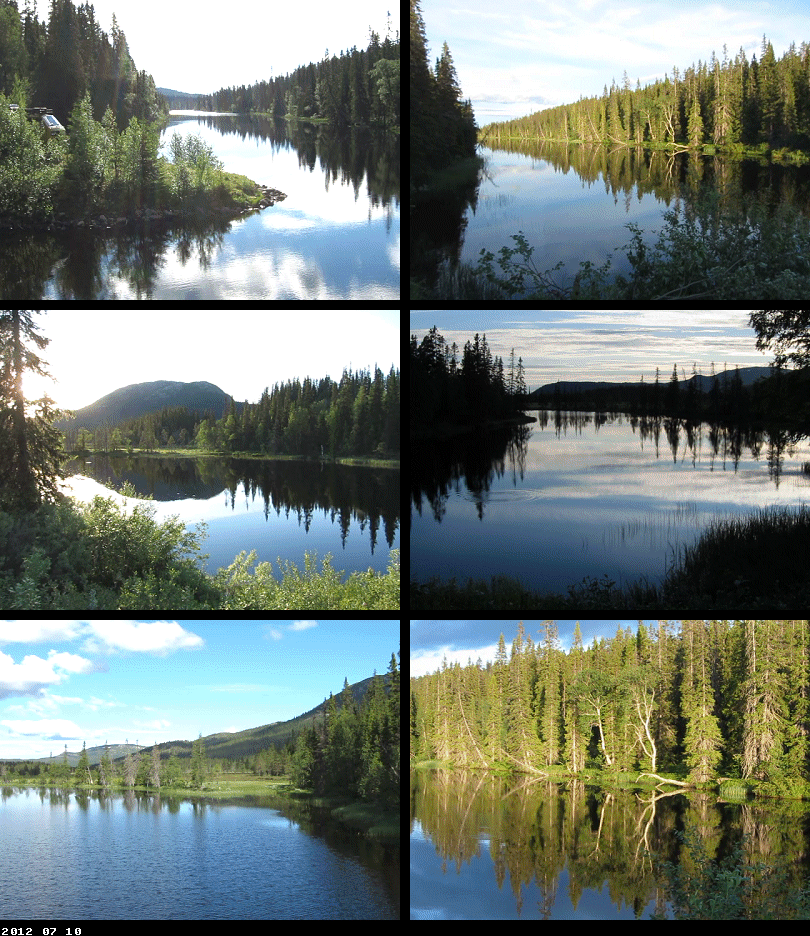 We take the boat to get even further...


Wir nehmen das Boot, um noch weiter zu kommen...


Vi tar båten för att komma ännu längre...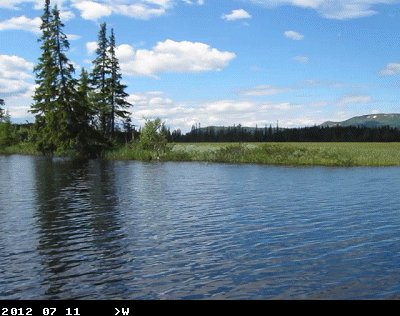 ...until a small waterfall calls a halt to the boat trip...


...bis ein kleiner Wasserfall der Bootsfahrt ein Ende setzt...


...tills ett litet vattenfall sätter stopp för båtfärden...




The boat gets properly moored and we make a short walk...


Das Boot wird gewissenhaft vertäut und wir machen einen kleinen Spaziergang...


Båten blir ordentligt förtöjd och vi gör en liten promenad...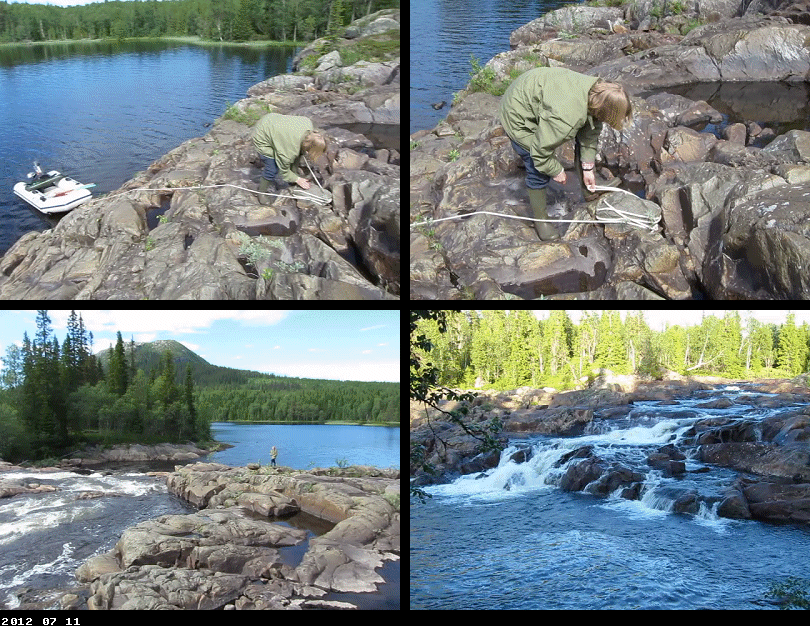 In connection with this excursion I found an expedition diary (in the research archive of Umeå university), written by the archeologist Gustaf Hallström, who made an expedition through NW-Sweden in 1907, and visited this place to make excavations. The whole travelog, which I found extremely fascinating, can be downloaded here..
GUSTAF HALLSTRÖM: 1907 EXPEDITION'S DIARY

Even the photos from the 1907-expedition (and others) can be downloaded from..
GUSTAF HALLSTRÖM: PHOTO COLLECTION

These 4 pictures were taken exactly here...



Im Zusammnhang mit dieser Exkursion fand ich ein Expeditionstagebuch (im Forschungsarchiv der Universität Umeå), geschrieben vom Archäologen Gustaf Hallström, der 1907 eine Expedition durch NW-Schweden machte und diesen Platz besuchte, um Ausgrabungen durchzuführen. Das ganze Tagebuch, das ich ausgesprochen faszinierend fand, kann hier heruntergeladen werden..
GUSTAF HALLSTRÖM: 1907 EXPEDITIONSTAGEBUCH

Auch die Fotos von der 1907er Expedition (und anderen) können heruntergeladen werden von..
GUSTAF HALLSTRÖM: FOTOSAMMLUNG

Diese 4 Bilder wurden genau hier aufgenommen...



I samband med denna exkursion hittade jag en reseberättelse (i forskningsarkivet av Umeås universitet), skriven av arkeologen Gustaf Hallström, som under sommaren 1907 gjorde en forskningsresa genom NV-Sverige och besökte den här platsen i samband med utgrävningar. Hela reseberättelsen, som jag tyckte var utomordentligt fascinerande, finns att ladda ner här..
GUSTAF HALLSTRÖM: 1907 FORSKNINGSRESANS DAGBOK

Även fotografierna från 1907-resan (och andra) finns att ladda ner från..
GUSTAF HALLSTRÖM: FOTOSAMLING

Dessa 4 bilder tog han precis här....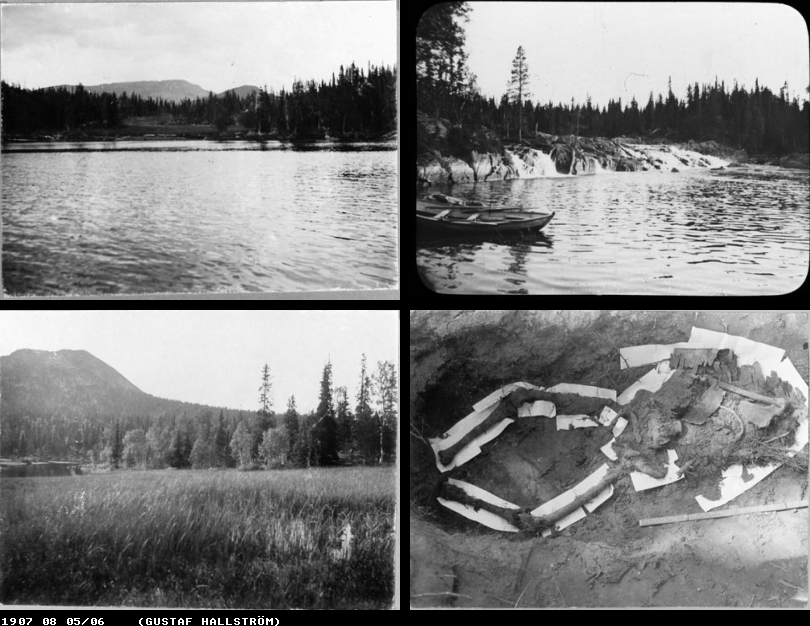 We continue in 2012 - comfortably by car - further towards the mountains...


Wir reisen weiter in 2012 - bequem mit dem Wagen - Richtung Fjäll...


Vi fortsätter i 2012 - bekvämt i bilen - vidare mot fjällen...




In the evening there are some geese on a sandbank, where they feel safe from "Smirre" (the fox)...


Am Abend haben sich einige Gänse auf einer Sandbank eingefunden, wo sie sich sicher fühlen vor "Smirre" (dem Fuchs)...


Mot kvällen har ett par gäss infunnit sig på ett sandrev, där de känner sig säkra mot "Smirre" (räven)...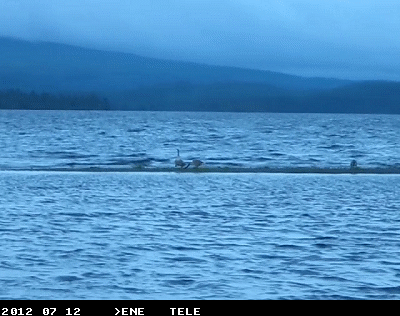 Midges like the humid (and calm) weather very much, they squeeze themselves through our mosquito nets (1.5mm spacing), bite us and/or gather at the window...


Gnitten mögen das feuchte (und windstille) Wetter sehr, sie zwängen sich durch unsere Mückennetze (1.5mm Raster), um uns dann zu beißen und/oder sich am Fenster zu versammeln...


Knot tycker mycket om det fuktiga (och vindstilla) vädret, de tränger in genom våra myggnät (1.5mm raster), för att sedan bita oss och/eller samla sig vid fönstret...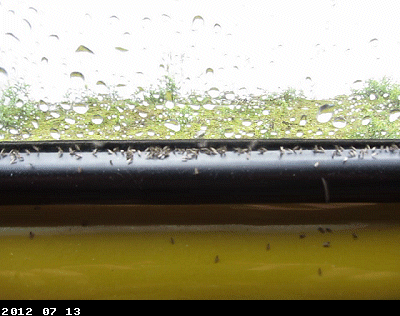 Through Orsa Finnmark...


Durch die Orsa Finnmark...


Genom Orsa Finnmark...




...we come to Säs (west of Mora), a place with many interesting facilities, which were/are driven by hydropower: a mill, a sawmill, and in later years even a power station...


...kommen wir nach Säs, (westlich von Mora), wo es viele interessante Anlagen gibt. Hier trieb/treibt die Wasserkraft eine Mühle, eine Sägemühle und in späteren Jahren ein kleines Kraftwerk...


...kommer vi till Säs (väster om Mora), där det finns mycket intressanta anläggningar. Här drev/driver vattenkraften en kvarn, en såg, och i senare år ett litet kraftverk...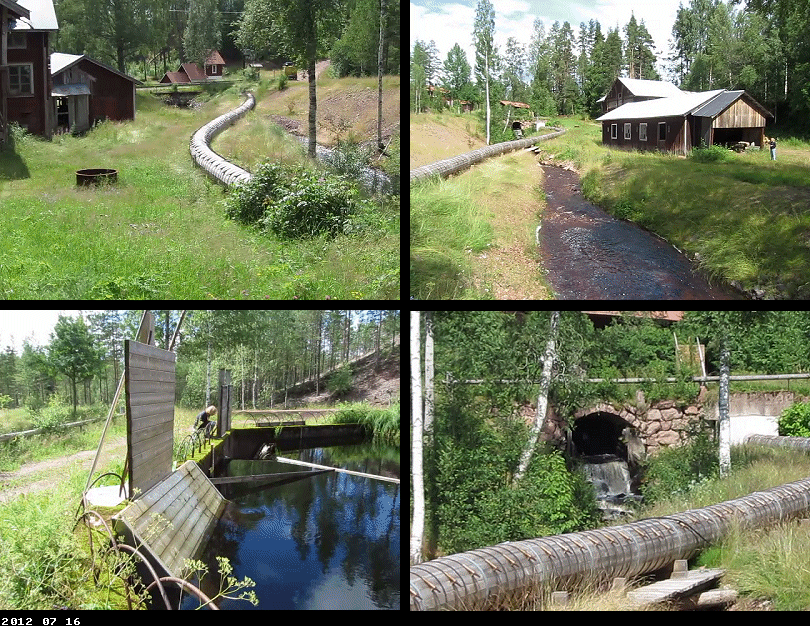 The mill - on the right picture you see how the grain was brought to the upper floor...


Die Mühle - auf dem rechten Bild sieht man, wie das Korn über das obere Stockwerk zugeführt wurde...


Kvarnen - på högra bilden syns hur kornet tillfördes till den övre våningen...




The sawmill (now electrified)...


Die Säge (jetzt elektrifiziert)...


Sågen (numera elektrificerad)...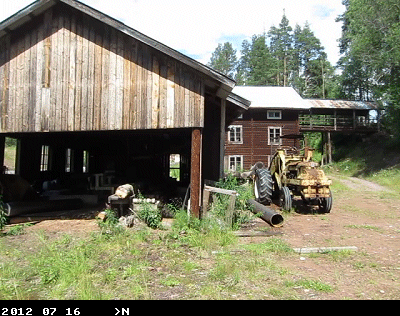 The power station...


Das Kraftwerk...


Kraftverket...




Once again in Bergslagen. We make a boat trip on a small river, which is nearly unaffected by man. The last sign of human activities we pass is this suspension bridge...


Noch einmal in Bergslagen. Wir machen eine Bootstour auf einem kleinen Fluss, der fast völlig unberührt ist. Das letzte Zeichen menschlicher Aktivität, das wir passieren, ist diese Hängebrücke...


En gång till i Bergslagen. Vi gör en båttur på en liten älv, som är nästan alldeles opåverkad av människan. Det sista tecknet av mänsklig verksamhet som vi passerar är denna hängbro ...




Then the river meanders through marshes and woods...


Dann schlängelt sich der Fluss durch Moore und Wälder...


Sedan slingrar sig älven genom myr och skog...




At one place a fallen fir makes the river impassable. It takes some time until we have sawn a hole through the tree's branches and twigs (with the saw at Karin's swiss knife!)...


An einer Stelle macht eine umgestürzte Tanne den Fluss unpassierbar. Es dauert einige Zeit, bis wir ein Loch in die Äste und Zweige des Baums gesägt haben (mit der Säge an Karins Schweizer Messer!)...


Vid ett ställe gör en fallen gran älven opasserbar. Det tar en viss tid tills vi har sågat ett hål genom trädets grenar och kvistar (med sågen i Karins schweizerkniv!)...



Here is a 39sec video clip from the boat trip...


Hier ist ein 39sec-Videoclip von der Bootsfahrt...


Här finns ett 39sec-videoklipp från båtfärden...






Even this journey is not endless and we use the last days to enjoy the typical swedish summer atmosphere in Dalsland (here at the lock in Snäcke)...


Auch diese Reise geht irgendwann zu Ende und am Schluss genießen wir noch das typische Sommerschweden in Dalsland (hier an der Schleuse von Snäcke)...


Som alltid tar även denna resa slut och till sist njuter vi av det typiska Sommarsverige i Dalsland (här vid Snäcke sluss)...




Autumn has come to Värmland - so have we. Most birches still stand in their colorful yellow leaves...


Der Herbst ist nach Värmland gekommen - so auch wir. Die meisten Birken stehen noch in ihrem farbenprächtigen gelben Laub...


Hösten har kommit till Värmland - och vi också. Ännu står björkarna i deras färgstarka gula löv...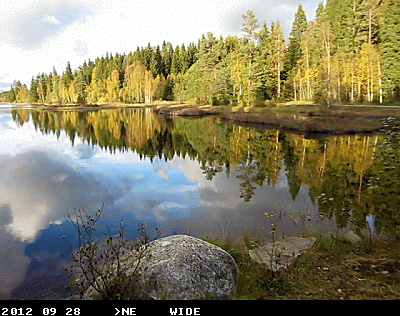 We travel on to Orsa Finnmark...


Wir reisen weiter zur Orsa Finnmark...


Vi reser vidare till Orsa Finnmark...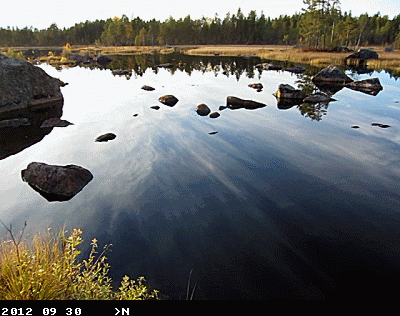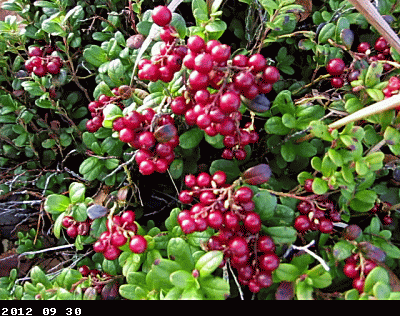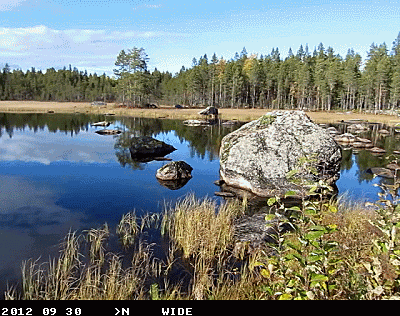 A walk leads us to Inlandsbanans bridge across Björnån, surrounded by remains from the timber floating period...


Eine Wanderung führt uns an die Brücke der Inlandsbahn über den Björnån, umgeben von Resten aus der Flößerzeit...


En vandring leder oss till Inlandsbanans bro över Björnån, omgiven av rester från flottningsepoken...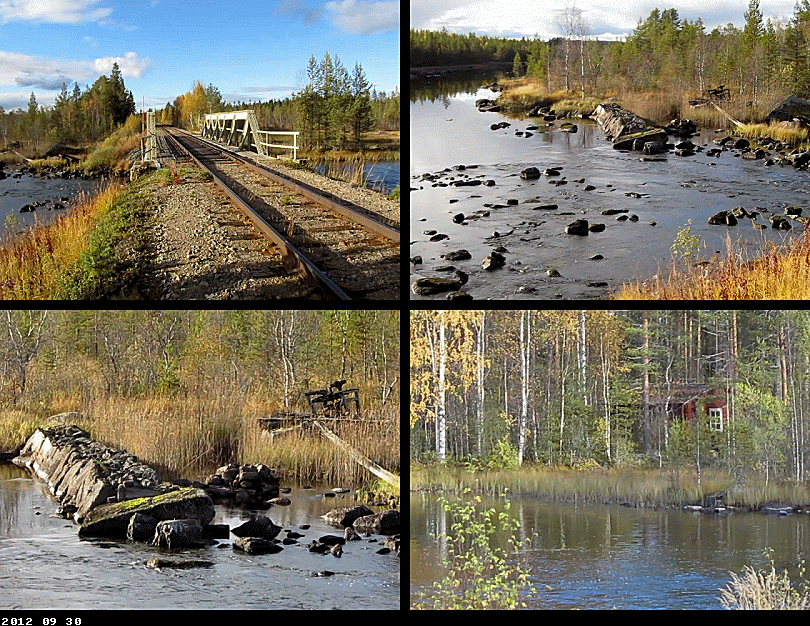 Karin lays out some baits to lure wild animals - me for example...


Karin legt einige Köder aus um wilde Tiere anzulocken - mich zum Beispiel...


Karin lägger ut lite mat för att locka fram vilda djur - mig till exempel...



In Härjedalens Fjäll...


In Härjedalens Fjäll...


I Härjedalens fjäll...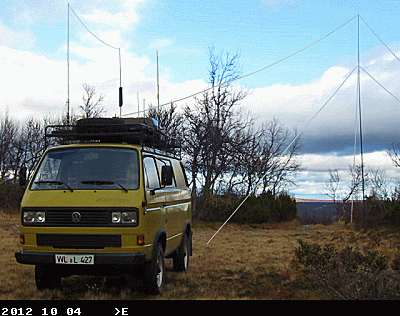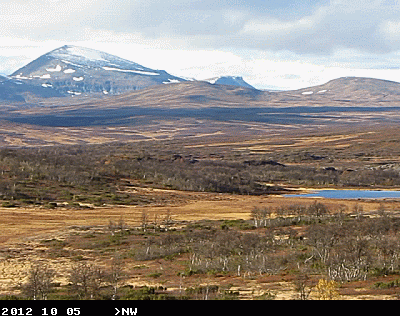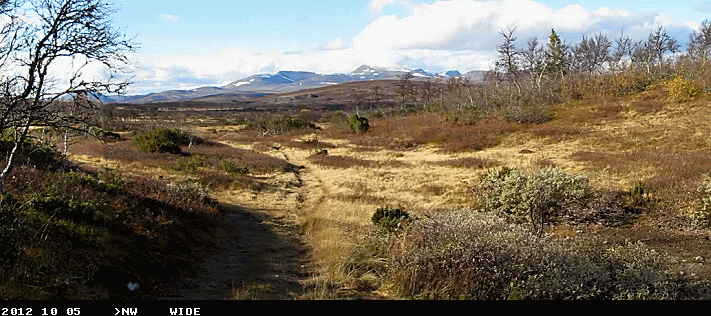 Green and blue stones show that the rock contains copper. North of Bruksvallarna there had been copper mines in several epochs of the past. Old shafts and tunnels can be found at different places...


Grüne und blaue Steine zeigen, dass der Fels Kupfer enthält. Nördlich von Bruksvallarna gab es in mehreren Epochen der Vergangenheit Kupferminen. Alte Schächte und Stollen findet man an verschiedenen Stellen...


Gröna och blåa sten visar att det finns koppar i berget, norr om Bruksvallarna fanns koppargruvor under flera epoker i det förflutna. Gamla schakt och stollar hittas på ett flertal ställen...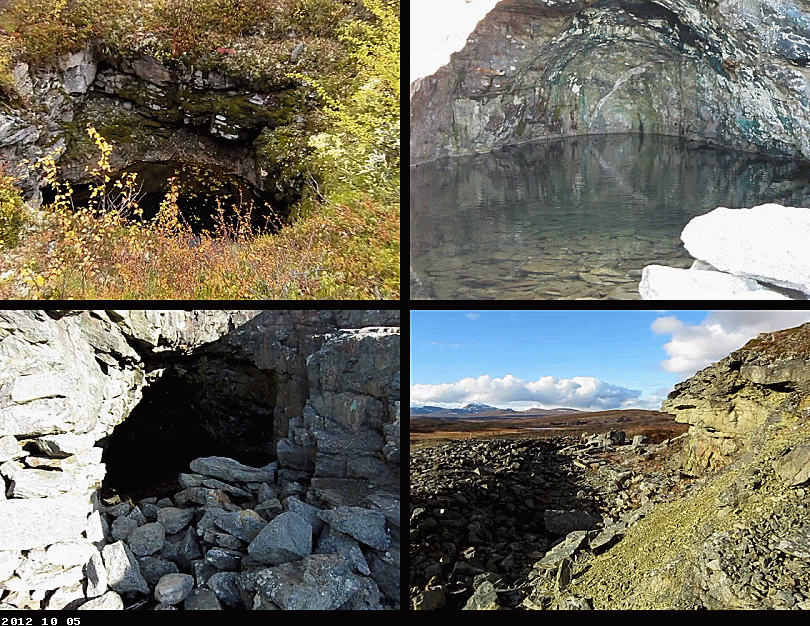 A sunny (though windy) day in the wide landscape...


Ein sonniger (wenngleich windiger) Tag in der weiten Landschaft...


En solig (fastän blåsig) dag i det vida landskapet...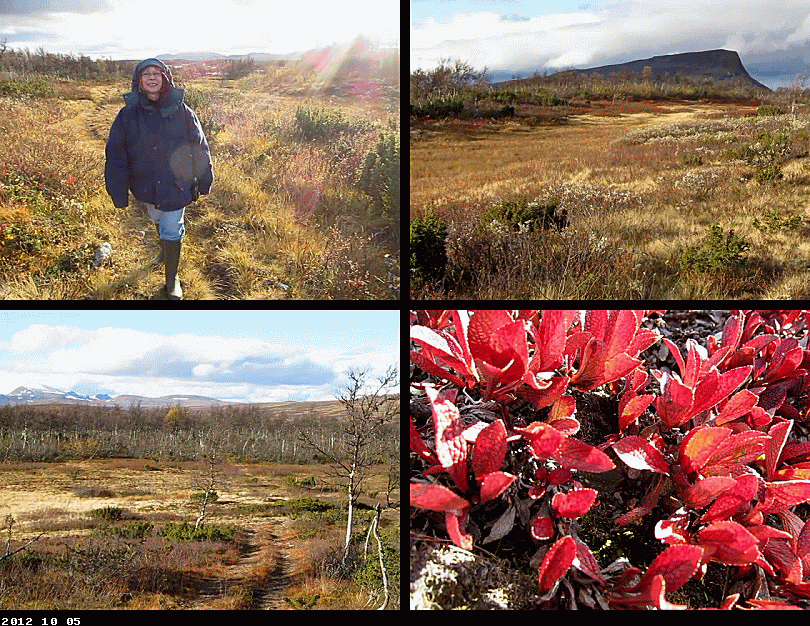 We have to travel southward again, here we are at a small river in western Dalarna...


Wir müssen wieder südwärts reisen, hier sind wir an einem kleinen Fluss im westlichen Dalarna...


Vi måste resa söderut igen, här är vi vid en liten å i västra Dalarna...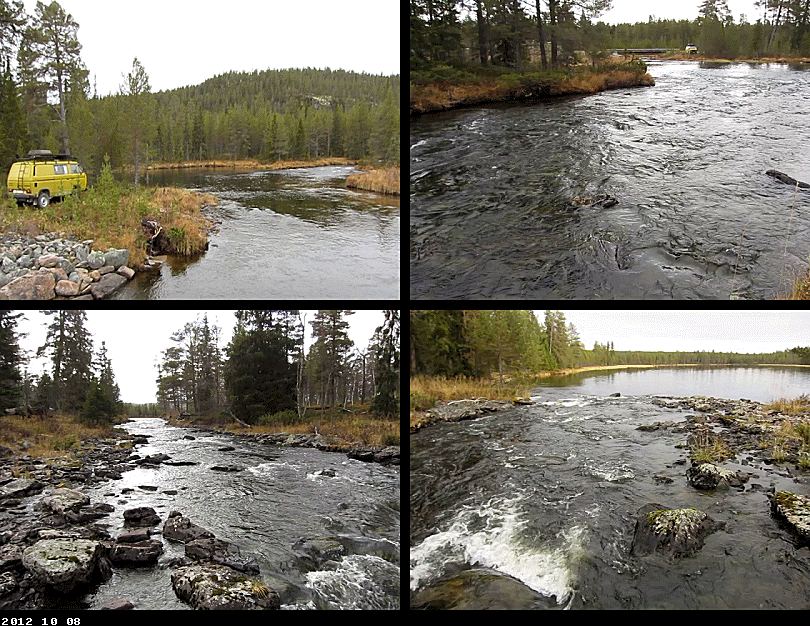 ... and back in Värmland - even here most birches have lost their leaves in the meantime...


... und zurück in Värmland - auch hier haben die meisten Birken in der Zwischenzeit ihr Laub verloren...


... och tillbaka i Värmland - även här har de flesta björkar tappat sina löv under tiden...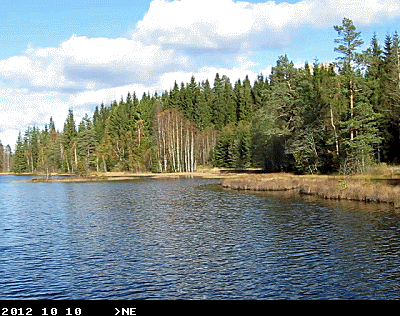 A night with some unexpected northern lights (aurora borealis) - not so very common down here. By the way, the exposure time is 15 seconds...


Eine Nacht mit etwas unerwartetem Nordlicht (aurora borealis) - nicht sehr häufig so weit südlich. Die Belichtungszeit beträgt übrigens 15 Sekunden...


En natt med lite oförväntat norrsken (aurora borealis) - inte alltför vanligt så långt söderut. Exponeringstiden är förresten 15 sekunder...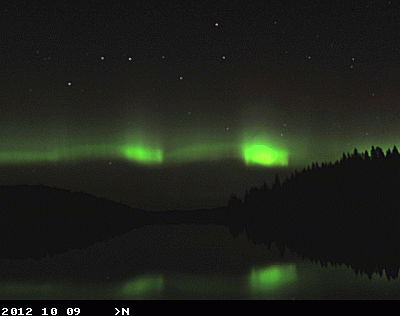 At last - at one of our favourite places in southwestern Värmland...


Am Ende - an einem unserer Lieblingsplätze im südwestlichen Värmland...


Vid slutet - på en av våra favoritplatser i sydvästra Värmland...