PICTURES 2013


BILDER 2013


BILDER 2013




In March in Halland's forests...


Im März in Hallands Wäldern...


I mars i Hallands skogar...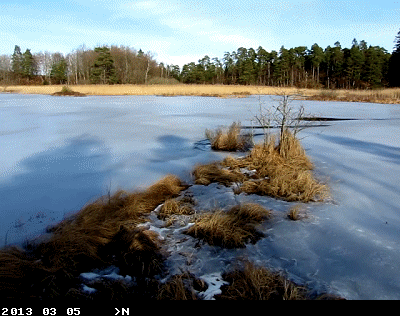 A place with impressive view in the archipelago of Bohus...


Ein Platz mit herrlichem Ausblick in Bohus Inselwelt...


En plats med fantastisk vy i Bohus skärgård...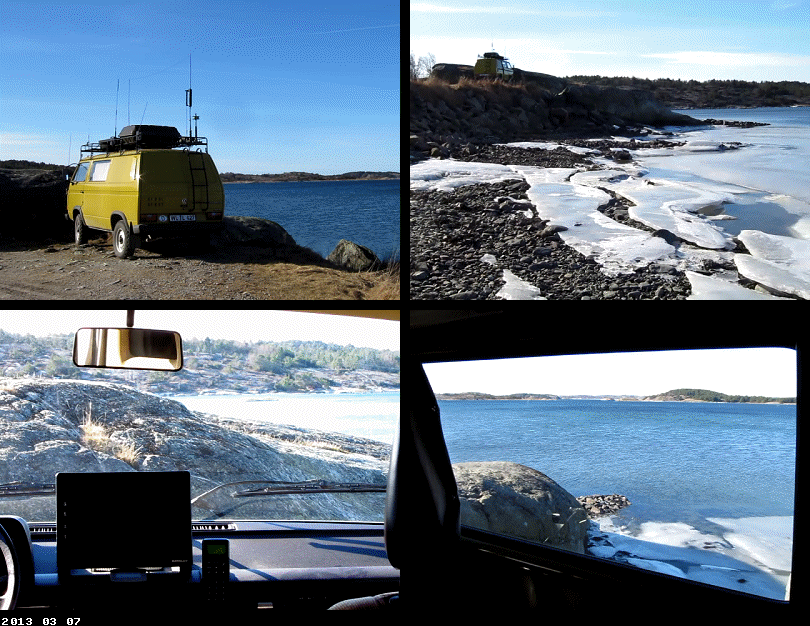 In a traditional fishing harbour...


In einem traditionellen Fischerhafen...


I en traditionell fiskehamn...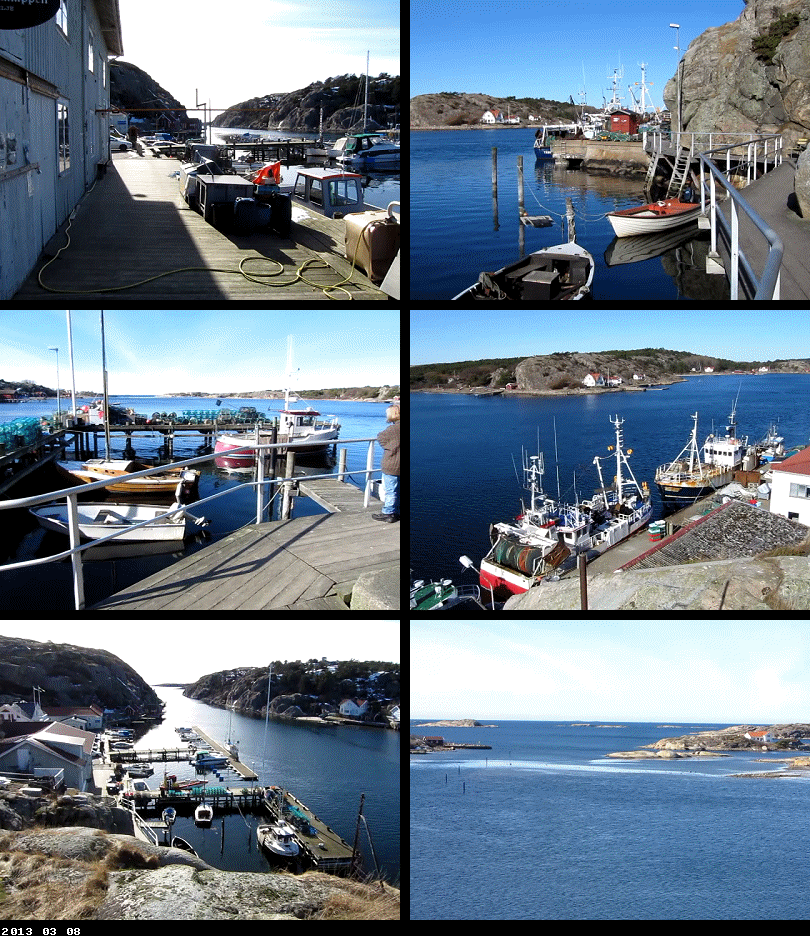 Dalsland's forests are waking up after winter. On the right picture at the bottom you can see that even a bear already has left his winter camp...


Dalslands Wälder erwachen nach dem Winter. Rechts unten kann man sehen, dass auch ein Bär schon sein Winterlager verlassen hat...


Dalslands skogar vaknar efter vintern. Nere till höger kan man se att även en björn har redan lämnat idet...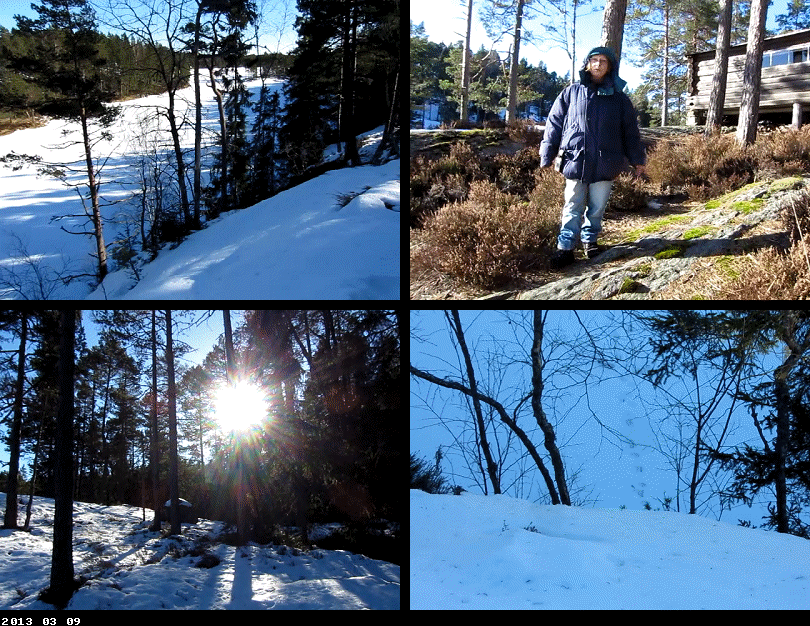 At one of our favorite places in Värmland. The hard-frozen snow rim has to be partly hacked away before we can leave the road...


An einem unserer Lieblingsplätze in Värmland. Die hartgefrorene Schneekante muss erst teilweise weggehackt werden, bevor wir die Straße verlassen können...


På en av våra favoritplatser i Värmland. Den hårdfrusna snökanten måste först delvis hackas bort innan vi kan lämna vägen...




On the way home - once again at the coast of Bohus...


Auf dem Heimweg - noch einmal an der Bohusküste...


På hemvägen - ännu en gång på Buhuskusten...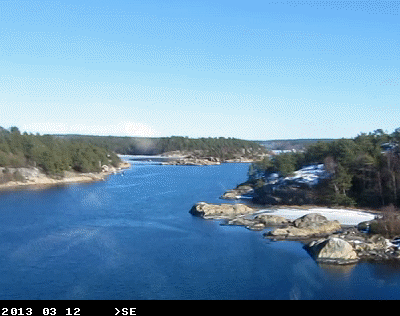 May in Southern Sweden - with first leaves trying to come out...


Mai in Südschweden - die ersten Blätter versuchen herauszukommen...


Maj i Sydsverige - första löv försöker att komma ut...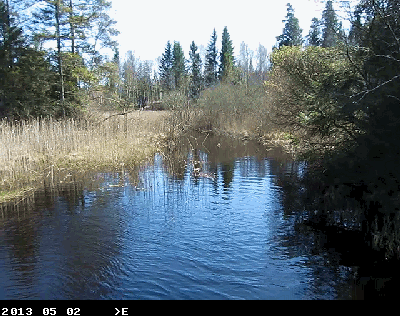 ... beautiful sights...


... herrliche Anblicke...


... underbara vyer...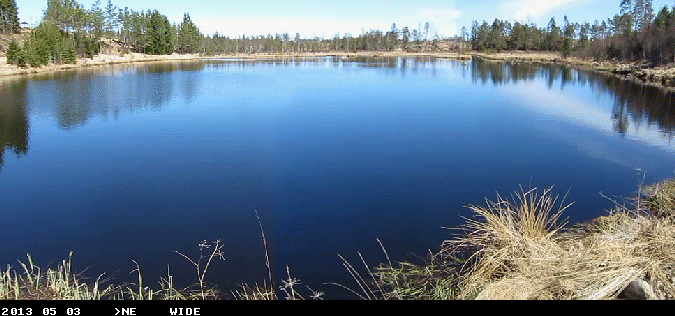 ... and nature regaining life...


... und Natur, in die das Leben zurückkehrt...


... och naturen som återfår livet...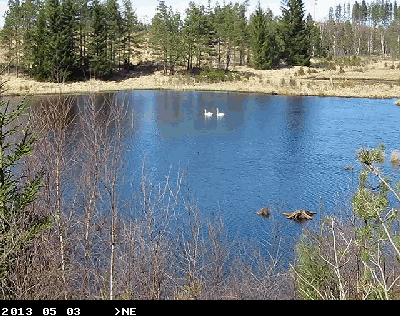 Several days in the woods without meeting anybody...


Etliche Tage im Wald, ohne jemandem zu begegnen...


Flera dygn i skogen utan att träffa någon...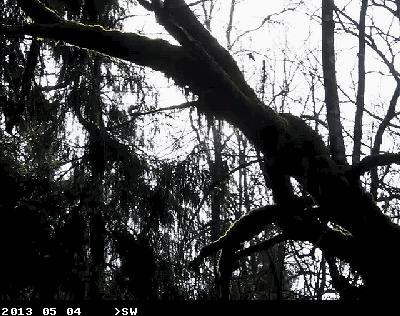 Crossing a muddy brook with nearly all our clothes in the backpack (Karin insisted that I had to choose a picture where "nothing" is to be seen)...


Querung eines muttigen Baches mit fast all unseren Kleidungsstücken im Rucksack (Karin wollte, dass man auf dem ausgewählten Bild "nichts" sehen kann)...


Vadning av en muddrig bäck med nästan alla våra kläder i ryggsäcken (Karin insisterade på att "ingenting" får synas på den utvalda bilden)...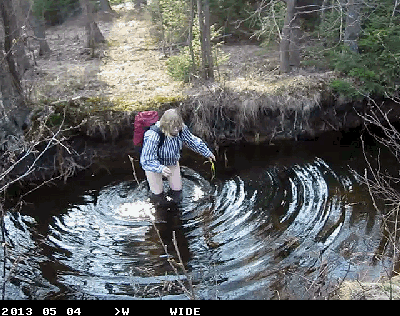 Enjoying the calm - the only sounds here are made by birds and toads...


Genießen der Stille - nur Laute von Vögeln und Kröten sind zu hören...


Njutning av lugnet - bara läten av fåglar och paddor hörs...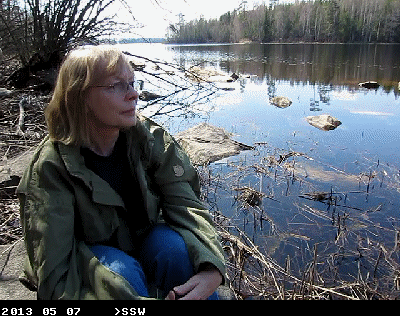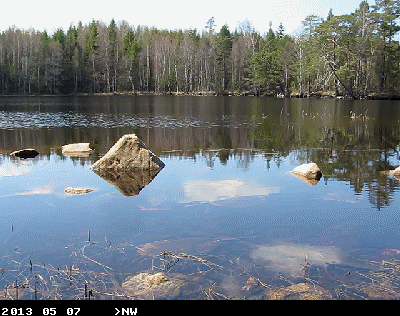 It is midsummer and our VW T3 Syncro 16" with its radio equipment (DF8HL) is on another long trip to the north...


Es ist Mittsommer und unser VW T3 Syncro 16" mit seiner Funkausrüstung (DF8HL) ist auf einer weiteren langen Reise nach Norden...


Det är midsommar och vår VW T3 Syncro 16" med sin radioutrustning (DF8HL) är på ytterligare en lång resa norrut...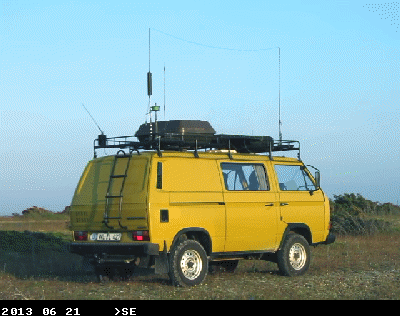 The east coast of Öland is characterized by flat limestone formations...


Die Ostküste Ölands ist gekennzeichnet durch flache Kalkstein-Formationen...


Ölands ostkust är präglad av släta kalkstensformationer...




On the Swedish mainland at the dam near Boda kvarn...


Auf dem schwedischen Festland beim Damm nahe Boda kvarn...


På det svenska fastlandet vid dammen nära Boda kvarn...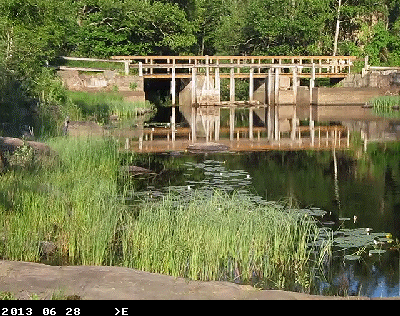 From lake to lake through Värmland...


Von See zu See durch Värmland...


Från sjö till sjö genom Värmland...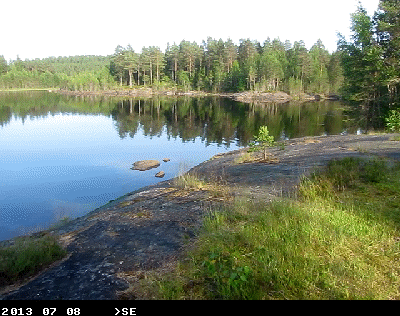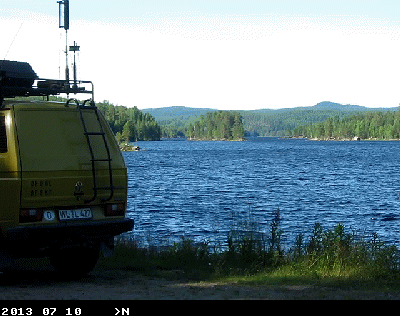 At a lake in northwestern Värmland: Views through the dam lock, over the lake, and onto a swimming female moose...


An einem See im nordwestlichen Värmland: Ausblicke durch das Wehr, über den See und auf eine schwimmende Elchkuh...


Vid en sjö i nordvästra Värmland: Utsikter genom dammluckan, över sjön och på en simmande älgko...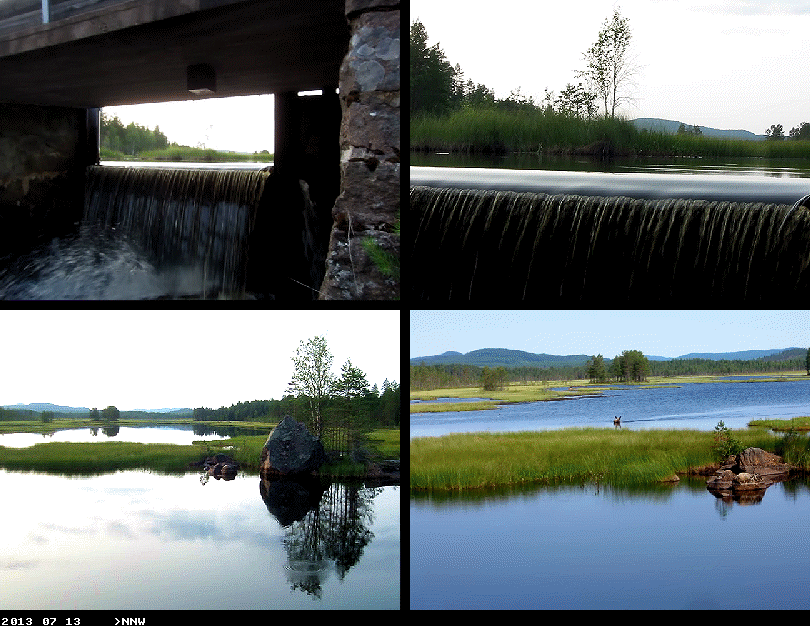 At the reconstructed mills "Råbergs kvarn" in western Hälsingland...


Bei den restaurierten Mühlen "Råbergs kvarn" im westlichen Hälsingland...


Vid de restaurerade kvarnarna "Råbergs kvarn" i västra Hälsingland...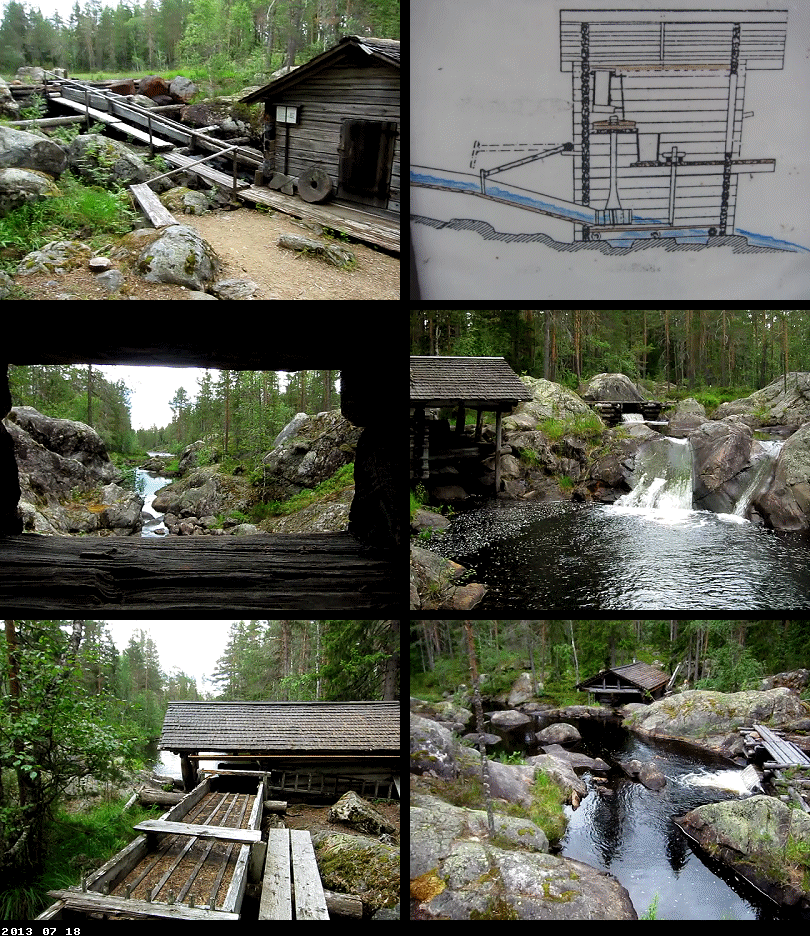 On a boat tour - passing a mighty rock called "Kiststenen"...


Auf einer Bootstour - vorbei am mächtigen Fels "Kiststenen"...


På en båttur - förbi den mäktiga hällen "Kiststenen"...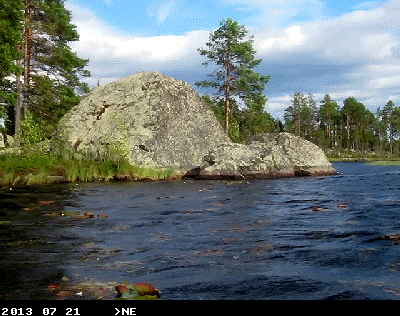 An evening at a great lake in Härjedalen...


Ein Abend an einem großen See in Härjedalen...


En kväll vid en stor sjö i Härjedalen...




A dragonfly - an ally against the mosquitoes...


Eine Libelle - eine Verbündete gegen die Mücken...


En trollslända - en allierad mot myggorna...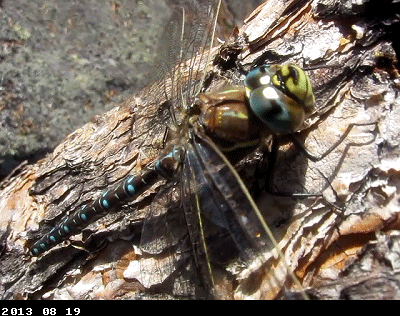 In northern Jämtland, at Ströms Vattudal...


Im nördlichen Jämtland, an Ströms Vattudal...


I norra Jämtland, vid Ströms Vattudal...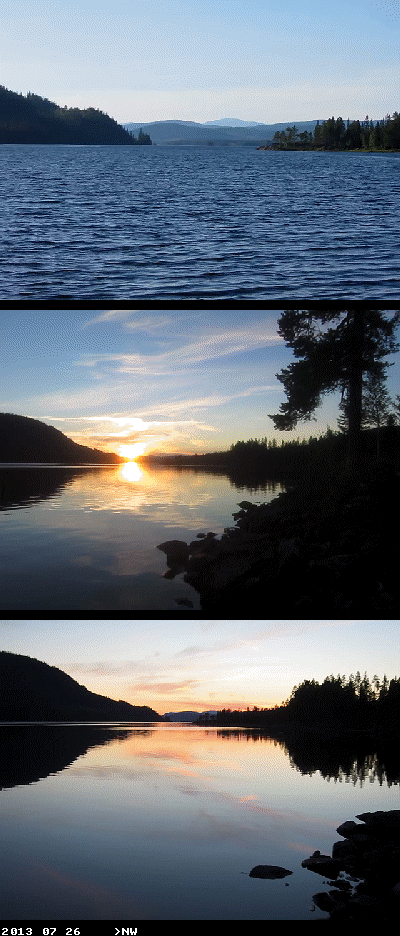 Some days later in Lapland, at a traditional reindeer fence near Arvidsjaur...


Einige Tage später in Lappland, an einem traditionellen Rentiergehege nahe Arvidsjaur...


Några dagar senare i Lappland, vid ett traditionellt rengärde nära Arvidsjaur...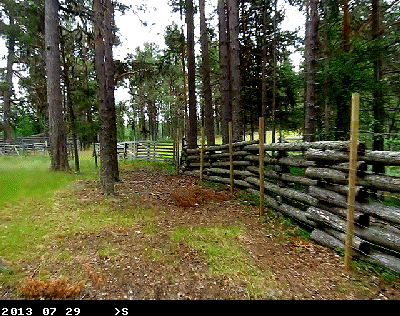 Midnight near the border between Sweden and Finland...


Mitternacht nahe der Grenze zwischen Schweden und Finnland...


Midnatt nära gränsen mellan Sverige och Finland...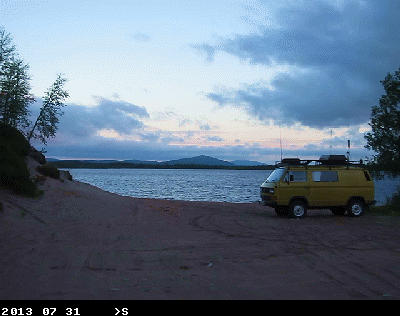 In northern Norway we follow the river Tana from Karasjok to the mouth...


In Nord-Norwegen folgen wir dem Fluss Tana von Karasjok bis zur Mündung...


I Nord-Norge följer vi älven Tana från Karasjok till mynningen...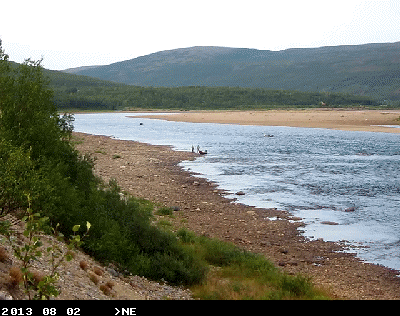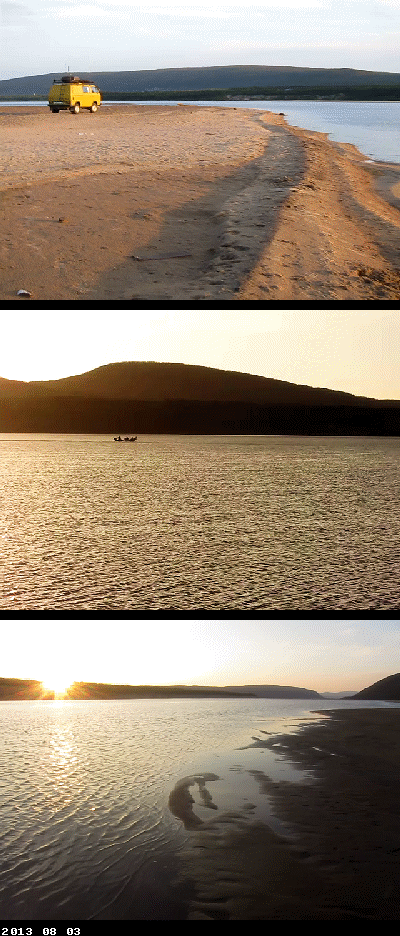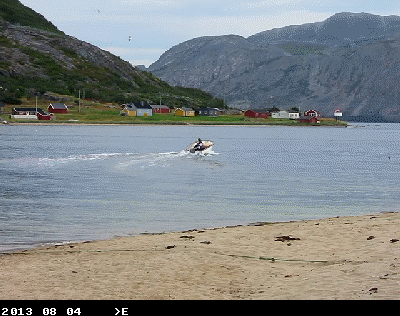 A foggy place on the Varanger Peninsula. When the fog is lifting, we see a marvellous landscape - but even remains from german military under World War 2...


Ein nebliger Platz auf der Varanger-Halbinsel. Als der Nebel sich lüftet, sehen wir eine herrliche Landschaft - aber auch Hinterlassenschaften des deutschen Militärs aus dem 2. Weltkrieg...


En dimmig plats på Varanger-halvön. Då dimman drar bort, ser vi ett härligt landskap - men även rester lämnade av tyska militären efter andra världskriget...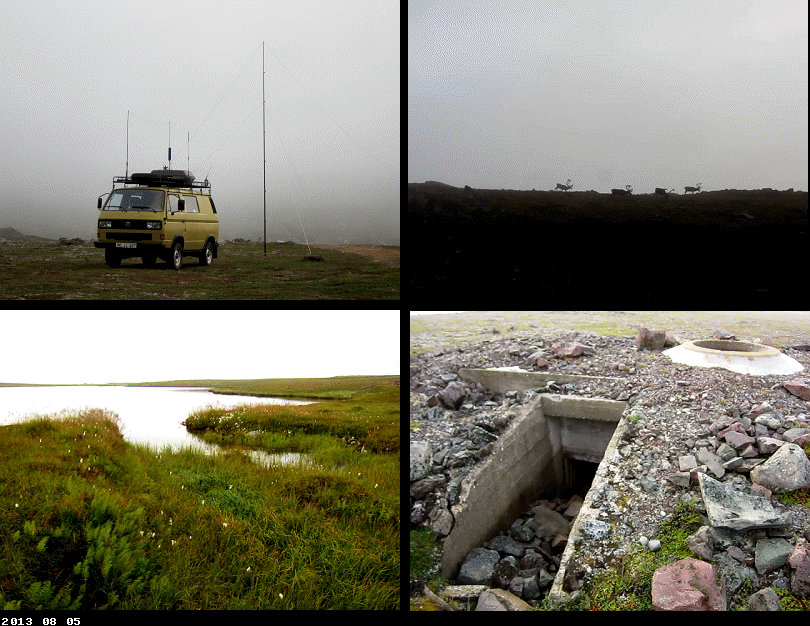 At the stony coast of the Arctic Ocean...


An der steinigen Küste des Nördlichen Eismeers...


Vid den steniga Ishavskusten...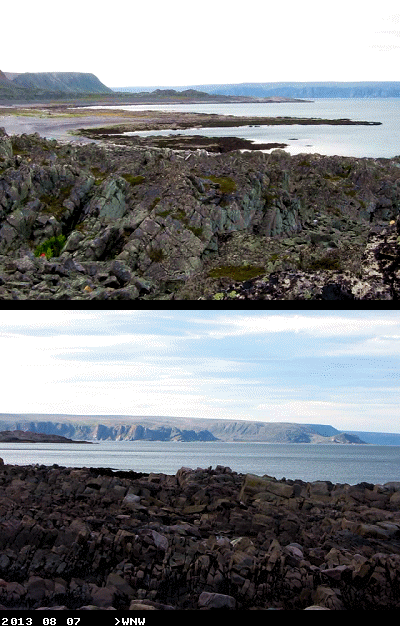 In Finnish Lapland we visit the ruins of an old forestry station...


In Finnisch-Lappland besuchen wir die Ruine einer alten Waldstation...


I finska Lappland uppsöker vi en ruin av en gammal skogsstation...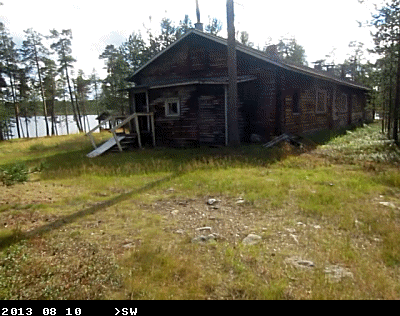 ...with a 1950-style kitchen, propane gas lighting, and a wood-fired central heating, that even warmed up the coat racks...


...mit einer 1950er-Jahre-Küche, Propangas-Beleuchtung und einer holzbefeuerten Zentralheizung, die sogar die Garderobengestelle erwärmte...


...med ett 1950-tals kök, propangas-belysning och vedeldad centralvärme, som även värmde upp garderob-ställningarna...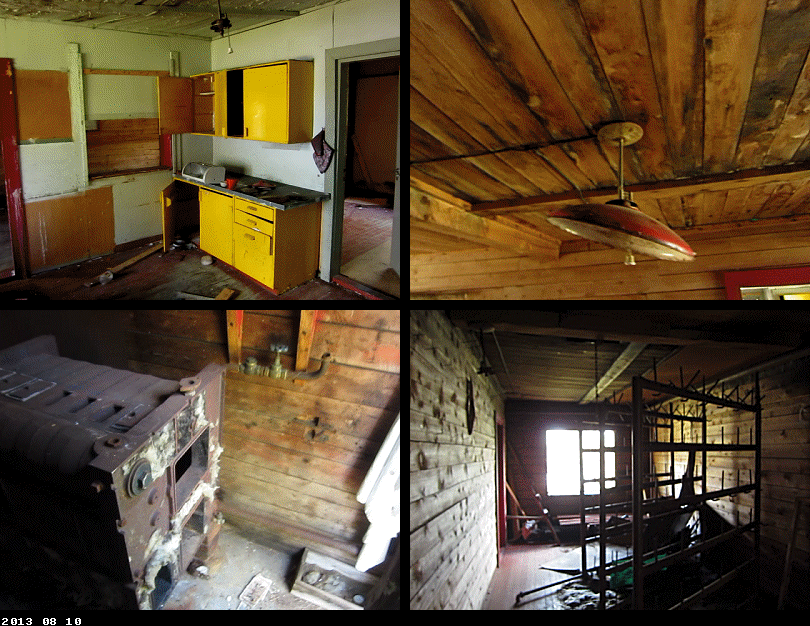 Camping at a river near the Finnish-Russian border...


Camping an einem Fluss nahe der finnisch-russischen Grenze...


Camping vid en älv nära den finsk-ryska gränsen...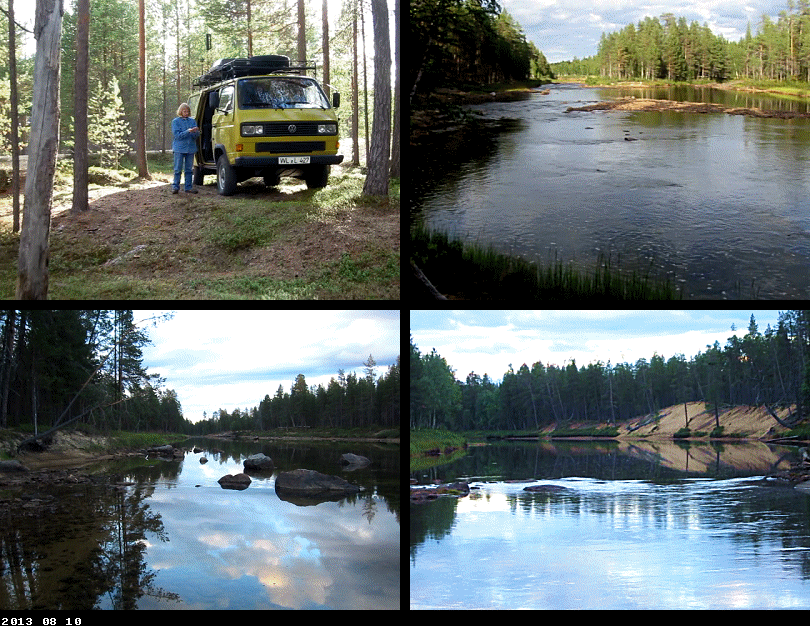 Back in the Swedsh province of Västerbotten, at the Petikån river...


Zurück in der schwedischen Provinz Västerbotten, am Fluss Petikån...


Tillbaka i det svenska länet Västerbotten, vid Petikån...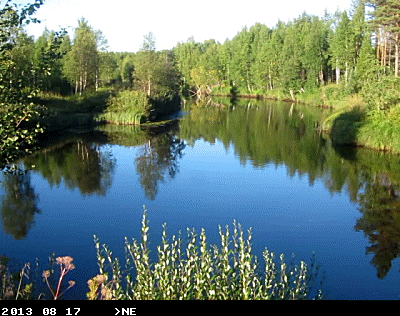 A visit in the nature reserve "Mårdselforsen", which is a branched part of the Vindelälv river...


Ein Besuch im Naturreservat "Mårdselforsen", welches ein verzweigter Teil des Flusses Vindelälv ist...


Ett besök i Mårdselforsens naturreservat, som är en förgrenad del av Vindelälven...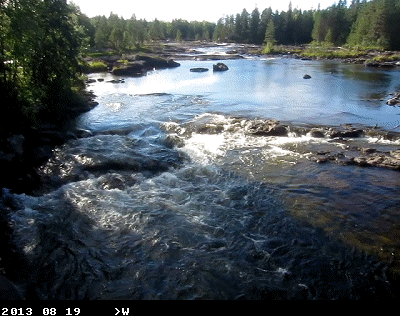 ...with mighty rapids...


...mit mächtigen Stromschnellen...


...med mäktiga forsar...




...and remains from the timber floating period: concrete walls, a boat house, and stone dams...


...und Überresten aus der Flößerzeit: Betonmauern, ein Bootshaus und Steindämme...


och rester från flottningstiden: Betongmurar, ett båthus, stendammar...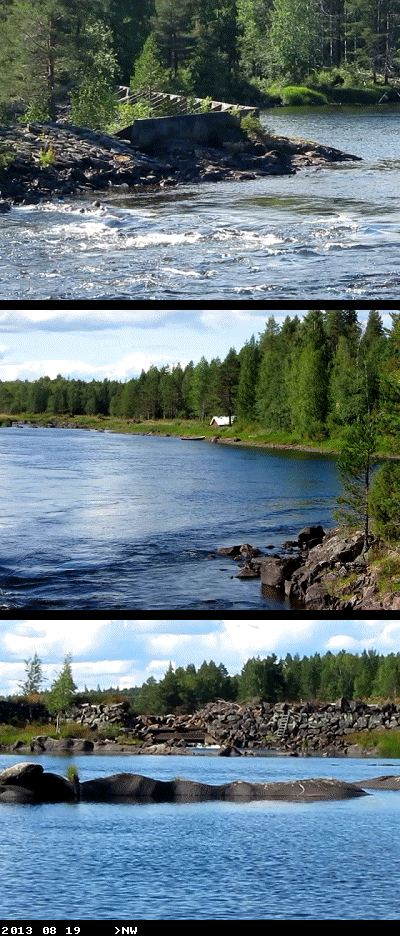 Some of the river branches have low water level most of the year, so that you can walk on water-shaped bedrock...


Einige der Flussarme führen die meiste Zeit des Jahres wenig Wasser, sodass man auf dem vom Wasser geformten Grundfels gehen kann...


Några av älvgrenarna har bara låg vattenföring under långa perioder av året, så att man kan gå på berggrunden som är formad av vattnet...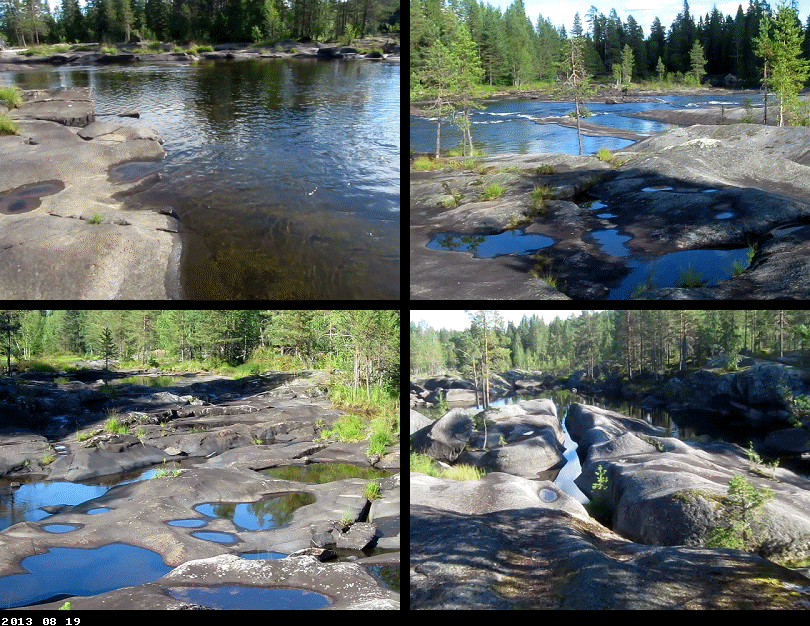 Further to the east, sand is dominating. Here we stand at a point, which has been a traditional resting place of the Sami...


Weiter östlich dominiert Sand. Hier stehen wir an einer Stelle, die ein traditioneller Lagerplatz der Samen war...


Längre österut dominerar sand. Här står vi på ett ställe, som var en traditionell lägerplats av samerna...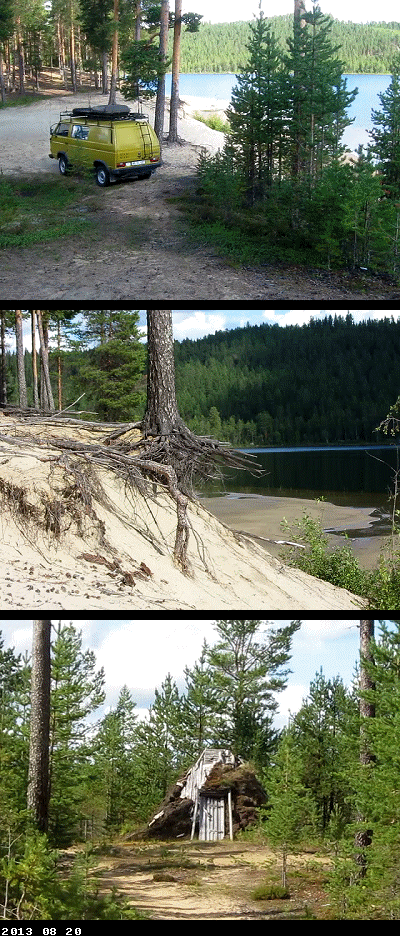 Some boat tours lead us across several lakes and to remote settlements...


Einige Bootstouren führen uns über mehrere Seen und zu abgelegenen Siedlungen...


Några båtturer leder oss över flera sjöar och till avlägsna bosättningar...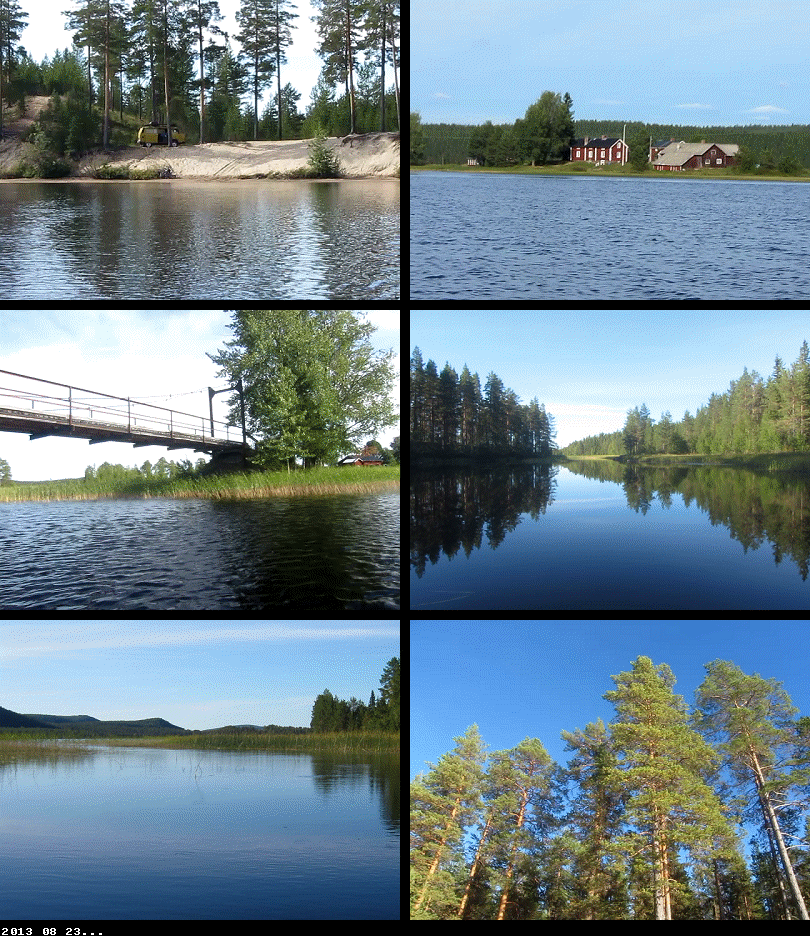 At the Lögdeälv river...


Am Fluss Lögdeälv...


Vid Lögdeälven...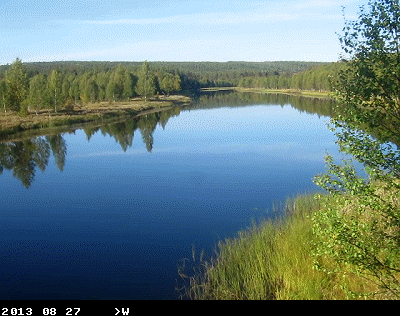 Back in Värmland: A beaver dam...


Zurück in Värmland: Ein Biberdamm...


Tillbaka i Värmland: En bäverdamm...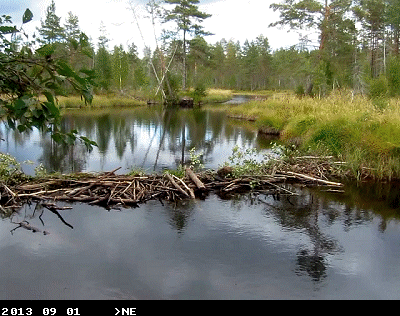 Impressions from the forest near Lesjöfors. The last picture shows an empty bear hole. In coming winter, it will surely be inhabited again...


Eindrücke aus den Wälder bei Lesjöfors. Das letzte Bild zeigt eine leere Bärenhöhle. Im kommenden Winter wird sie sicher wieder bewohnt sein...


Impressioner från skogen nära Lesjöfors. Den sista bilden visar en tom björnide. Under den kommande vintern ska den säkert bli bebodd igen...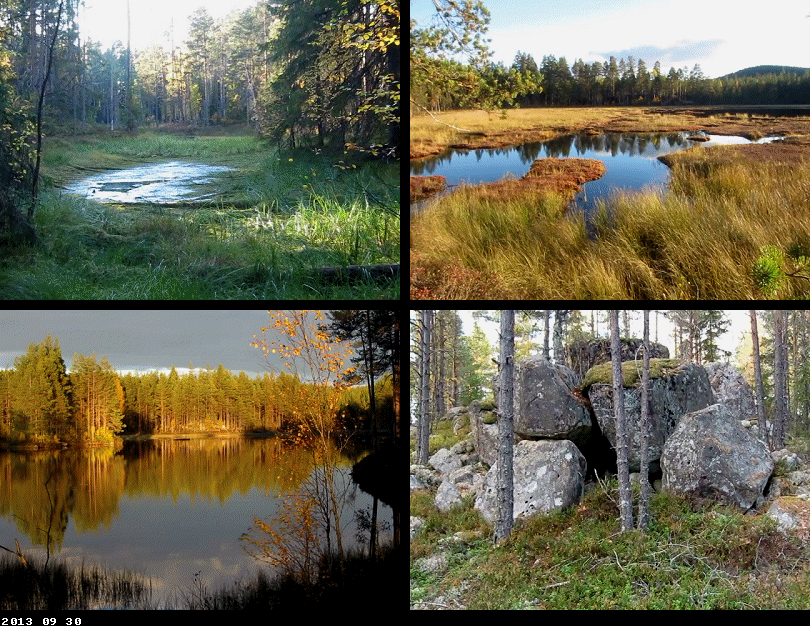 This stone pile seems to be an ancient border mark - and yes, nearby are some newer markings. Not far away we find rests of a blockhouse. Later we discover, that an old map from around 1890 shows the trail we went, a border triangle at the stone piles position, and even the blockhouse near the trail is to be seen as a small black dot...


Dieser Steinhaufen scheint eine alte Grenzmarkierung zu sein - und ja, in der Nähe sind einige neuere Markierungen. Nicht weit entfernt finden wir Reste eines Blockhauses. Später entdecken wir, dass eine alte Karte von etwa 1890 den von uns benutzten Pfad zeigt, sowie ein Grenzdreieck an der Position des Steinhaufens, und sogar das Blockhaus nahe des Weges ist als kleiner schwarzer Klecks zu sehen...


Detta stenröse syns vara en gammal gränsmarkering - och ja, i närheten finns ett par nyare markeringar. Inte långt därifrån hittar vi resterna från en timmerstuga. Senare upptäcker vi på en gammal karta från ca. 1890, att den visar stigen vi gick, samt en gränstriangel vid stenrösets position, och även timmerstugan syns som liten svart prick nära vägen...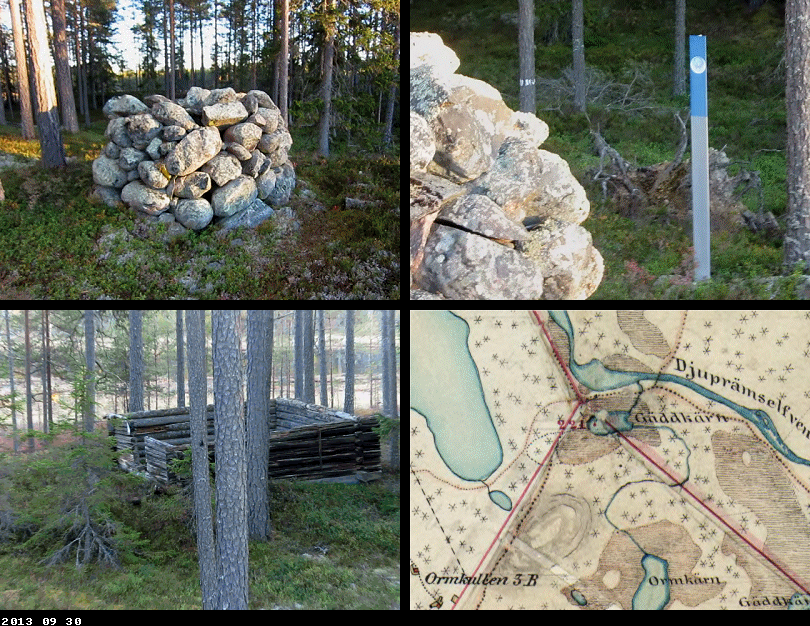 A night with northern lights in Härjedalen - for more information about northern lights look at AURORA - SOME EXPLANATIONS ...


Eine Nacht mit Nordlicht in Härjedalen - mehr Information über Polarlicht gibt es auf AURORA - EINIGE ERKLÄRUNGEN ...


En natt med norrsken i Härjedalen - mer information om norrsken finns på AURORA - NÅGRA FÖRKLARINGAR ...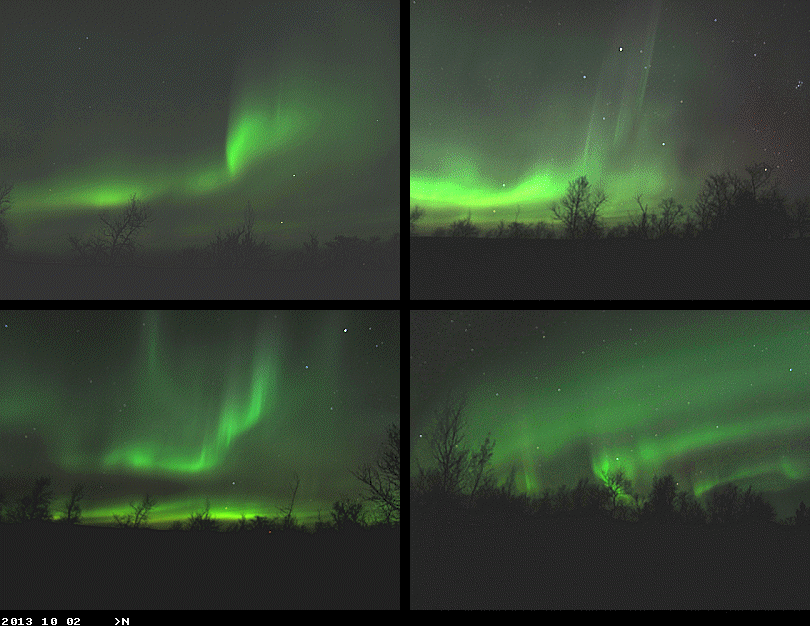 Far horizon...


Ferner Horizont...


Fjärran horisont...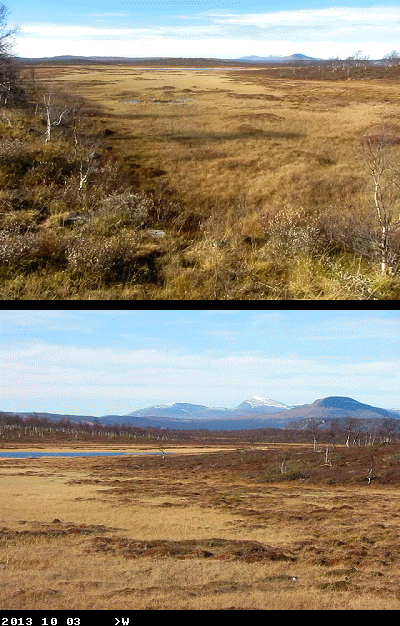 Karin compares the landscape with the map on her hand navigator...


Karin vergleicht die Landschaft mit der Karte auf ihrem Handnavigator...


Karin jämför landskapet med kartan på sin handnavigator...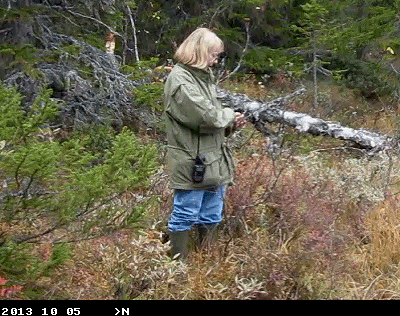 Two places at the same river - less than one kilometer apart...


Zwei Plätze am gleichen Fluss - weniger als einen Kilometer voneinander entfernt...


Två platser vid samma älv - mindre än en kilometer från varandra...




A watercourse in southern Jämtland. No people (except us) within a circle of 10 km, but several beavers...


Ein Wasserlauf im südlichen Jämtland. Keine Menschen (außer uns) in 10 km Umkreis, aber etliche Biber...


Ett vattendrag i södra Jämtland. Inga människor (förutom oss) i 10 km omkrets, dock ett flertal bävrar...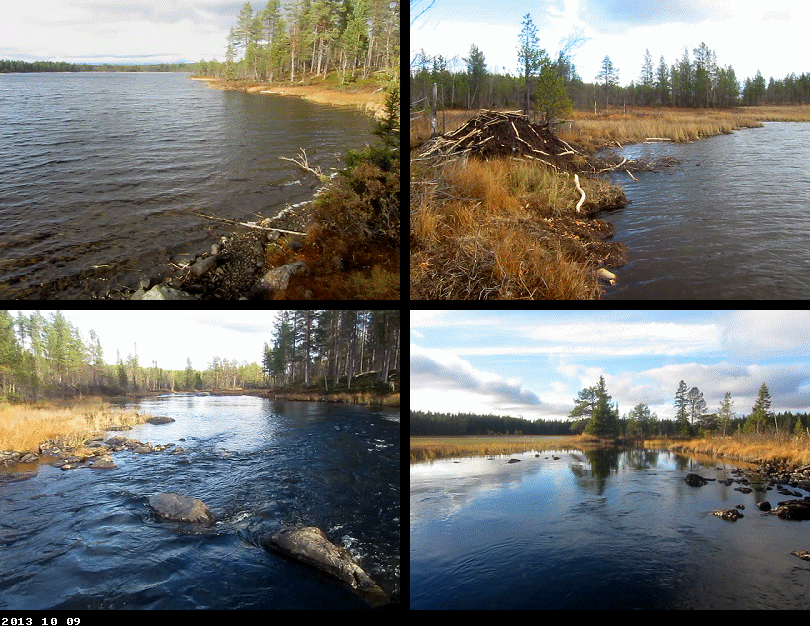 At a tributary of the Ljusnan...


An einem Nebenfluss des Ljusnan...


Vid ett biflöde till Ljusnan...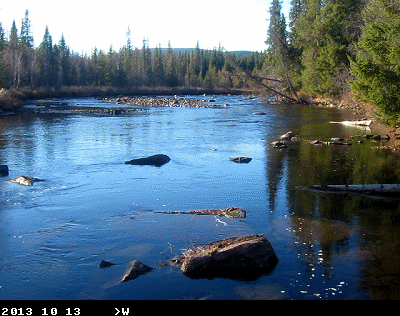 The same river 30 km further up, and one of its source lakes...


Der gleiche Fluss 30 km weiter oben, und einer seiner Quellseen...


Samma å 30 km längre upp, och en av sina källsjöar...




Another aurora night - maybe you already had a look at the site AURORA - SOME EXPLANATIONS ...


Eine weitere Aurora-Nacht - vielleicht hast du schon die Seite AURORA - EINIGE ERKLÄRUNGEN angesehen...


Ytterligare en aurora-natt - kanske har du redan tittat på AURORA - NÅGRA FÖRKLARINGAR ...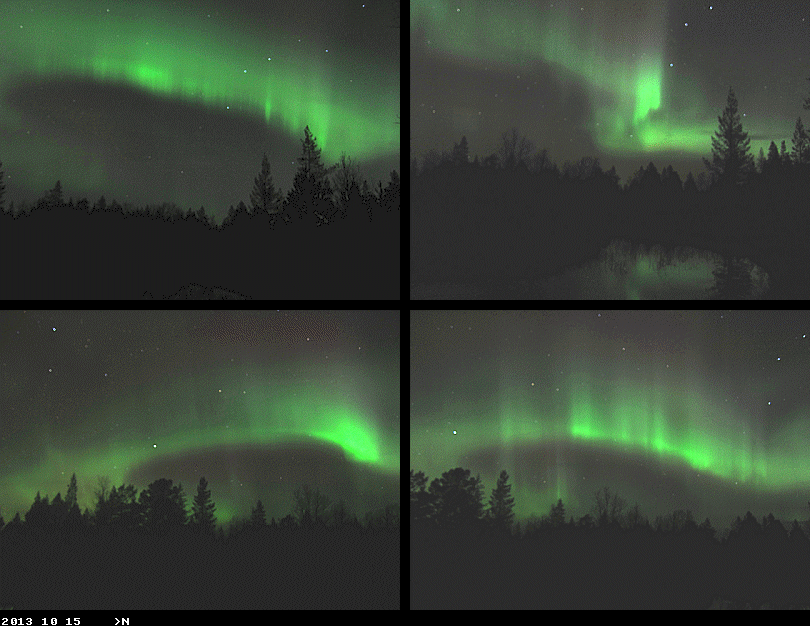 A visit in a small fishing harbour near Västervik...


Ein Besuch in einem kleinen Fischerhafen nahe Västervik...


Ett besök i en liten fiskehamn nära Västervik...




Water, rocks, and sparse vegetation...


Wasser, Fels, und spärliche Vegetation...


Vatten, häll, och torftig vegetation...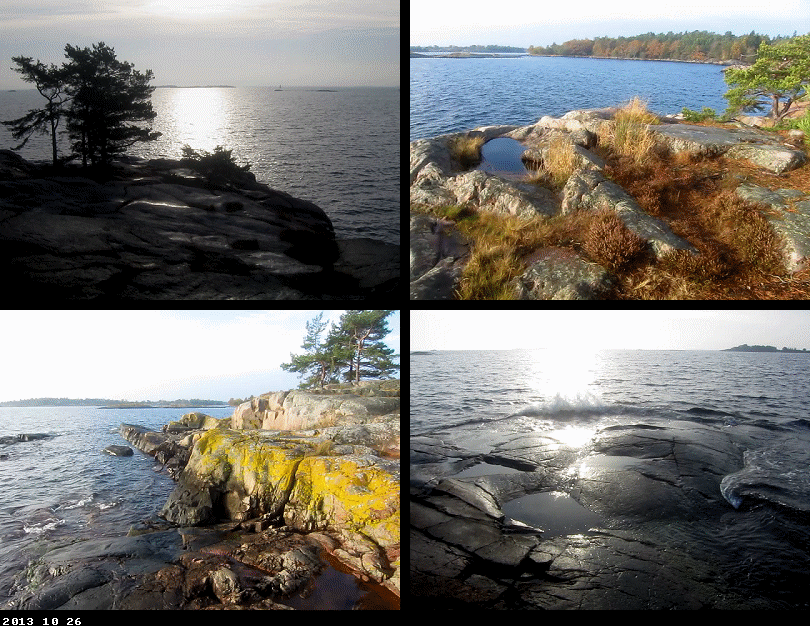 ... and VERY sparse vegetation...


... und SEHR spärliche Vegetation...


... och MYCKET torftig vegetation...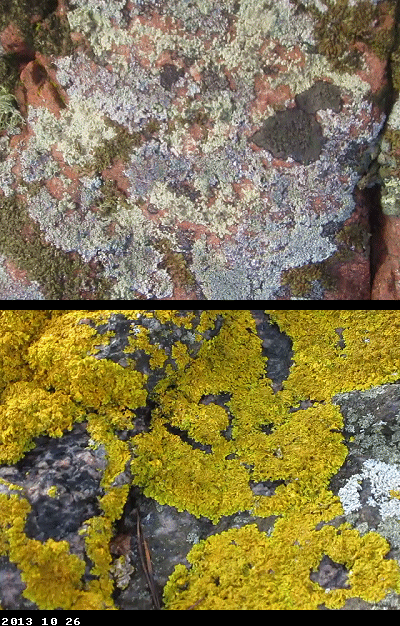 A quiet part of the coast...


Ein stiller Teil der Küste...


En lugn del av kusten...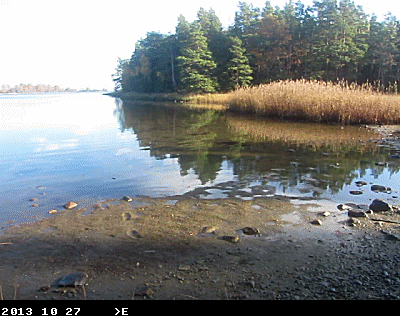 Last impressions before we leave Sweden: Thinking about trees - and much more...


Letzte Eindrücke bevor wir Schweden verlassen: Nachdenken über Bäume - und vieles mehr...


Sista intryck innan vi lämnar Sverige: Fundera över träd - och mycket annat...