PICTURES 2016


BILDER 2016


BILDER 2016




Only me and the VW T3 syncro 16" and the wide nature around - over two months as mobile hermit and on discovery tour...


Nur ich und der VW T3 syncro 16" und die weite Natur ringsum - über zwei Monate als mobiler Eremit und auf Entdeckungstour...


Bara jag och VW T3 syncro 16" och den vida naturen runt omkring - över två månader som mobil eremit och på upptäckningsresa...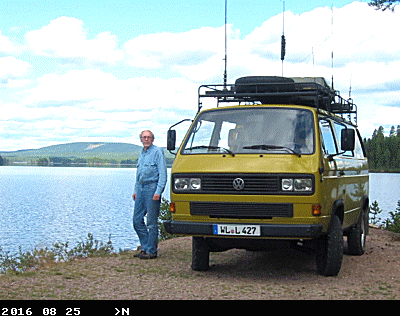 I am interested in the dotted line on the map, which once might have been a canal connecting the lakes, and if so, there must even have been some kind of lock...


Mich interessiert die gepunktete Linie auf der Karte, die vielleicht mal eine Kanalverbindung zwischen den Seen gewesen sein könnte, und wenn, muss es auch eine Schleuse gegeben haben...


Jag är intresserad av den prickade linjen på kartan, som förr i tiden kunde ha varit en kanalförbindelse mellan sjöarna, och i det fallet måste det även ha funnits en sluss...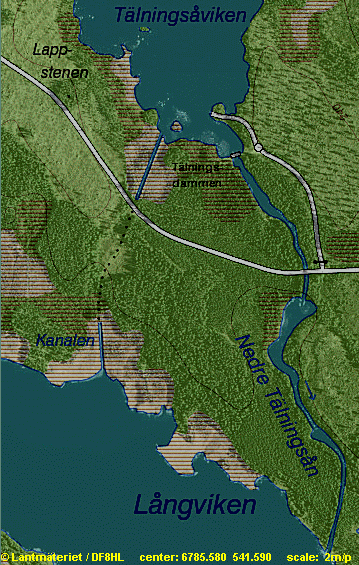 I find the canal-like connections at the two lakes, but there is no groove between them. My conclusion is, that the connection between the lakes has most probably been a boat rail system...


Es gibt die kanalartigen Anschlüsse an beiden Seen, dazwischen findet man aber keinerlei Rinne. Ich ziehe den Schluss, dass es hier als Verbindung zwischen den Seen wahrscheinlich eine Bootbahn gegeben haben muss...


Jag hittar de kanalartade anslutningar vid bägge sjöarna, dem emellan finns dock ingen ränna. Jag drar slutsatsen, att förbindelsen mellan sjöarna upprättades sannolikt av en båtbana...




The hut underneath the rock remembers to a sami who lived here long time ago and lost his life in a predator trap...


Diese Hütte unter dem Fels erinnert an einen Samen, der hier vor langer Zeit lebte und in einer Falle für Raubtiere ums Leben kam...


Denna stuga under stenblocket påminner en same, som bodde här för länge sedan och miste livet i en rovdjursfälla...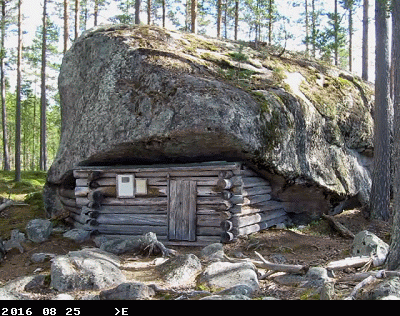 A camp site (normally I use to bevave less expansive)...


Ein Lagerplatz (normalerweise verhalte ich mich weniger expansiv) ...


En lägerplats (normalt brukar jag bete mig mindre expansivt)...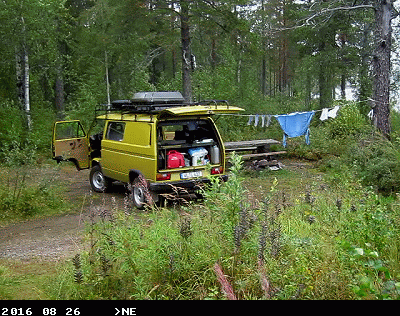 On the lake Storsjön in Jämtland there once was (before roads were built) regular ship traffic with quays at nearly every settlement, e.g. Dillne brygga...


Am Storsjön in Jämtland gab es früher (bevor Straßen gebaut wurden) einen regelmäßigen Schiffsverkehr mit Kaianlagen bei fast jeder Ansiedlung, z.B. Dillne brygga...


På Storsjön i Jämtland fanns förr i tiden (innan vägar byggdes) regelbunden båttrafik med kajanläggningar vid nästan varje bosättning, t.ex. Dillne brygga...




In an open air museum on Norderön in the lake Storsjön...


In einem Museumsdorf auf der Insel Norderön im Storsjön...


I ett friluftsmuseum på Norderön i Storsjön...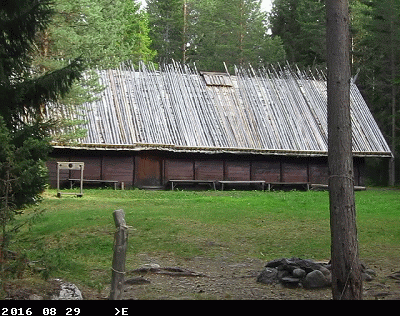 Already in Lapland now. A nice place at a river, which looks quite natural. You hardly guess that there has been a railway track from the Inland Railroad down here earlier, delivering logs, which were then floted down the river...


Nun schon in Lappland. Ein schöner Platz am Fluss, der sehr naturbelassen wirkt. Man ahnt kaum, dass es hierher vor vielen Jahrzehnten einen Abzweig von der Inlandsbahn gab, auf dem Baumstämme antransportiert wurden, um sie dann als Floßholz dem Fluss zu übergeben...


Nu redan i Lappland. En fin plats vid älven, som verkar rätt opåverkad. Man anar knappast, att för flera decennier sedan fanns ett järnvägsspår från Inlandsbanan ner hit, som tranporterade timmerstockar till älven, där de sedan flottades...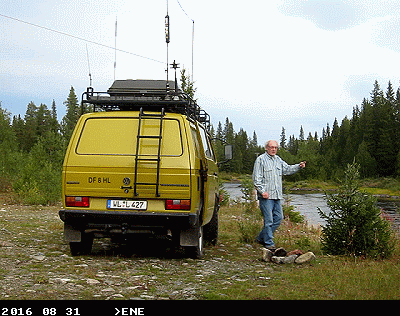 At a part of the river Umeälv, which has low water level nowadays, as most of the water is lead to a hydropower plant. I find it very attractive to walk on the water-shaped bedrock...


Der Umeälv in einem Teil, der heute kaum noch Wasser führt, weil das meiste Wasser auf einem anderen Weg einem Kraftwerk zugeführt wird. Sehr reizvoll, sich hier auf dem vom Wasser überformten Fels zu bewegen...


En del av Umeälven med idag låg vattenföring, därför att det mesta vattnet ledas på en annan väg till ett kraftverk. Fint att röra sig över hällarna som blivit formade av vattnet...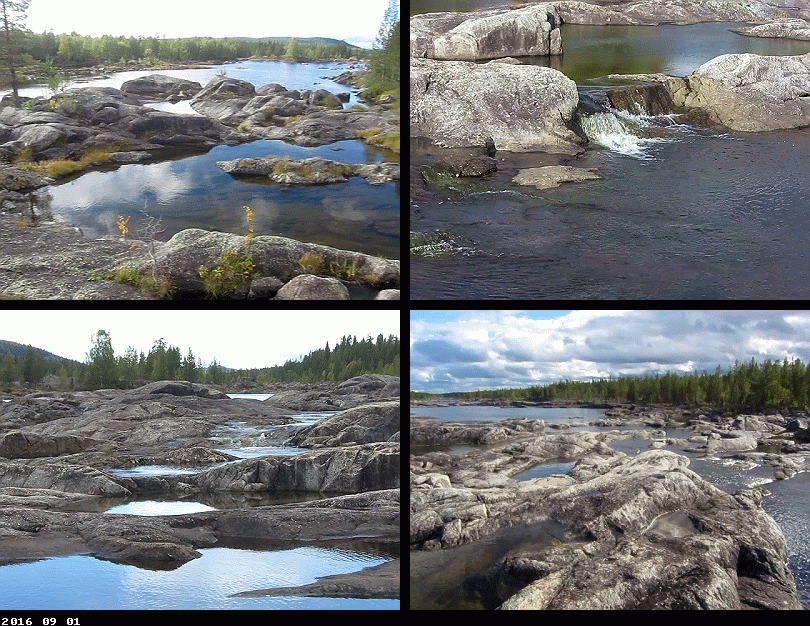 Considerably high above todays water level there is a stone wall, which earlier served as jetty for timber rafting...


In beträchtlicher Höhe über dem heutigen Wasserstand eine Mauer, die früher als Leitarm für die Flößerei diente...


En bra bit över det aktuella vattenståndet finns en mur, som en gång i tiden byggdes som ledarm för flottningen...




In the course of the river Gertsbäck there is an old timber floating lock and a wooden pipe (not quite tight any more), which leads to a small power plant...


Im Verlauf des Gertsbäck gibt es ein altes Flößerwehr und ein hölzernes Rohr (nicht mehr ganz dicht), das zu einem kleinen Kraftwerk führt...


I Gertsbäckens sträckning finns en gammal flottningsdamm och en vattentub av trä (inte längre helt tät), som leder mot ett litet kraftverk...



Near the power plant I cross a swaying suspension bridge...


In der Nähe des Kraftwerks überquere ich eine schaukelige Hängebrücke...


Inte långt ifrån kraftverket korsar jag en gungande hängbro...




A night with nice polar lights near Dainak...


Eine Nacht mit schönem Nordlicht bei Dainak...


En natt med fint norrsken vid Dainak...




Moving on small ways (video)...


Unterwegs auf kleinen Wegen (Video)...


Färd på småvägar (video)...






At the lake Hornavan. A moving evening atmosphere - and after the sun has just gone down, impressive northern lights are to be seen...


Am See Hornavan. Eine ergreifende Abendstimmung - und kaum ist die Sonne untergegangen, beginnt eindrucksvolles Nordlicht...


Vid sjön Hornavan. Underbar kvällsstämning - och strax efter solnedgången börjar ett riktigt härligt norrsken...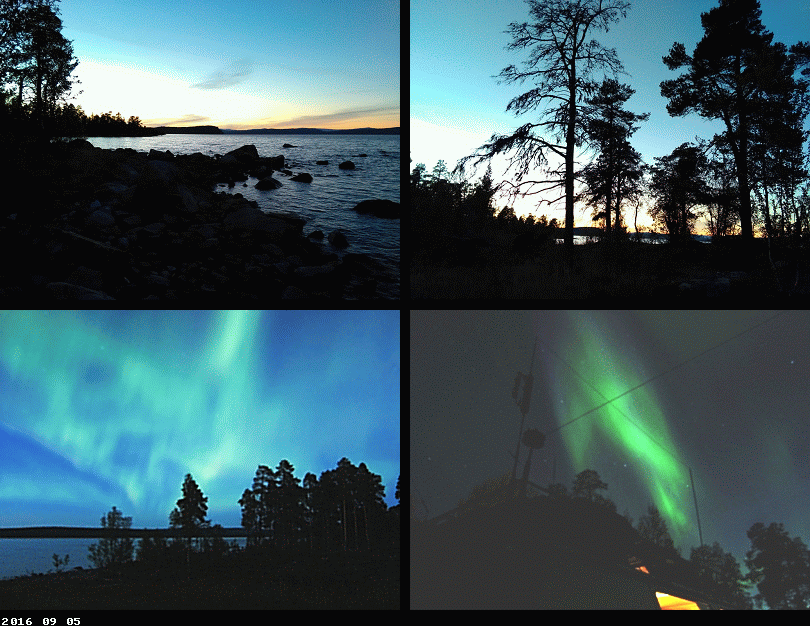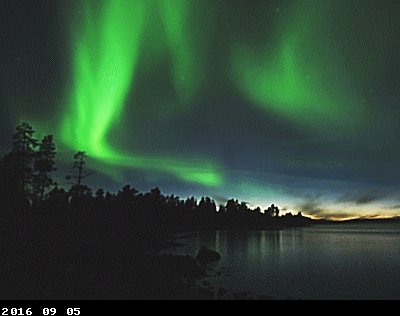 A lonely grave. A cross adorned with colorful ribbons and reindeer horns...


Ein Grab in der Einsamkeit. Ein Kreuz geschmückt mit bunten Bändern und Renhörnern...


Ett grav i ensamheten. Ett kors smyckat med färgade band och flera renhorn...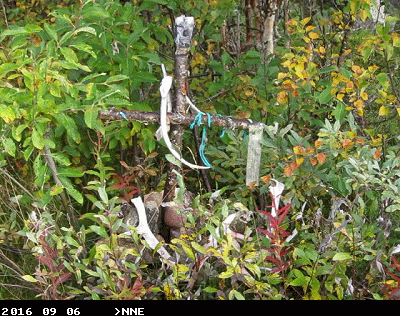 The E45, very seldom a car (video)...


Die E45, sehr selten ein Auto (Video)...


E45:an, mycket sällan någon bil (video)...






Rocky forrest near Ligga...


Felsiger Wald bei Ligga...


Berg i dagen i skogen vid Ligga...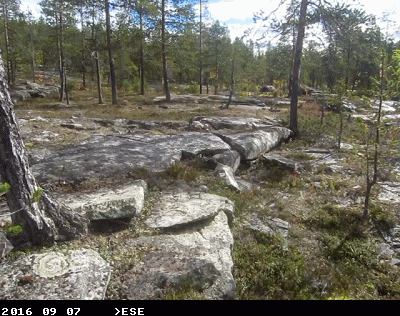 The bridge of the Inland Railroad across the Stora Luleälv...


Die Brücke der Inlandsbahn über den Stora Luleälv...


Inlandsbanans bro över Stora Luleälven...




As I am a Radio Amateur (my international callsign is DF8HL), I use shortwave radio for scientific observations as well as for the daily contacts with friends. It is even usefull in cases of emergency, particularly in remote areas without mobile phone net.
Left: High antenna expenditure for the daily radio contacts with quite a lot of stuff (mast, wire, etc.).
Right: But mostly it is even sufficient with the very effective    MULTI-RESONANT HF MOBILE ANTENNA   ...


Da ich Funkamateur bin (mein internationales Rufzeichen ist DF8HL), nutze ich die Funktechnik für naturwissenschaftliche Observationen und für tägliche Kontakte zu den Freunden. Nicht ganz unwichtig ist dies auch in Notfällen, besonders in abgelegenen Gebieten ohne Mobiltelefonnetz.
Links: Großer Antennenaufwand für die täglichen Funkkontakte (Mast, Draht usw.).
Rechts: Oft reicht aber auch die sehr effektive    MULTIRESONANTE HF-MOBILANTENNE   ...


Då jag är sändaramatör (min internationella anropssignal är DF8HL), använder jag radiotekniken för naturvetenskapliga observationer samt för dagliga kontakter med vännerna. Radion är även av betydelse i nödsituatiner, särskilt i avlägsna trakter utan mobiltäckning.
Vänster: Stor antenninsats för de dagliga radiokontakter med många prylar (mast, vajer osv.).
Höger: Oftast räcker det dock till med en mycket effektiv    MULTIRESONANT HF-MOBILANTENN   ...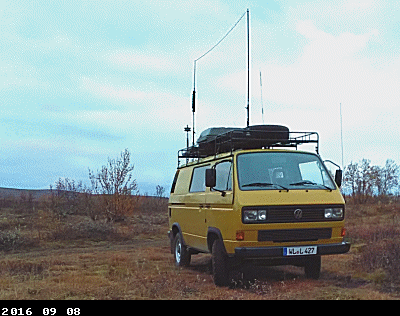 In a very remote area 70 km north of Kiruna...


In einer sehr abgelegenen Gegend 70 km nördlich von Kiruna...


I en mycket avlägsen trakt 70 km norr om Kiruna...




One of the few remained turf cots in Pulsujärvi. When I first visited this place, 40 years ago, such cots were the usual dwellings of the sami. Today most of them have been replaced by wooden cottages...


Eine der wenigen verbliebenen Torfkoten in Pulsujärvi. Bei meinem ersten Besuch hier, vor 40 Jahren, waren solche Koten die üblichen Behausungen der Samen. Heute sind die meisten duch Holzhütten ersetzt...


En av de få torvkåtor som finns kvar i Pulsujärvi. Vid mitt första besök här, för 40 år sedan, var sådana kåtor samernas vanliga bostäder. Idag ersattes de flesta med trästugor...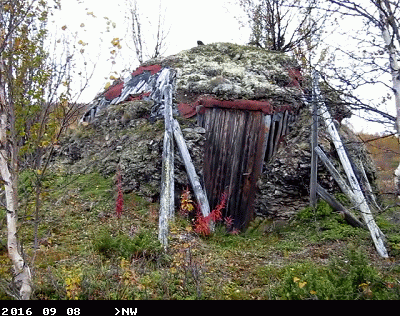 Due to the climate there is only sparse vegetation. Besides of that the soil is very sandy...


Das Klima erlaubt nur spärliche Vegetation. Außerdem ist der Boden sehr sandig...


Klimatet tillåter bara torftig vegetation. Dessutöver är marken mycket sandig...




Here grows even less, as in this depression the snow stays very long in spring (june)...


Hier wächst noch weniger, weil im Frühjahr (Juni) der Schnee in dieser Senke lange liegen bleibt...


Här växer ännu mindre, därför att snön stannar kvar länge i våren (juni) i denna sänka...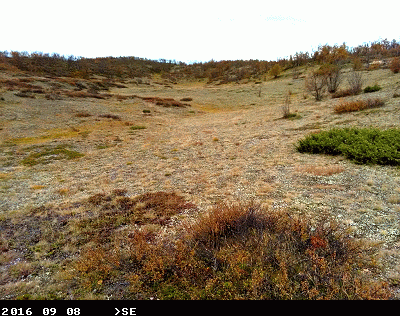 At Trollforsen (Piteälv) there is a forrest sami cot and a storage cabin (ajtte)...


Beim Trollforsen (Piteälv) steht eine Waldsamenkote und ein Vorratsspeicher (ajtte)...


Vid Trollforsen (Piteälven) finns en skogssamekåta och en förrådsbod (ajtte)...




Trollforsen. Once again impressive, even in rainy weather...


Trollforsen. Wieder eindrucksvoll, selbst bei Regenwetter...


Trollforsen. En gång till imponerande, även vid regnväder...




On an areal photo you can see jetties left from the timber floating time, which I want to see...


Auf einer Luftaufnahme sieht man aus der Flößerzeit verbliebene Leitdämme, die ich sehen möchte...


På ett flygfoto ser man kvarstående ledarmar från flottningstiden, som jag gärna vill se...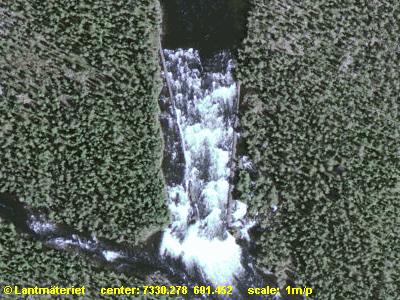 Nilaskåtan, another forrest sami cot left in a nature reserv, a storage cabin on a pile (njalla), and a traditional reindeer fence...


Nilaskåtan, eine weitere in einem Reservat erhaltene Waldsamenkote, ein Speicher auf einem Pfeiler (njalla) und ein Rentiergehege mit traditionellem Zaun...


Nilaskåtan, ytterligare en i ett reservat befintlig skogssamekåta, en förrådsbod på en stolpe (njalla) och ett rengärde med traditionellt trästängsel...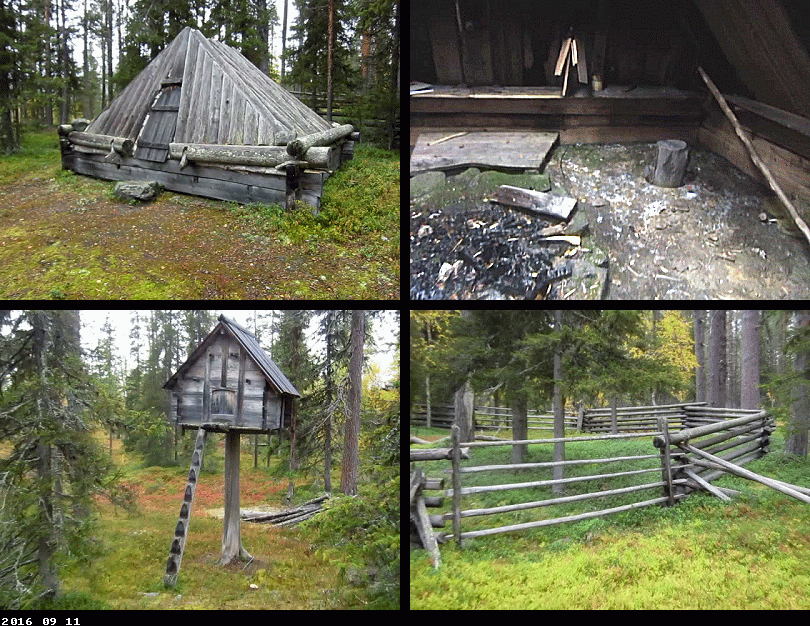 On a walk about 25 km northwest of Sorsele. Just after I have finished the difficult crossing of this water I hear a young bear in the bushes in front of me - it seems to be recommended to withdraw carefully. Shortly afterwards I nearly step into the faeces of the mother. Unlike most bears in this season she does not eat vegetarian...


Eine Wanderung ca. 25 km nordwestlich von Sorsele. Kaum habe ich diesen Wasserlauf schwierig überwunden, höre ich vor mir im Gebüsch einen Jungbären - vorsichte Umkehr scheint angeraten. Kurz darauf trete ich fast in die Hinterlassenschaften der Mutter. Sie ernährt sich im Gegensatz zu den meisten Bären in dieser Jahreszeit nicht vegetarisch...


En vandring ca. 25 km nordväst om Sorsele. Strax efter jag har klarat passagen över detta vattendrag, hör jag i buskarna framför mig en björnunge - jag beslutar att dra mig försigtigt tillbaka. Kort därpå trampar jag nästan på moderns exkrementer. I motsatsen till de flesta björnar under denna årstid äter hon inte vegetariskt...




A beautiful starting point for excursions through the autumnal forrest...


Ein schöner Ausgangspunkt für Streifzüge durch den herbstlichen Wald...


En vacker utgångspunkt för strövtåg genom den höstliga skogen...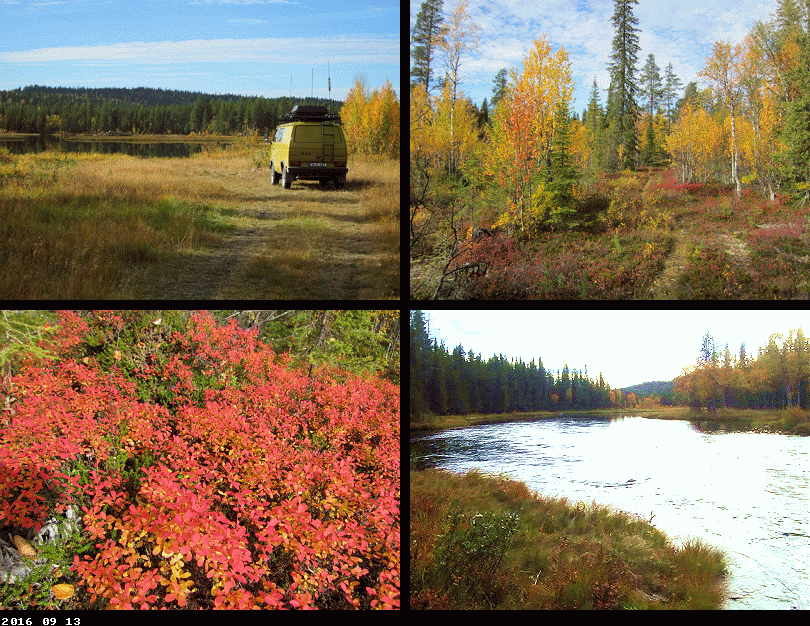 Suobdekkåten, a cross between a forrest sami cot and a hut...


Suobdekkåtan, ein Zwischending zwischen Waldsamenkote und Hütte...


Suobdekkåtan, en mellanting mellan skogssamekåta och koja...




Walking tour at the river...


Wanderung am Fluss...


Vandring vid älven...



Today right in the middle of the forrest, there has once been a mill at this place. Now the construction is carefully restored...


Heute mitten im Wald, gab es hier früher eine Mühle. Die Anlage wird jetzt liebevoll restauriert...


Idag mitt i skogen, fanns det tidigare en kvarn här. Anläggningen blir nu kärleksfullt restaurerat...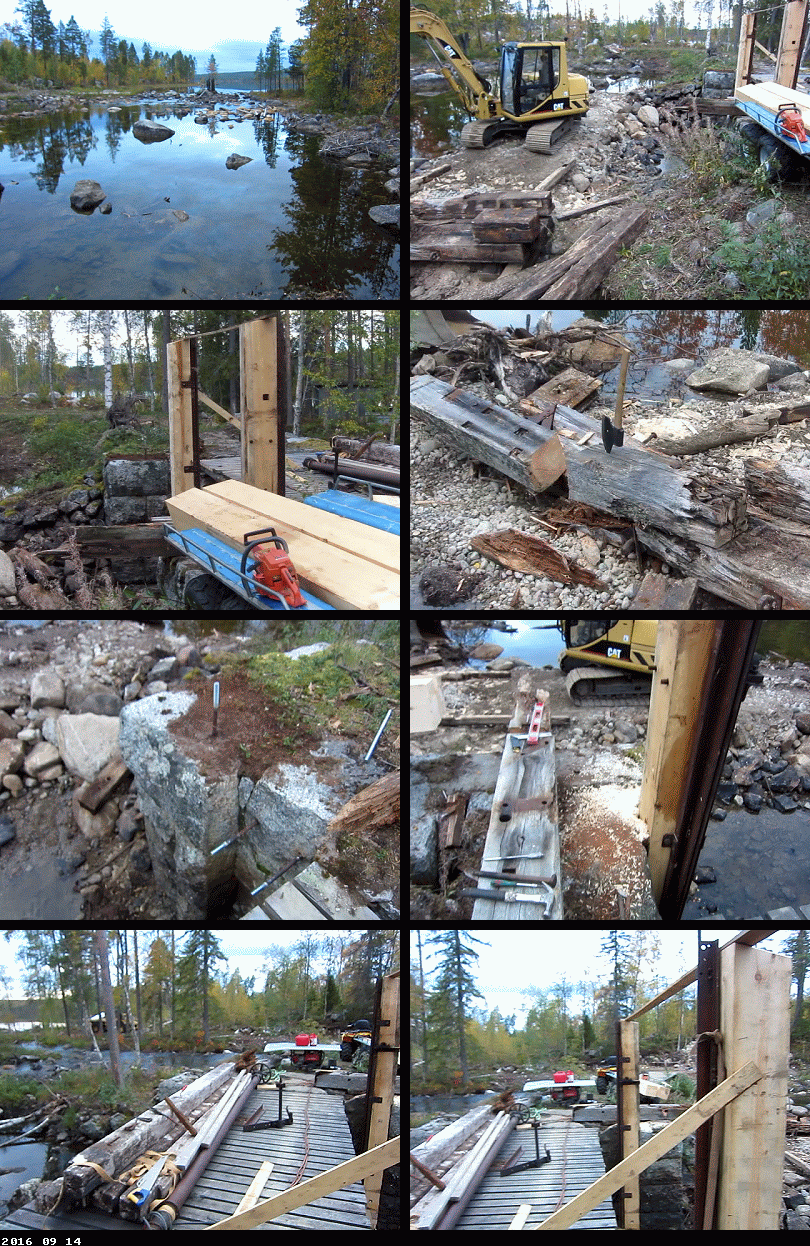 A nice walk at the Vindelälven and Gargån...


Ein schöner Spaziergang am Vindelälven und Gargån...


En fin promenad vid Vindelälven och Gargån...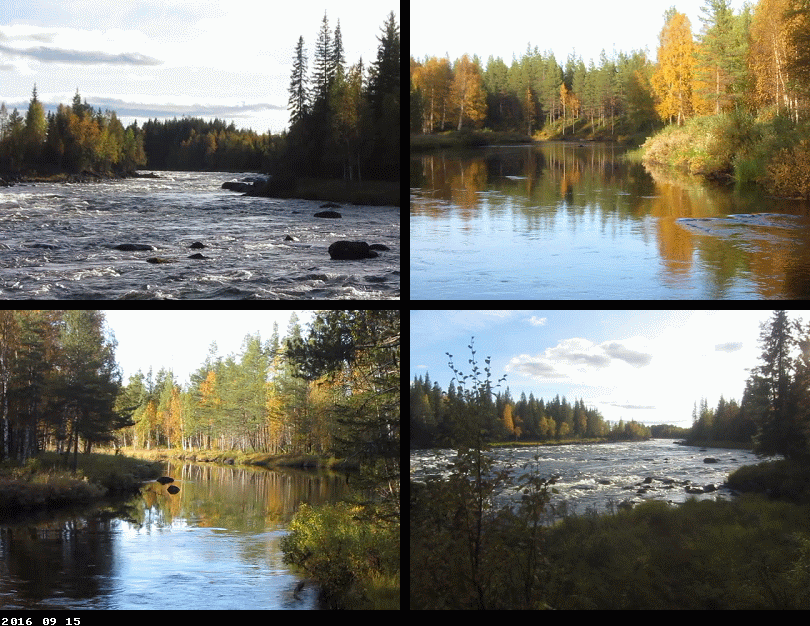 A dubious bridge...


Eine zweifelhafte Brücke...


En tvivelaktig bro...




An old reservoir damm at the Vindelälv. Its content was used to control the water current distribution in the river and by this steering the floating timber...


Ein altes Staubassin am Vindelälv. Sein Inhalt diente dazu, die Srömungsverteilung im Fluss und damit den Weg des Floßholzes zu beeinflussen...


En gammal uppdämningsbassäng vid Vindelälven. Innehållet användes för att styra vattenströmmens fördelning i älvfåran och således påverka flottningstimrets väg...



I would not drink this water: A settling pond at the former mine Rävlidmyrgruvan. The water is clear - sediments on the bottom are the source of the color, which points to copper...


Ich würde hier nicht trinken: Ein Absetzbecken an der ehemaligen Grube Rävlidmyrguvan. Das Wasser ist klar - Sedimente am Boden bewirken die Farbe, die auf Kupfer hindeutet...


Jag skulle inte dricka här: En slamdamm vid den f.d. Rävlidmyrgruvan. Själva vattnet är klart - det är bottensedimenten som står för färgen, som tyder på koppar...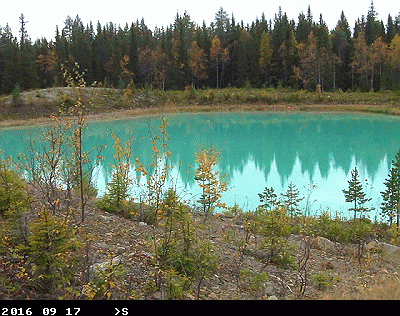 A part of the Skellefteälv with very few water, most of it runs into a reservoir with power plant. At the slope on the other side an ancient timber floating jetty...


Ein wasserarmer Teil des Skellefteälv, das meiste Wasser fließt in einen Stausee mit Kraftwerk. Am Hang auf der anderen Seite ein alter Flößereileitdamm...


En vattenfattig del av Skellefteälven, huvudandelen av vattnet förs mot en kraftverksdamm. På motsatta sluttningen en gammal flottningsledarm...




A trip to the coast of the Bottenvik. Waves playing at round-shaped rocks, and interesting patterns of different types of stone, here and there even a lot of iron ore...


Abstecher an die Küste des Bottenvik. Runde Felsen, an denen die Wellen spielen und interessante Muster verschiedener Gesteinsarten, hier und da auch recht viel Eisenerz...


Avstickare till Bottenvikens kust. Runda hällar med kluckande vågor och intressanta mönster av olika bergarter, här och där är även mycket järnmalm...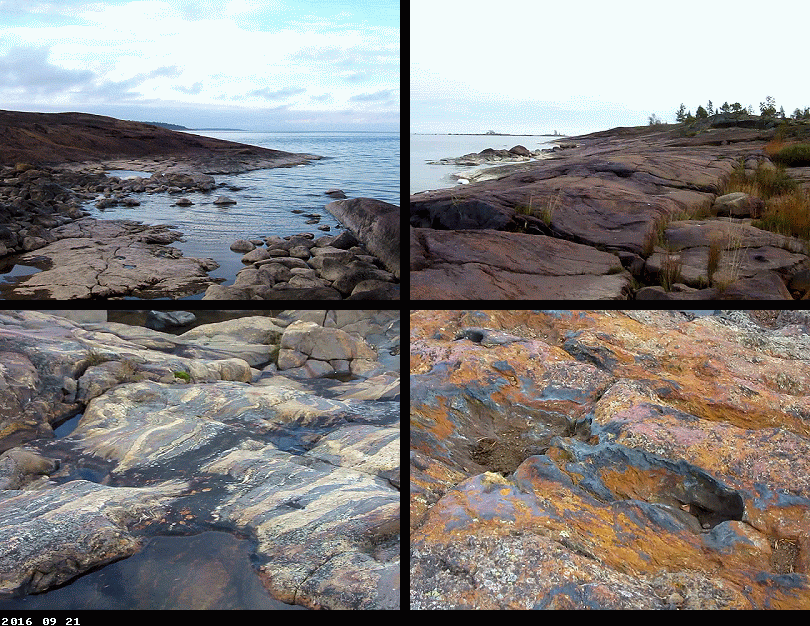 Back in the inland. At places, where rivers flow into lakes, personal was needed during the timber floating time, who lived in such cottages. The dwellings for the crew were held quite simple: Plank beds around a fireplace in the middle. The cook always used to have his own room and lived much more comfortable...


Wieder im Inland. An Stellen, wo Flüsse in Seen münden, wurde während der Flößerzeit Personal gebraucht, das in solchen Hütten lebte. Die Behausungen waren für die Mannschaft recht einfach gehalten: Pritschen um eine Feuerstelle in der Mitte. Der Koch hatte immer seinen eigenen Raum und lebte deutlich komfortabler...


Tillbaka i inlandet. Vid ställen, där älvar mynnar i sjöar, fanns under flottningstiden behov av personal, som bodde i sådana kojor. Bostäderna för manskapet var mycket enkelt hållna: Britsar kring en eldstad i mitten. Kocken hade alltid sitt eget rum och hade betydligt mer komfort...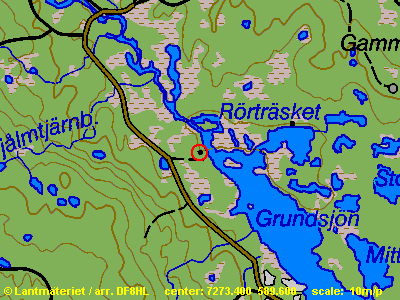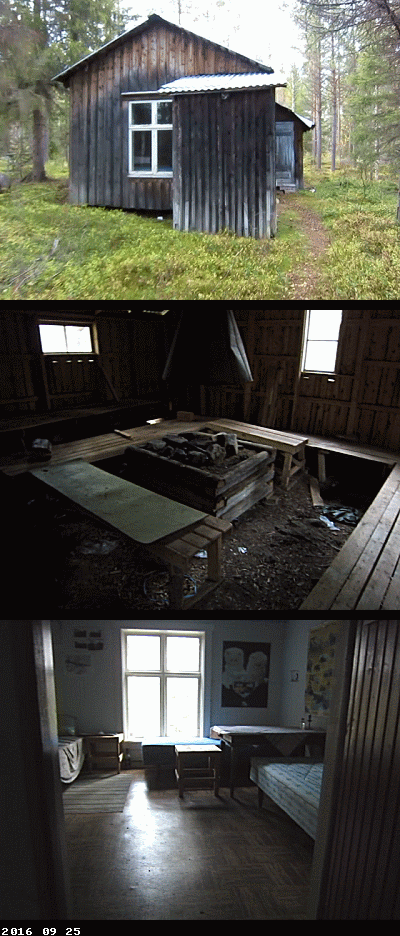 One more night with impressive northern lights...


Mal wieder eine Nacht mit eindrucksvollem Nordlicht...


Ännu en natt med imponerande norrsken...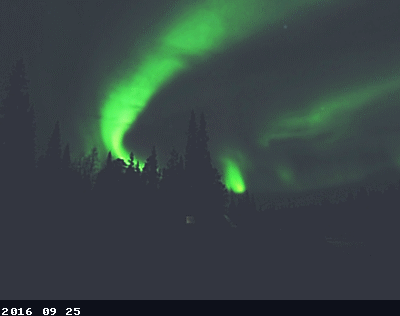 For more information about northern lights look at    AURORA - SOME EXPLANATIONS  


Mehr Information über Polarlicht gibt es auf    AURORA - EINIGE ERKLÄRUNGEN  


Mer information om norrsken finns på    AURORA - NÅGRA FÖRKLARINGAR  




At Botelforsen there is a small ferry for terrain quads, driven by an outboarder. On the other side you can see the second "ferry port"...


Bei Botelforsen gibt eine eine kleine Fähre für Gelände-Quads, angetrieben von einem Außenborder. Auf der anderen Seite erkennt man den zweiten "Fährhafen"...


Vid Botelforsen finns en liten färja för terränghjulingar, driven av en utbordare. På motsatta sidan ser man den andra "färjehamnen"...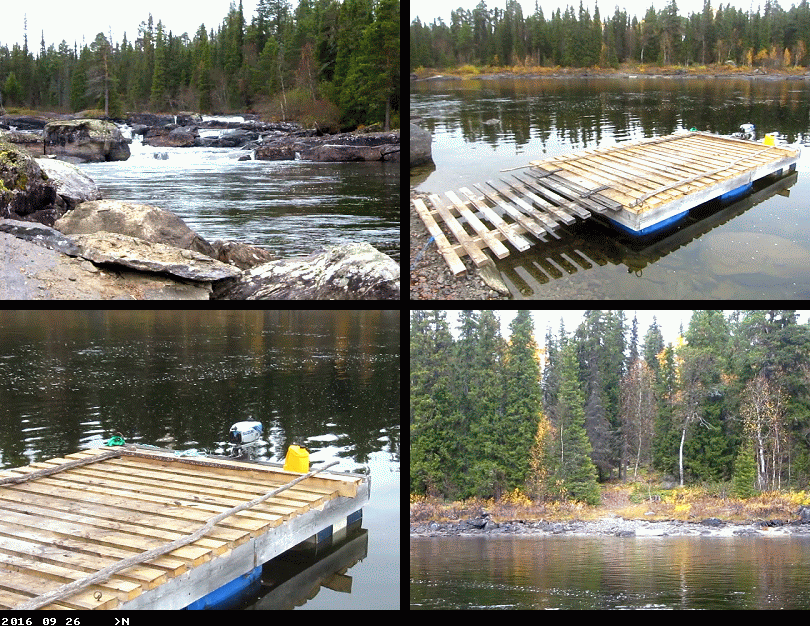 Evening at the Indalsälv...


Abend am Indalsälv...


Kväll vid Indalsälven...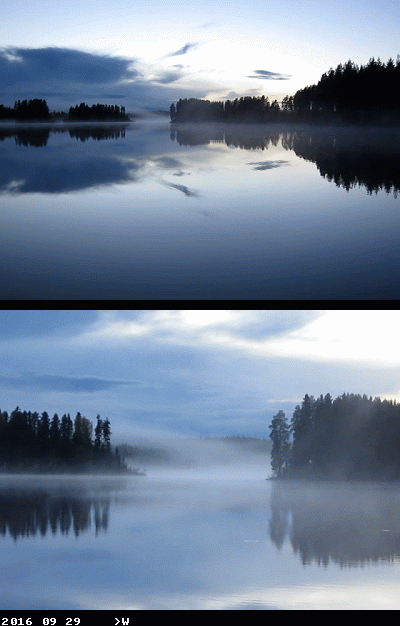 Drogsjöforsen with ancient timber floating facilities...


Drogsjöforsen mit alten Flößeranlagen...


Drogsjöforsen med gamla flottningsanläggningar...



Walking through "genuine forrest" to rests of old settlements...


Wanderung durch "echten Wald" zu Resten alter Ansiedlungen...


Vandring genom "äkta skog" till rester av gamla bosättningar...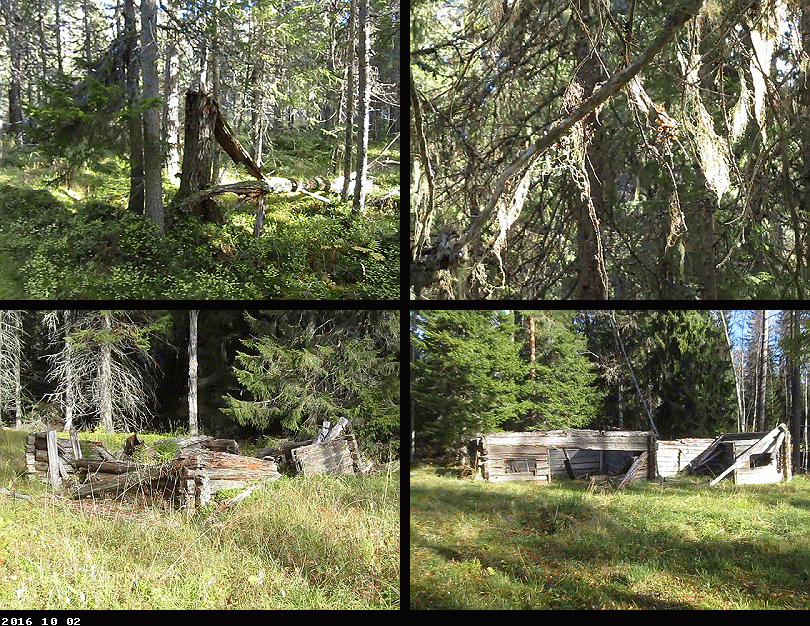 and further to a snug cabin...


... und weiter zu einer gemütlichen Hütte...


... och vidare till en mysig stuga...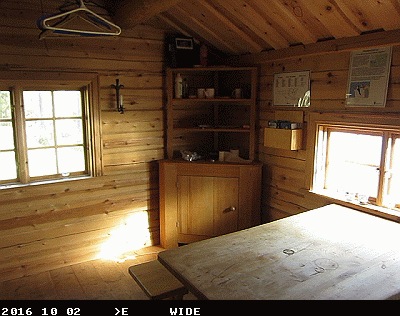 Once again at the pleasant rapids along Forsaleden...


Mal wieder an den reizvollen Stromschnellen im Verlauf des Forsaleden...


Igen vid de tilltalande forsar längs Forsaleden...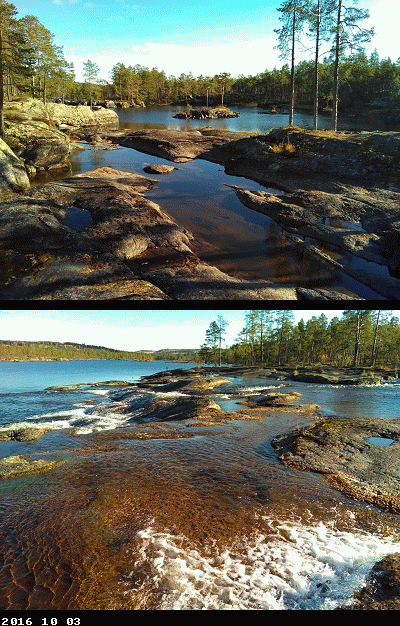 Rövrafall and further upwards river Rövran...


Rövrafall und weiter am Rövran entlang aufwärts...


Rövrafallet och vidare längs Rövran uppströms...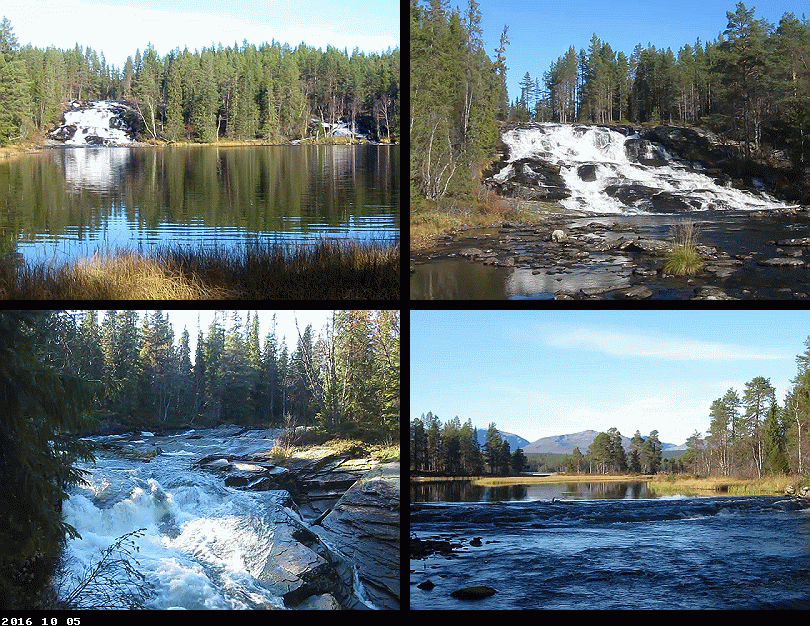 At the outlet from the lake into the river there is an ancient log drivers cabin, which serves as a quite comfortable hunting lodge today. Down below the wood stock building...


Am Auslauf des Flusses aus einem See gibt es eine ehemalige Flößerhütte, die heute als recht komfortable Jagdhütte dient. Ganz unten das Gebäude für den Holzvorrat ...


Vid ett sjöutlopp finns en f.d. flottarkoja, som idag används som rätt fin jaktstuga. Längst nedan vedbodet...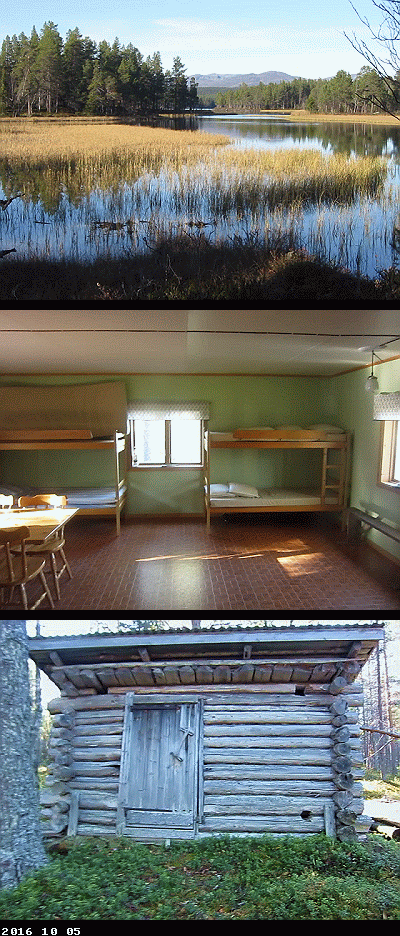 Here a reindeer has rubbed its antlers...


Hier hat sich ein Ren den Bast vom Geweih gefegt...


Här har en ren fejat basthuden från hornen...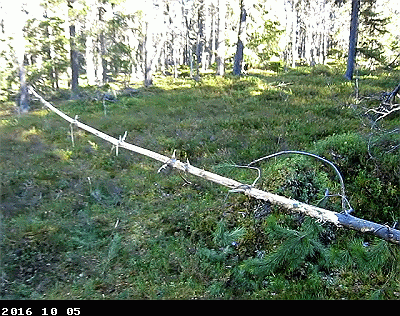 Finally at the destination of the walk - with this view across the lake...


Schließlich am Ziel der Wanderung - mit diesem Blick über den See...


Slutligen vid vandringens mål - med denna utsikt över sjön...




Winter shows that it won't wait too long any more...


Der Winter zeigt, dass er nicht mehr lange warten will...


Vintern visar att den inte vill vänta alltför länge till...



But there are some more sunny days with the right weather for excursions...


Und doch kommen noch ein paar sonnige Tage mit dem richtigen Wetter für Wanderungen...


Men ändå blir det ett par dagar till med lämpligt vandringsväder...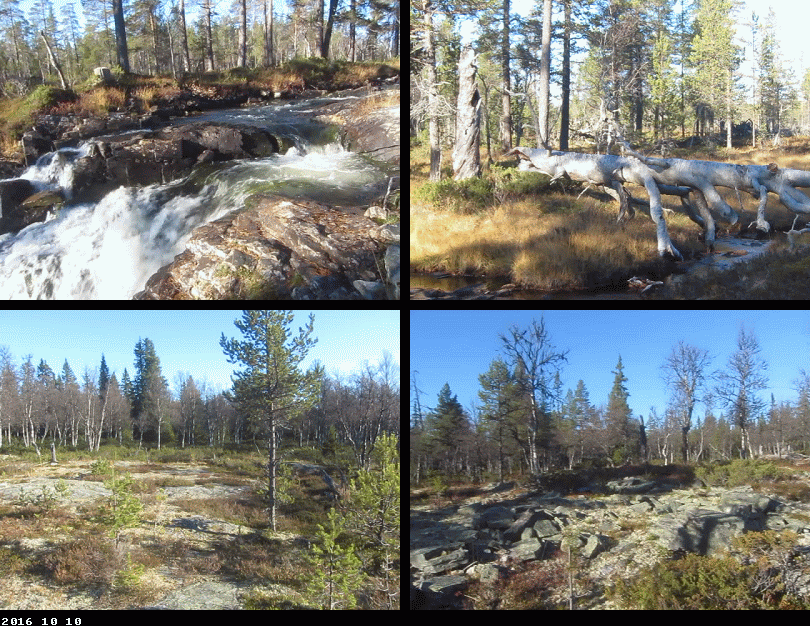 ... and evening impressions like these...


... und solchen Abendimpressionen...


... och sådana kvällsimpressioner...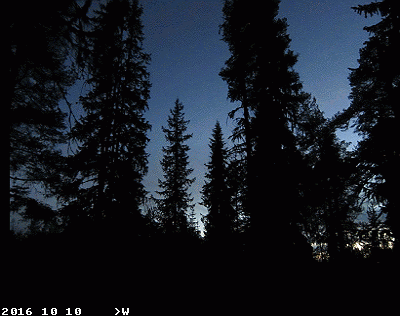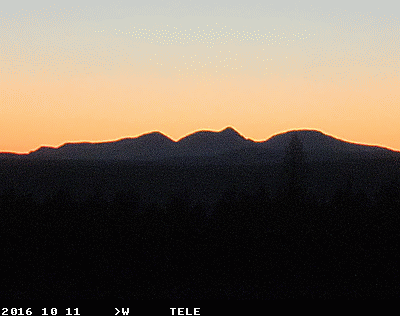 Walking near the Norwegian border...


Zu Fuß unterwegs nahe der norwegischen Grenze...


Till fots på väg nära den norska gränsen...




Within the scope of the project "Levande fäbod" this remote summer pasture settlement is still in use...


Im Rahmen des Projekts "Levande fäbod" wird diese abgelegene Alm noch unterhalten...


I ramen av projektet "Levande fäbod" underhållas denna avlägsna fäbod även idag...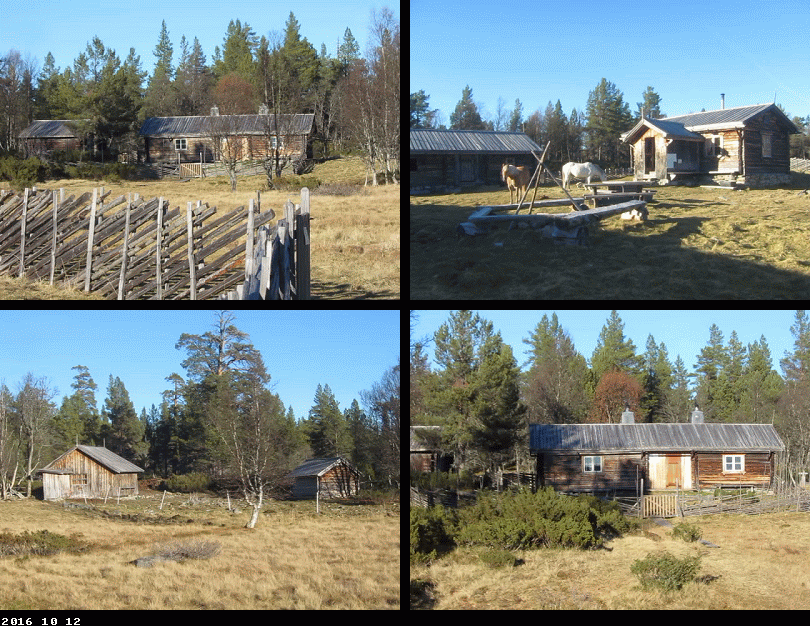 During a rest some curious reindeers are visiting me...


Bei einer Rast besuchen mich neugierige Rene...


Under en rast får jag besök av nyfikna renar...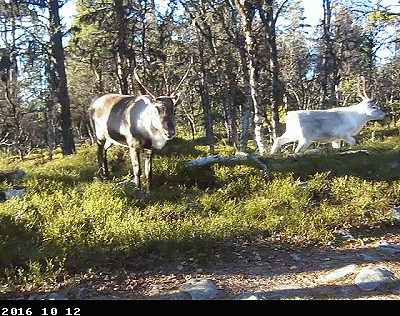 In the Fjäll it is getting quite icy now - in spite of the sun...


Im Fjäll wird es trotz der Sonne allmählich recht eisig...


Trots solen börjar det bli ganska isigt i fjällen...



... and the reindeers are drawing to lower regions (video)...


... und die Rene ziehen in tiefere Lagen (Video)...


... och renarna flyttar mot lägre trakter (video)...






The lakes freeze and the landscape falls asleep...


Die Seen frieren zu und die Landschaft schläft ein...


Sjöarna fryser till och landskapet somnar sakta in...




Further south, in western Dalarna: On the basis of the map I assume that there must have been a siding track to the ancient railroad Sälen-Särna - for what purpose? Can I still find some rests?...


Weiter südlich, im westlichen Dalarna: Anhand der Karte vermute ich, dass es hier von der ehemaligen Bahnstecke Sälen-Särna ein Abzweiggleis gegeben haben müsste - zu welchem Zweck? Findet man noch Reste?...


Längre söderut, i västra Dalarna: Med ledning av kartan antar jag, att det måste ha funnits ett sidospår från den f.d. järnvägen Sälen-Särna - i vilket syfte? Finns rester kvar?...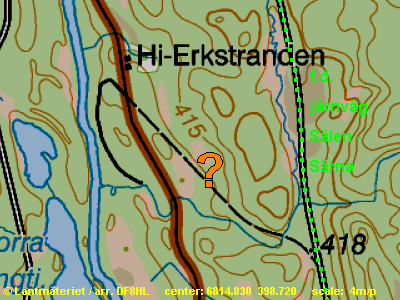 In an archive I find photos from 1928. During the construction of the railway there was a gravel pit for delivering material for the embankment...


In einem Archiv finde ich Fotos von 1928. Es gab während des Bahnbaus hier eine Kiesgrube zur Gewinnung von Material für den Bahndamm...


I ett arkiv hittar jag foton från 1928. När järnvägen byggdes fanns här ett grustag för att utvinna material till banvallen...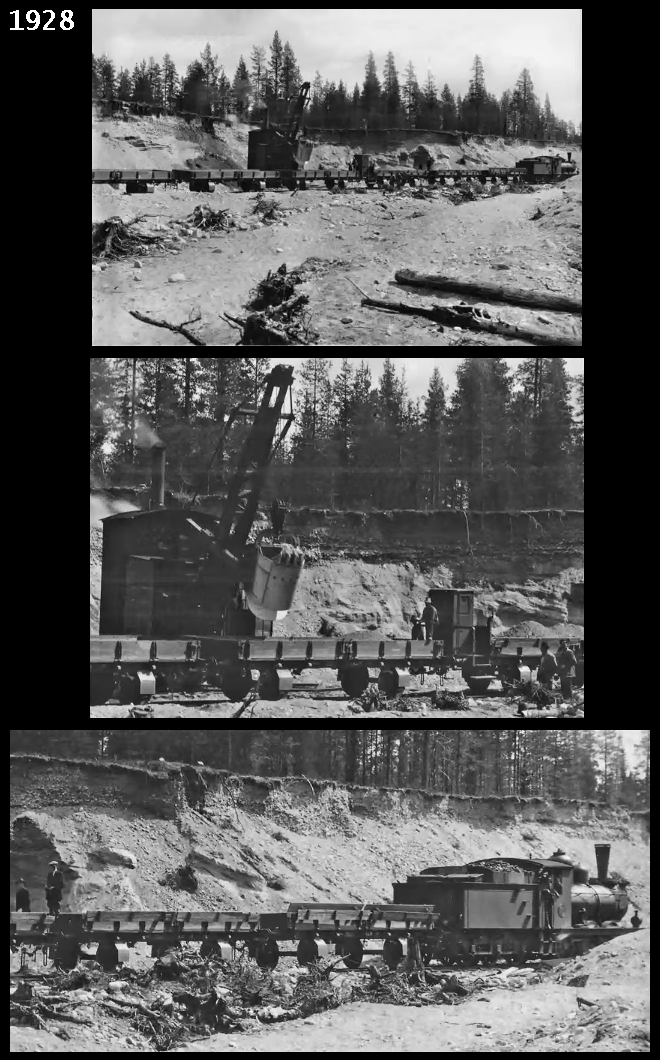 At the site I find the gravel slope from the old photos...


Vor Ort finde ich den Kieshang von den alten Fotos...


På plats hittar jag grussluttningen från de gamla foton...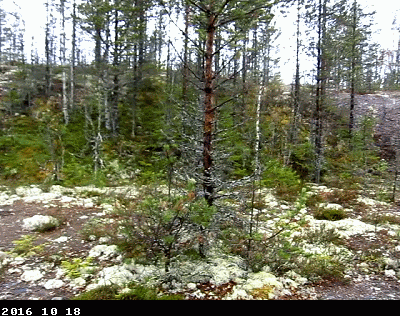 ... the line, a big box, and patterns of the sleepers on the track line...


... die Trasse, einen großen Kasten und Muster von Schwellen auf der Trasse...


... sträckningen, en stor låda och mönstret av syllarna på sträckningen...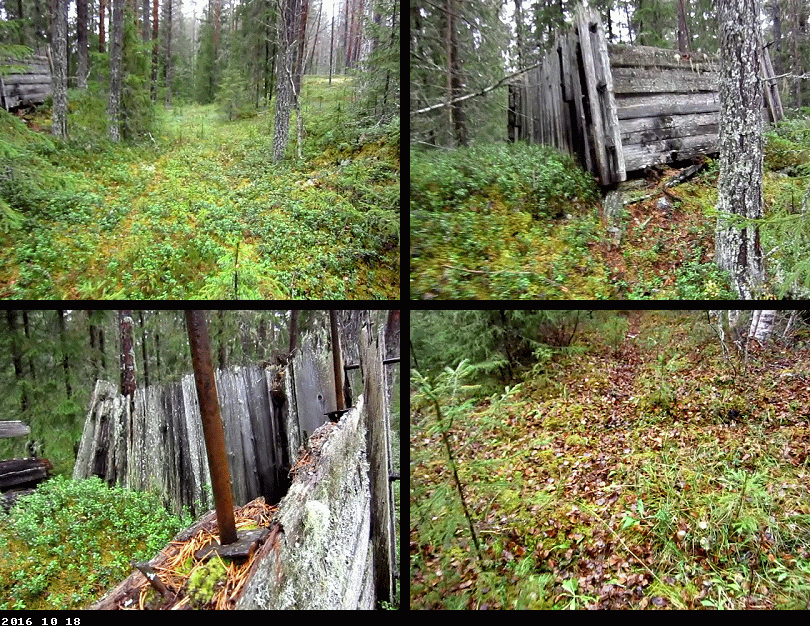 The results of the investigations - if the house on the rivers western bank had some connection to the gravel railway, is still unclear...


Das Ergebnis der Nachforschungen - ob das Haus an der Westseite des Flusses mit der Kiesbahn zu tun hatte, ist noch unklar...


Resultatet av efterforskningarna - om byggnaden på älvens västra sida hade ett samband med grustagsbanan är ännu oklart...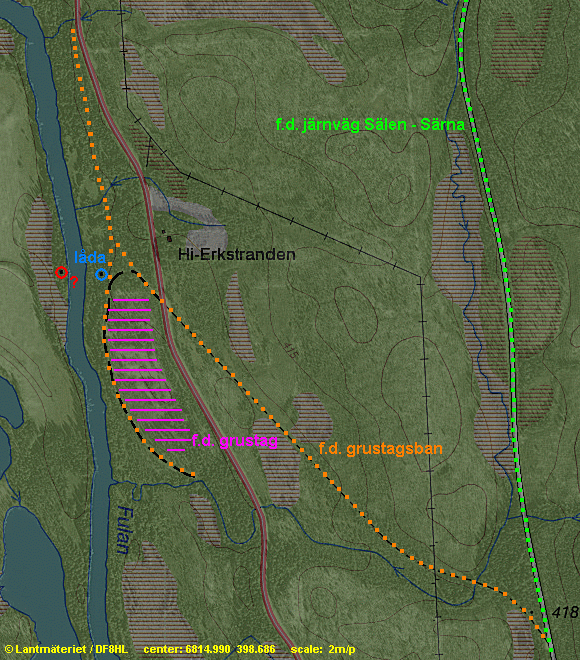 Before the winter male moose are gathering in groups. In a distance 5 moose are drawing across a moor in a row (here only 3 are to be seen)...


Zum Winter schließen sich die männlichen Elche zu Gruppen zusammen. In einiger Entfernung ziehen 5 Elche hintereinander über ein Moor (hier nur 3 zu sehen)...


Mot vintern bildar älgtjurarna gruppar. På något avstånd drar 5 älgar över en myr (här syns bara 3)...



Farewell to Sweden - the boat leaves the harbour of Göteborg...


Abschied von Schweden - das Schiff verlässt den Hafen von Göteborg...


Avsked från Sverige - båten lämnar hamnen i Göteborg...




And finally the link to the main page:


Hier noch der Link zur Startseite:


Till sist länken till startsidan: