PICTURES 2021


BILDER 2021


BILDER 2021





Another travelling season with the 'nearly new' four-wheel-driven VW T3 Syncro 16" (built 1988).
It is well-equipped for tours to remote areas, and it is possible for 1 or 2 persons to live in this small space for some months ...



Eine weitere Reisesaison mit dem 'fast neuen' allradgetriebenen VW T3 Syncro 16" (Baujahr 1988).
Er ist gut ausgerüstet für Touren in entlegene Regionen, und es ist für 1 bis 2 Personen möglich, in diesem engen Raum einige Monate zu leben ...



En resesäsong till med den 'nästan nya' fyrhjulsdrivna VW T3 Syncro 16" (byggd 1988).
Den är väl utrustad för turer till avlägsna regioner, och det går bra för 1 till 2 personer att leva i det lilla utrymmet i ett par månader ...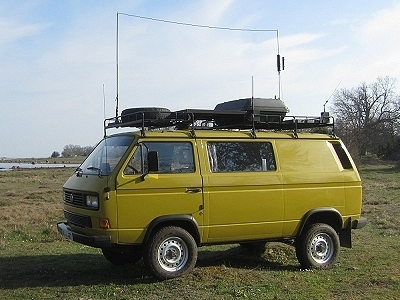 ... The antennas are part of the radio system, that enables autarkic worldwide communication on shortwave. The official callsign for the international amateur radio service is DF8HL.
For more information about the radio facilities look at    DF8HL RADIO RIG  



... Die Antennen sind Teil des Funksystems, das autarke weltweite Kommunikation auf Kurzwelle erlaubt. Das offizielle Rufzeichen für den internationalen Amateurfunkdienst ist DF8HL.
Mehr Information über die Funkausrüstung gibt es auf    DF8HL FUNKAUSRÜSTUNG  



... Antennerna är del av radiosystemet, som tillåter global kommunikation på kortvåg. Den officiella anropssignalen för den internationella amatörradiotjänsten är DF8HL.
Mer information om radioutrustningen hittar du på    DF8HL RADIOUTRUSTNING  







Still in Northern Germany (Niedersachsen) ...



Noch in Norddeutschland (Niedersachsen) ...



Ännu i Norra Tyskland (Niedersachsen) ...





... But now in Southern Sweden, at a museum railroad at Brösarp ...



... Aber jetzt in Südschweden, bei einer Museumsbahn bei Brösarp ...



... Men nu i Södra Sverige, vid en museijärnväg vid Brösarp ...





Searching for an abandonned house deep in the woods, well-hidden and overgrown ...



Auf der Suche nach einem verlassenenen Haus tief im Wald, sehr versteckt und zugewachsen ...



På sökandet efter ett övergivet hus mitt i skogen, välgömt och igenvuxet ...





Leny and I paddling in the northwestern part of Central Sweden ...



Leny und ich auf einer Paddeltour im Nordwesten von Mittelschweden ...



Leny och jag på en paddeltur i nordvästra Svealand ...





Further north in Swedish-Norwegian border regions ...



Weiter nördlich in schwedisch-norwegischen Grenzregionen ...



Längre norrut i svensk-norska gränstrakter ...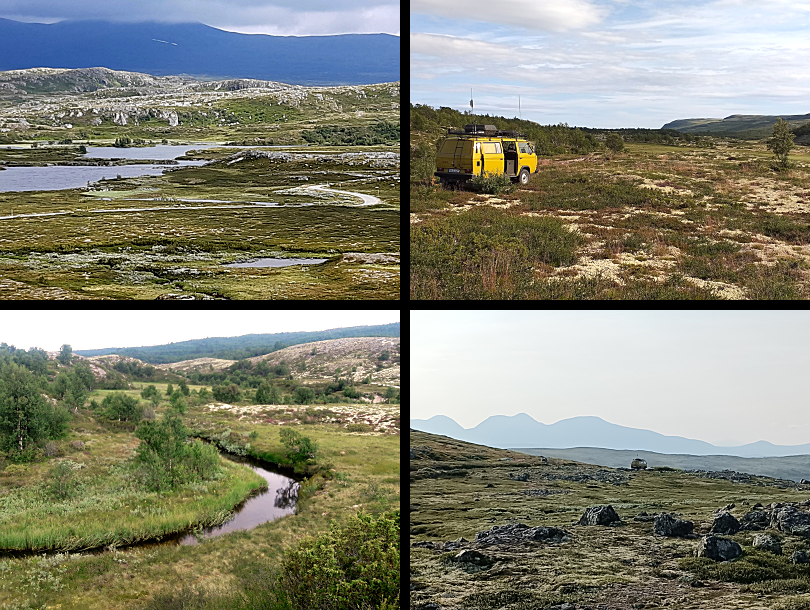 And back in Svealand ...



Und zurück in Svealand ...



Och tillbaka i Svealand ...





Looking for "Lost Places" - this mighty wall deep in the forest had once been the dam for a big water mill ...



Auf der Suche nach "Lost Places" - diese gewaltige Mauer tief im Wald war einst der Damm für eine große Wassermühle gewesen ...



På letandet efter "Lost Places" - denna väldiga mur djupt inne i skogen hade en gång varit dammen till en stor vattenkvarn ...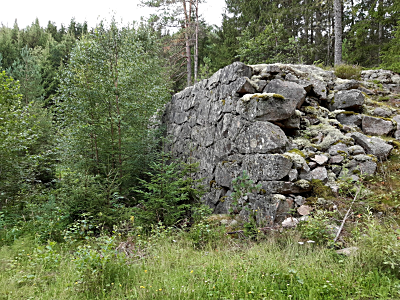 Even deep in the forest today: An ancient tar factory ...



Auch heute tief im Wald: Eine ehemalige Teerfabrik ...



Även djupt inne i skogen idag: En f.d. tjärfabrik ...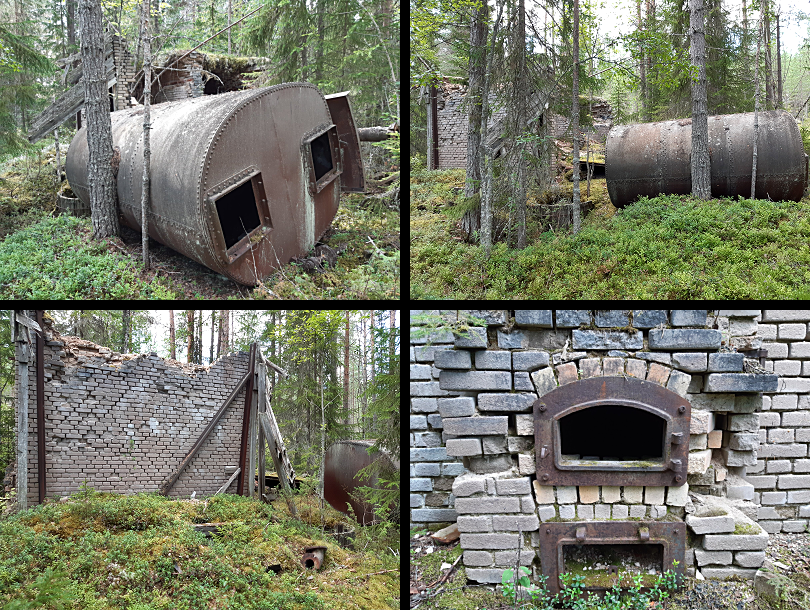 A former important military central in Jämtland, a whole mountain was a huge bunker ...



Eine ehemals wichtige militärische Zentrale in Jämtland, ein ganzer Berg war ein großer Bunker ...



En f.d. viktig militärisk befälsbunker i Jämtland - ett helt berg urholkat av tunnlar ...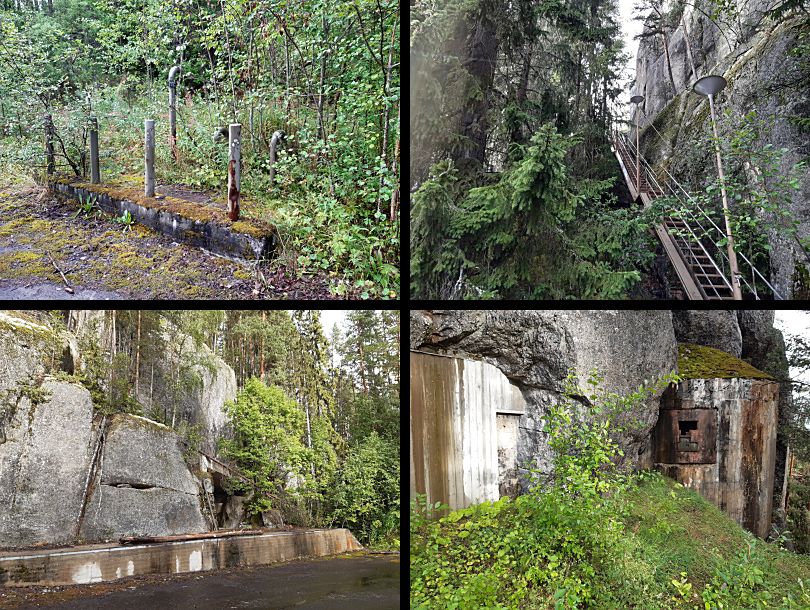 Late summer in Lapland ...



Spätsommer in Lappland ...



Sensommar i Lappland ...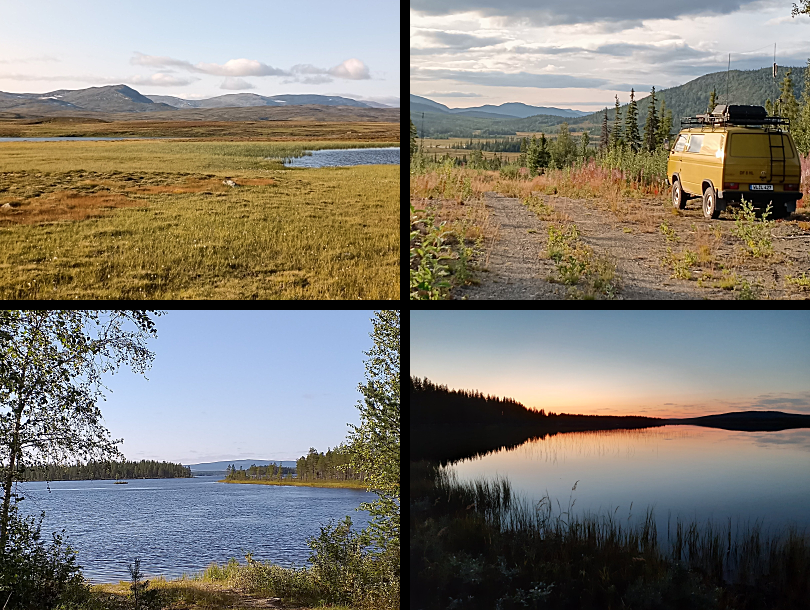 Hangar and runway of a former militäry airfield in Lappland, built 1941, when Norway was occupied by the Germans. Now nature is taking the area back ...



Hangar und Landebahn eines ehemaligen Militärflugplatzes in Lappland, gebaut 1941, als Norwegen von den Deutschen besetzt war. Nun übernimmt die Natur das Gelände wieder ...



Hangar och landningsbana av ett f.d. militärflygfält i Lapland, som anlades 1941, då Norge var ockuperat av Tyskarna. Nu tar naturen över terrängen igen ...





Some clear nights with northern lights ...



Dann und wann klare Nächte mit Nordlicht ...



Då och då klara nätter med norrsken ...





On the combined map/aerial photo to the left you can see an interesting detail. There might have been a siding track for fetching gravel when the Inland Railway was built (around 1930).
On an aerial photo from 1960 to the right it is even much clearer ...



Auf der kombinierten Karte/Luftbild links gibt es ein interessantes Detail. Dort könnte ein Anschlussgleis gewesen sein, um während des Baus der Inlandsbahn (ca 1930) Kies heranzuschaffen.
Auf dem Luftbild von 1960 rechts ist es noch viel deutlicher ...



På kart/flygbildkombinationen till vänster finns ett intressant detalj. Där kunde det ha funnits ett stickräls för att transportera fram grus under den tiden då Inlandsbanan bygdes (ca 1930).
På flygbilden från 1960 till höger är det ännu mycket tydligare ...





... And what a surprise! A visit shows that the rails are still there, only the connection to the main line is missing ...



... Und welch eine Überraschung! Ein Besuch zeigt, dass die Gleise noch vorhanden sind, nur die Verbindung zur Hauptstrecke fehlt ...



... Och vilken överraskning! Ett besök visar att rälsen finns ännu kvar, bara växeln till huvudlinjen saknas ...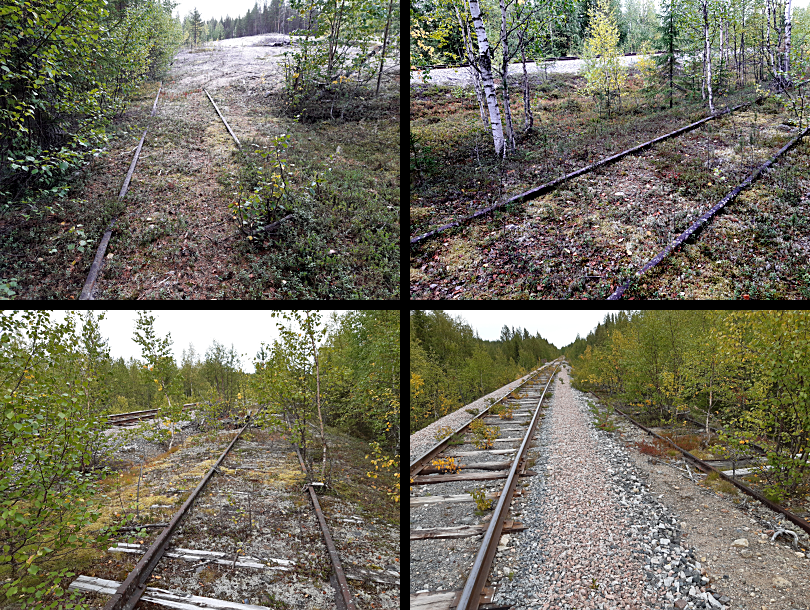 Back in pure nature, where the first autumn colors are coming up ...



Zurück in reiner Natur, wo die ersten Herbstfarben aufkommen ...



Tillbaka i den rena naturen, där de första höstfärgerna börjar komma ...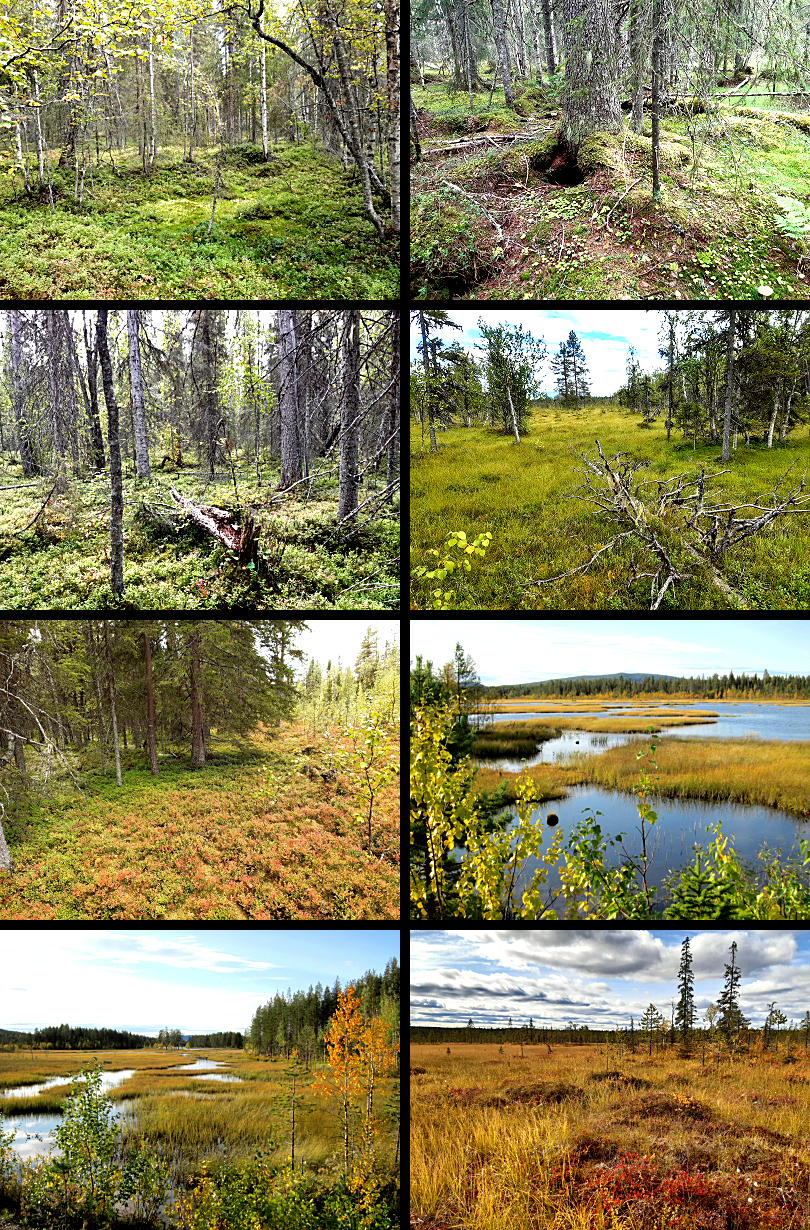 On a promontory in a lake there is a special place, where hunters have hung up bones of killed animals in the trees, so that they make clicking sounds in the wind ...



Auf einer Landzunge in einem See ist ein spezieller Platz, wo Jäger Knochen von erlegten Tieren in den Bäumen aufgehängt haben, so dass sie im Wind klickende Geräusche machen ...



På en udde i en sjö finns en speciell plats, där jägare har hängt upp ben av fällda djur i träden, så att de gör klickande ljud i vinden ...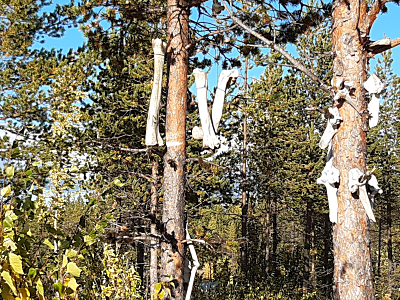 One of the fine old stone arch bridges along the Inland Railway ...



Eine der schönen alten Steinbogenbrücken im Verlauf der Inlandsbahn ...



En av de fina gamla stenvalvsbroarna längs Inlandsbanan ...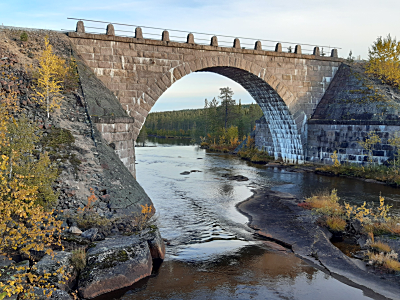 In the northernmost part of Sweden ...



In Schwedens nördlichstem Teil ...



I Sveriges nordligaste del ...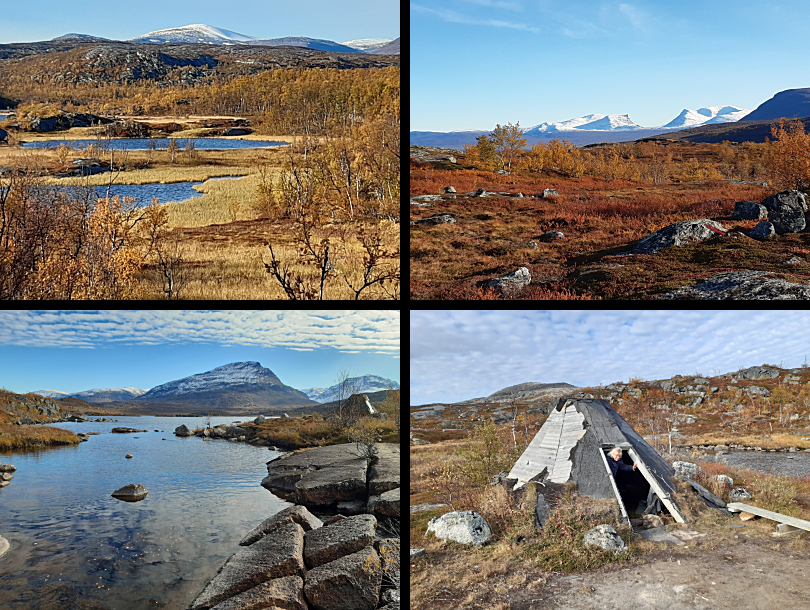 The rests of an old traditional reindeer fence, today wire fences are used instead ...



Die Reste eines alten traditionellen Rentierzauns, heute verwendet man stattdessen Drahtzäune ...



Resterna av ett gammalt traditionellt renstängsel, idag använder man trådstängsel istället ...





On the way to the South, in the province of Jämtland ...



Auf dem Weg südwärts, in der Provinz Jämtland ...



På vägen åt söder, i Jämtlands Län ...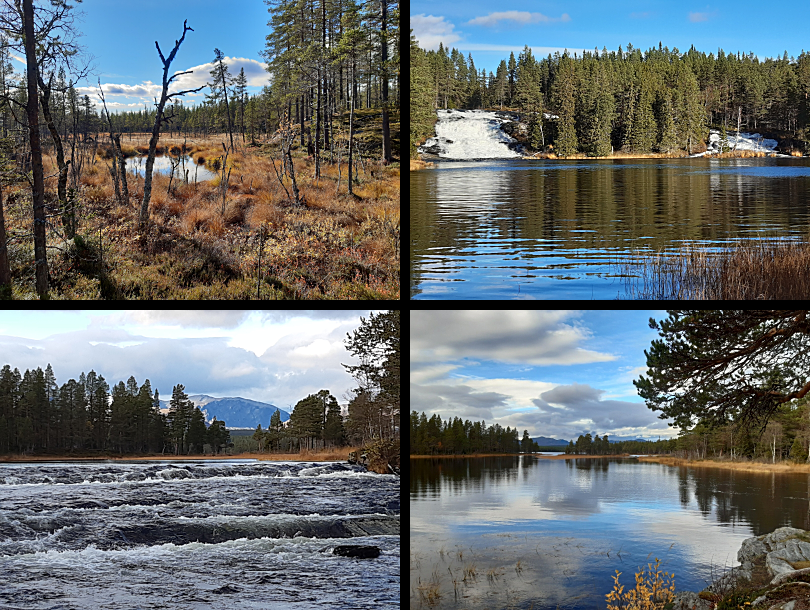 Nearly at the end of the year: A look back on the songs that have been in the focus of my musical activities (Links to YouTube):



Fast am Ende des Jahres: Ein Blick zurück auf die Songs, die im Fokus meiner musikalischen Aktivitäten gewesen sind (Links zu YouTube):



Nästan i slutet av året: En blick tillbaka på sångerna, som har varit i fokus av mina musikaliska aktiviteter (länkar till YouTube):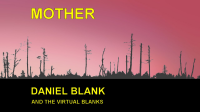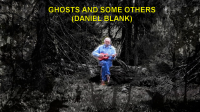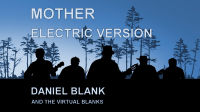 And finally the link to the main page:



Hier noch der Link zur Startseite:



Till sist länken till startsidan: