DF8HL RADIO RIG


DF8HL FUNKAUSRÜSTUNG


DF8HL RADIOUTRUSTNING
---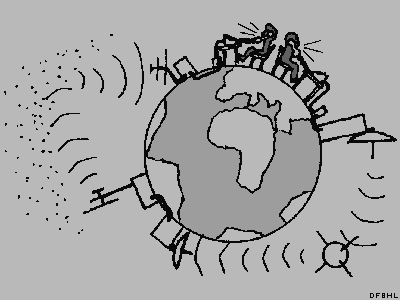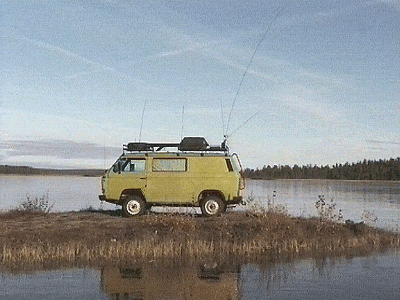 Amateur radio has many different aspects and possibilities. I mainly prefer situations as shown in the right picture - to establish radio contacts from remote places (as here from my VW T3 Syncro 16" on a tiny peninsula in a frozen lake).



Amateurfunk hat viele unterschiedliche Aspekte und Möglichkeiten. Ich bevorzuge meist Situationen wie im rechten Bild - Funkverbindungen von abgelegenen Plätzen aus herzustellen (wie hier von meinem VW T3 Syncro 16" auf einer winzigen Halbinsel in einem zugefrorenen See).



Amatörradio har många åtskilliga aspekter och möjligheter. Jag föredrar mest situationer som på den högra bilden - att upprätta radiokontakter från avlägsna platser (som här från min VW T3 Syncro 16" på en smal udde i en frusen sjö).
---
MOBILE - DRIVING
---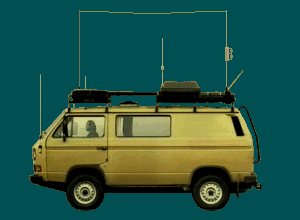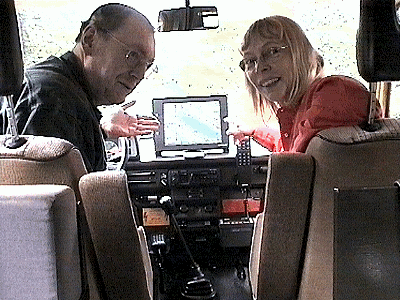 When driving, I use the extraordinary mapping- and APRS-functions of the self-developed program APRMAP. Of course I would say that it is the best program of its kind for Europe, even more for Scandinavia, and even even more for Sweden. If you are interested you may have a look here:



APRMAP

Während der Fahrt nutze ich die außergewöhnlichen Karten- und APRS-Funktionen des selbst entwickelten Programms APRMAP. Natürlich kann ich nur sagen, dass es das beste Programm dieser Art ist, zumindest für Europa, besonders für Skandinavien, und ganz besonders für Schweden. Wenn du interessiert bist, gibt es hier nähere Informationen:



APRMAP

Under farten använder jag ett självutvecklat program med enastående kart- och APRS-funktioner som heter APRMAP. Självklart tycker jag att det är det bästa programmet av sitt slag, åtminstone för Europa, särskilt för Skandinavien, och ännu mer för Sverige. Informationer om programmet kan du hitta här:



APRMAP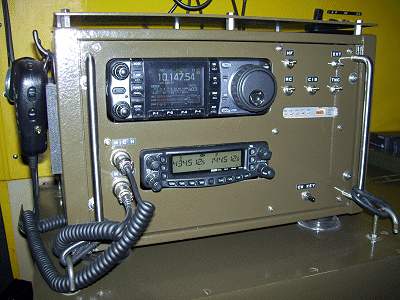 The main station in the car is this one. It consists of an ICOM IC-7000, a YAESU FT-8900, an SCS DSP-TNC for APRS, and a remote control unit built up with a C-CONTROL, software and some electronic boards.
The remote control unit enables the station to be operated in different ways:
1. directly
2. from the driver's seat
3. via VHF/UHF from a handheld radio over distances of several kilometers.
This is, by the way, my 3rd generation RC radio, I built the first one in 1979, a complex hardware with CMOS 4xxx-ICs, do you remember such things?



Die Hauptstation im Wagen ist diese hier. Sie besteht aus einem ICOM IC-7000, einem YAESU FT-8900, einem SCS DSP-TNC für APRS und einer Fernbedienungseinheit mit einem C-CONTROL, Software und einigen Platinen.
Die Fernbedienungseinheit sorgt dafür, dass die Station auf verschiedenen Wegen bedient werden kann:
1. direkt
2. vom Fahrersitz aus
3. über ein VHF/UHF-Handgerät aus etlichen Kilometern Entfernung.
Dies ist übrigens meine dritte Generation RC-Radio, die erste entstand 1979, ein umfangreiches CMOS-Grab mit 4xxx-ICs, erinnert die noch jemand?



Huvudstationen i bilen syns här. Den består av en ICOM IC-7000, en YAESU FT-8900, en SCS DSP-TNC för APRS, och en fjärrstyrningsenhet i form av en C-CONTROL, mjukvara samt några kretskort.
Fjärrstyrningsenheten ger möjligheten att manövrera stationen på olika sätt:
1. direkt
2. från förarsätet
3. via en VHF/UHF-handapparat över distanser av flera kilometer.
Det är förresten min tredje generation RC-radio, jag byggde den första 1979, omfattande hårdvara med CMOS 4xxx-ICs, minns du dessa?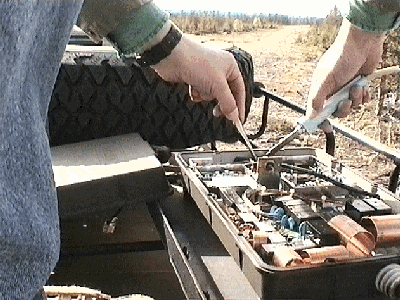 The generated high frequency has to be fed to the antenna - with as low losses as possible. For that purpose a good tuner is important. I built several manual tuners in the past. To be able to work RC however, an automatic tuner became necessary. I had just finished my own automatic tuner (with "only some small things" left to do), when ICOM came with the AH-2. I used one for over 25 years under hardest conditions, mounted on the car, awful "roads", -36 to +32 degrees, and it worked nearly without failure, until finally some parts got burned. Then I used a chinese tuner (CG-3000). It only lasted 3 days of use until the small relays inside had burned up! Since the beginning of 2007 I use an ICOM AT-140 (marine tuner), which does quite a good job, but does not reach the values of the AH-2 at short antennas.

Interested in automatic tuners? You'll find more information and tests on the automatic tuner page:



AUTOMATIC TUNERS - CONCEPTS AND TESTS

Die erzeugte Hochfrequenz muss zur Antenne übertragen werden - mit geringstmöglichen Verlusten. Dazu ist ein guter Tuner wichtig. Ich habe früher etliche manuelle Tuner gebaut. Um RC-Betrieb zu machen, musste aber ein Automatik-Tuner her. Ich hatte gerade meinen Eigenbau fertig (es haperte "nur" noch hier und da), da kam ICOM mit dem AH-2. Ich haben einen solchen dann über 25 Jahre benutzt, unter härtesten Bedingungen, auf dem Wagen befestigt, auf furchtbaren "Straßen", -36 bis +32 Grad, und er hat die ganze Zeit nahezu problemlos gearbeitet, bis schließlich einige Teile verbrannt waren. Dann hatte ich einen chinesischen Tuner (CG-3000). Er hat gerade mal 3 Tage Betrieb durchgehalten, dann waren die kleinen Relais völlig verbrannt! Seit Anfang 2007 benutze ich nun einen ICOM AT-140 (Marine-Tuner), funktioniert zufriedenstellend, erreicht aber nicht die Werte des AH-2 an kurzen Antennen.

Interessiert an Automatik-Tunern? Du findest mehr Informationen und Tests auf der Automatik-Tuner-Seite:



AUTOMATIK-TUNER - KONZEPTE UND TESTS

Den genererade högfrekvensen måste överföras till antennen - med så lite förluster som möjligt. Därför krävs en bra tuner. Jag har byggt ett flertal manuella tuner tidigare. För att kunna köra RC, behövs däremot en automatik-tuner. Jag hade just utvecklat en egen konstruktion (det saknades "bara några småsaker"), då kom ICOM med AH-2. Jag har använt en sådan i mer än 25 år, under mycket hårda konditioner, på bilens tak, på dåliga "vägar", -36 till +32 grader, och den funkade hela tiden nästan utan problem, tills några delar fick större brandskador. Sedan hade jag en kinesisk tuner (CG-3000). Den var skrot efter 3 dagars drift, de små reläerna hade helt brunnit upp! Sedan början av 2007 har jag nu en ICOM AT-140 (marin tuner), fungerar tillfredställande, uppnår dock inte värdena av AH-2 mot korta antenner.

Intresse för automatiska antenntuner? Du kan hitta mer information samt tester på automatik-tuner-sidan:



AUTOMATIK-KOPPLARE - CONCEPTER OCH TESTER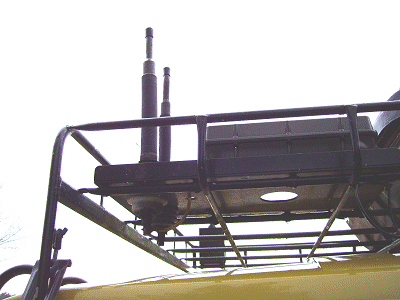 The output of the tuner is fed directly to one of these two military antenna bases with low capacity, a very heavy one (AB-652), and smaller one (MP-65).



Der Ausgang des Tuners speist auf kürzestem Weg einen dieser zwei Militär-Antennenfüße mit geringer Kapazität, einen sehr schweren (AB-652) und einen kleineren (MP-65).



Utgången av tunern matas direkt på en av dessa två militära antennfötter med låg kapacitet, en extra stark (AB-652) och en som är lite lättare (MP-65).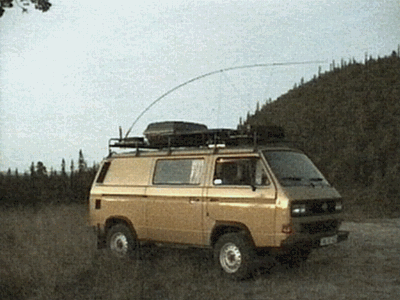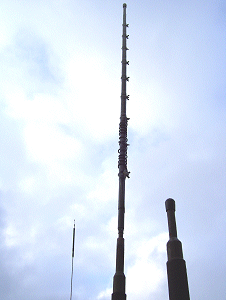 For APRS on 14, 10, 7, and 3 MHz and other purposes like SSB-contacts a broadband HF mobile antenna system is needed. Several attempts have been made to find the best compromise for a mobile antenna - between wide frequency coverage, efficiency, and practicability. The 4.5 m downbound whip is working well, but a branch of a tree can kill this antenna in less than a second (if the branch is driving / or the car). A more practical - though less efficient - type is a spirally wound vertical.



Für APRS auf 14, 10, 7 und 3 MHz und andere Zwecke wie SSB-Kontakte bedarf es eines breitbandigen HF-Mobilantennensystems. Viele Versuche wurden gemacht, um den besten Kompromiss für eine Mobilantenne zu finden - zwischen weitem Frequenzbereich, Effektivität und Praktikabilität. Die 4.5 m lange heruntergebundene Peitsche arbeitet gut, aber der Ast eines Baums kann diese Antenne in weniger als einer Sekunde zerstören (wenn der Ast fährt / oder der Wagen). Praktikablere Lösungen - wenn auch weniger effektiv - sind gewendelte Vertikalantennen.



För APRS på 14, 10, 7, och 3 MHz samt andra ändamål som SSB-kontakter behövs ett bredbandigt KV-mobilantennsystem. Det gjordes många försök att hitta en mobilantenn som är en lämplig kompromiss - mellan brett frekvensområde, effektivitet och praktikabilitet. Det 4.5 m långa nerbundna sprötet fungerar fint, men en gren kan förstöra en sådan antenn i mindre än en sekund (när grenen kör / eller bilen). En lösning utan sådana problem - dock mindre effektiv - är en spirallindad vertikal.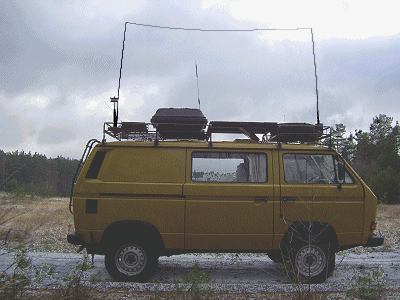 A good construction is a mini-L-antenna, which consists of a vertical part (rear, near the tuner), followed by a horizontal part (wire), held in position by a glass fiber rod (front). The worst thing that can happen if a branch is hit, is an unplugged wire, nothing will be destroyed.
Between the antenna bases and the antenna poles there are self-constructed heavy joints, that allow to fold the poles down and protect them againt strong mechanical forces in line with the driving direction.



Eine recht gute Konstruktion ist eine Mini-L-Antenne, die aus einem vertikalen Teil besteht (hinten, nahe dem Tuner), einem horizontalen Teil (Draht) und einer Fiberglasrute (vorn), die nur den Draht in Position hält. Das schlimmste, was bei einer Kollision mit einem Ast passieren kann, ist ein herausgezogener Bananenstecker, nichts geht zu Bruch.
Zwischen den Antennenfüßen und den Antennenruten gibt es sebstkonstruierte schwere Gelenkverbindungen, die das Herunterklappen der Antennenruten erlauben und Schutz gegen starke mechanische Kräfte entlang der Fahrtrichtung bieten.



En bra konstruktion är en mini-L-antenn, som består av en vertikal del (bak, nära tunern), en horisontell del (tråd), samt ett glasfiber-spö (fram), som bara håller tråden i position. Det värsta som kan hända vid en kollision med en gren är en utdragen banan-kontakt, inget går sönder.
Mellan antennfötterna och antennerna finns starka självkonstruerade länkkopplingar, som tillåter att fälla ner antennerna samt ger skydd mot starka krafter som verkar i linje med färdriktningen.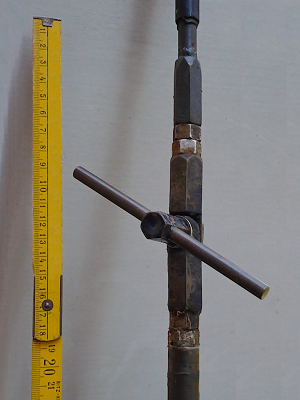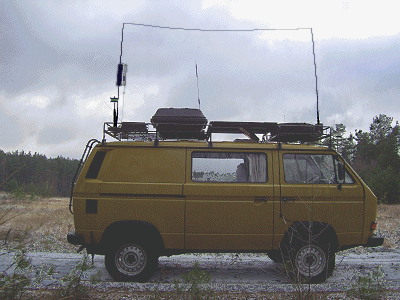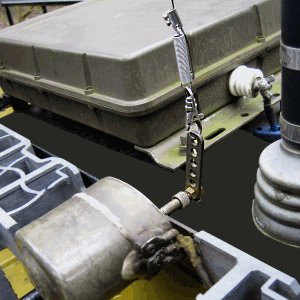 In order to improve the performance on 80 m and even on 40 m I constructed a remote switchable coil with a good Q-value, where a wiper motor pulls the contacts. With this antenna construction it is possible to work from 3 to 30 MHz with acceptable efficiency - without stopping the car.



Um die Effektivität auf 80 m und auch auf 40 m zu verbessern, habe ich eine fernschaltbare Spule mit gutem Q-Wert konstruiert, wobei ein Wischermotor die Umschaltung betätigt. Mit dieser Antennenkonstruktion kann man von 3 bis 30 MHz mit akzeptablem Wirkungsgrad arbeiten - ohne die Fahrt zu unterbrechen.



För att höja effektiviteten på 80 m och även på 40 m har jag konstruerat en fjärrmanövrerbar spole med ett bra Q-värde och kontakter som drivs av en torkarmotor. Med en sådan antennkonstruktion är det möjligt att arbeta från 3 till 30 MHz med acceptabel effektivitet - utan att stanna bilen.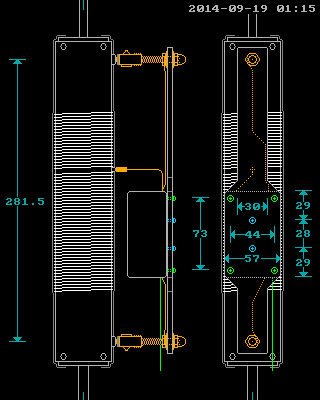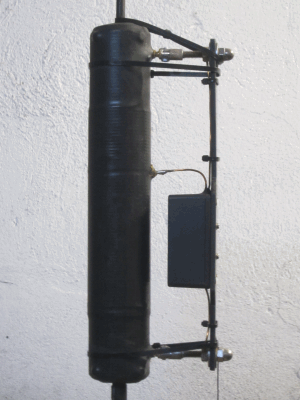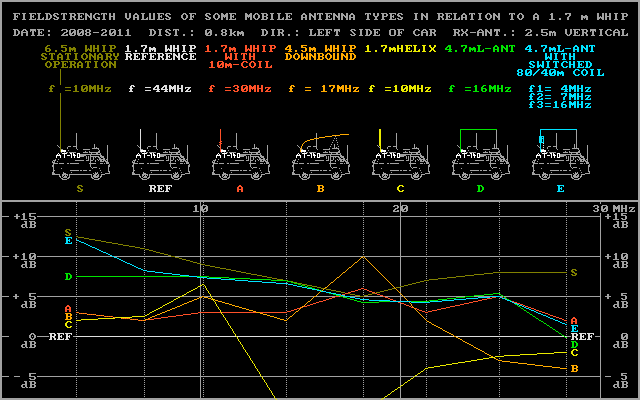 Hundreds of measurements have been made during the last years - under reproducable conditions. The diagram shows some mobile antenna configurations and their relative fieldstrengths in comparision to a 1.7 m whip. Please observe that these values are depending on many factors, like the tuner, the antenna environment etc, so that the general validity is limited. So feel encouraged to make your own experiments!



Hunderte von Messungen wurden in den letzten Jahren gemacht - unter reproduzierbaren Bedingungen. Das Diagramm zeigt einige Mobilantennen-Konfigurationen und ihre relativen Feldstärken im Vergleich zu einer 1.7 m Peitsche. Natürlich sind diese Werte von vielen Faktoren abhängig, wie dem Tuner, der Antennenumgebung usw, so dass die Allgemeingültigkeit begrenzt ist. Also viel Spaß bei eigenen Experimenten!



Hundratals mätningar gjordes under de senaste åren - under reproducerbara förhållanden. Diagrammet visar några mobilantenn-konfigurationer och deras relativa fältstyrkor i jämförelse till ett 1.7 m spröt. Självklart är dessa värden beroende på många faktorer som tunern, antennens omgivning osv, så att de har begränsad allmängiltighet. Så ha det kul med dina egna experiment!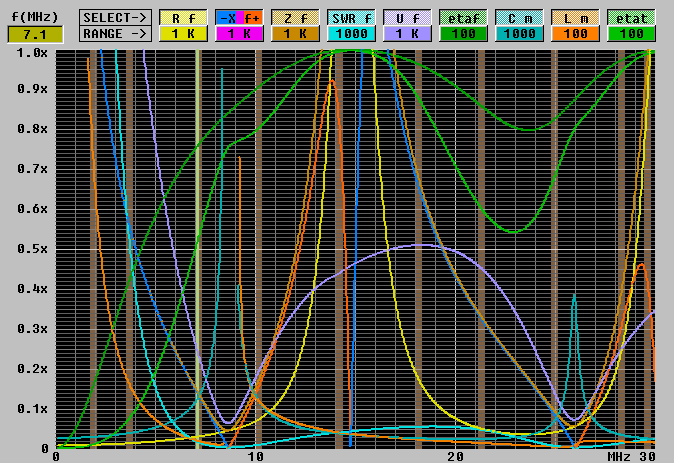 Thinking about antennas and finding EZNEC and other programs too mighty for some simple applications, I wrote a small but fast program called WHIP, especially designed for whips and wires on a car or shelter, including the calculation of matching circuits. Every change of any input parameter leads to a direct visualization of the new calculation. If you are interested in this free program you may have a look here:


WHIP

Beim Nachdenken über Antennen fand ich manchmal EZNEC und andere Programme zu mächtig für einfache Anwendungsfälle. Ich habe deshalb ein kleines, aber schnelles Programm geschrieben, genannt WHIP, speziell für die Berechnungen von Peitschen und Drahtantennen auf einem Wagen oder Shelter, inklusive Anpassungsberechnungen. Jede Änderung eines Parameters führt zu einer sofortigen Visualisierung der Neuberechnung. Wenn du Interesse an diesem freien Programm hast, findest du hier mehr:


WHIP

Vid planeringen av antenner tyckte jag ibland att program som EZNEC var för klumpiga för enklare användningar. Så skrev jag ett litet, men snabbt program med namnet WHIP, särskilt lämpligt för spröt- och trådantenner på en bil eller shelter, inklusive anpassningsberäkning. Varje förändring av ingångsparametrar leder direkt till en snabb visualisering av nyberäkningen. Ifall du har intresse i det fria programmet, titta här:


WHIP



MULTI-RESONANT HF MOBILE ANTENNA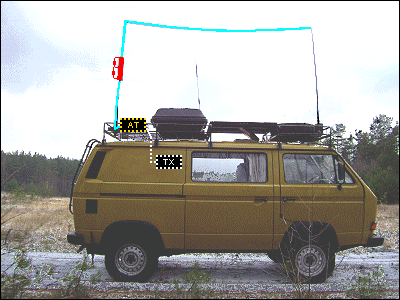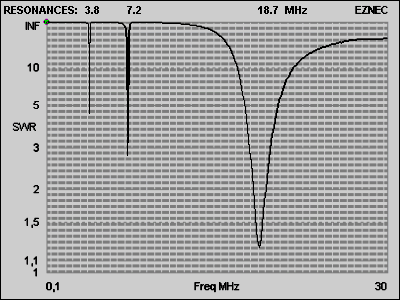 THE ULTIMATE SOLUTION ! - MULTI-RESONANT HF MOBILE ANTENNA
The latest project I dealed with is a multi-resonant mobile antenna without any moving mechanics. It is this mobile antenna type I am using since early 2015.
For further information about this interesting concept have a look at



DF8HL MULTI-RESONANT HF MOBILE ANTENNA

DIE ULTIMATIVE LÖSUNG ! - MULTIRESONANTE HF-MOBILANTENNE
Das neueste Projekt, mit dem ich mich befasst habe, ist eine multiresonante Mobilantenne ohne bewegliche Mechanik. Es ist der Mobilantennentyp, den ich seit Beginn 2015 benutze.
Nähere Informationen zu diesem interessanten Konzept gibt es auf



DF8HL MULTIRESONANTE HF-MOBILANTENNE

DEN ULTIMATA LÖSNINGEN ! - MULTIRESONANT HF-MOBILANTENN
Det senaste projektet som jag befattade mig med är en multiresonant mobilantenn utan rörlig mekanik. Det är denna mobilantenntyp som använder sedan början av 2015.
Närmare informationer om detta intressanta koncept finns på



DF8HL MULTIRESONANT HF-MOBILANTENN
---
MOBILE - STATIONARY
---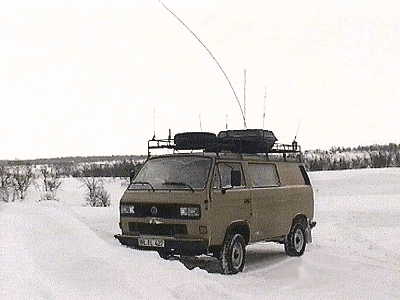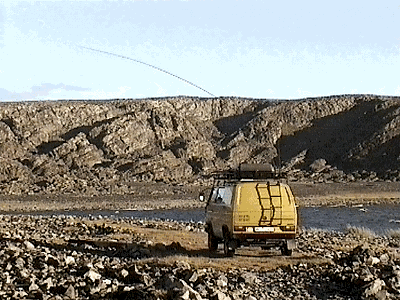 For mobile-stationary operation a 7 m whip may be used, but the performance - especially on the lower frequencies - is not very satisfactory, a 27 m wire is always to be preferred.



Für mobil-stationären Betrieb kann eine 7 m Peitsche benutzt werden, aber die Ergebnisse - besonders auf den niedrigeren Frequenzen - sind nicht wirklich zufriedenstellend, ein 27 m Draht ist immer vorzuziehen.



För mobil-stationär trafik kan ett 7 m spröt användas, men resultaten - särskilt på dem lägre frekvenserna - är inte verkligen tillfredsställande, en 27 m tråd är alltid att föredra.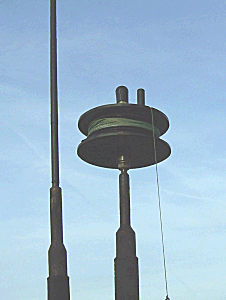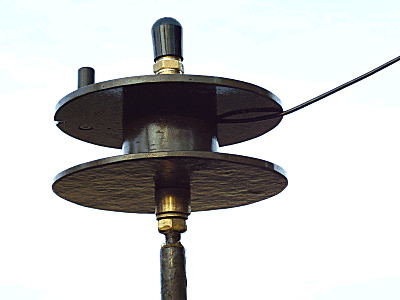 The "Instant Wire" antenna: 27 m wire, 30 m thin polypropylene cord on a spool with vertical axis.



Die "Instant Wire" -Antenne: 27 m Draht, 30 m dünne Polypropylenschnur auf einer Rolle mit vertikaler Achse.



"Instant Wire" -antennen: 27 m tråd, 30 m polypropylensnöre på en rulle med vertikal axel.




Instead of the wire, the foot with the spool may even be used as base for a 7 m whip - without any reconstruction.



Statt mit dem Draht kann der Fuß mit der Rolle ebenfalls als Träger für eine 7 m Peitsche benutzt werden - ohne jeglichen Umbau.



Alternativt kan foten med rullen även bli använt som bas för ett 7 m spröt - utan någon ombyggnad.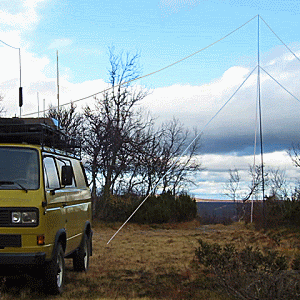 If you want to use a wire antenna in an area with low vegetation, a mast is needed, like e.g. this 7 m fiberglass telescopic mast.



Die Verwendung einer Drahtantenne in einer Gegend mit niedriger Vegetation erfordert einen Mast, so wie z.B. diesen 7 m Fiberglas-Teleskopmast.



Vill du använda en trådantenn i ett område med låg vegetation, behövs det en mast, som t.ex. en sådan 7 m glasfiber-teleskopmast.





Typical construction of the 27 m wire over the 7 m mast.
Telescopic fiberglass masts have the disadvantage that they collapse after a while - due to insufficient friction between the sections, especially when storm makes the mast vibrate. There have been many suggestions how to solve this problem, but I found none of them really convincing.



Typischer Aufbau des 27 m Drahtes über den 7 m Mast.
Fiberglas-Teleskopmasten haben den Nachteil, dass sie nach einiger Zeit zusammenfallen - infolge unzureichender Friktion zwischen den Segmenten, und speziell, wenn der Mast im Wind vibriert. Es gab viele Vorschläge zur Lösung dieses Problems, ich fand aber keinen wirklich zufriedenstellend.



Typisk konstruktion med 27 m tråd över 7 m masten.
Glasfiber-teleskopmaster har nackdelen, att de brukar kollapsa efter en tid - pga otillräcklig friktion segmenten emellan, och särskilt när vinden sätter masten i vibration. Det gjordes många förslag för att kunna lösa detta problem, men jag tyckte att alla var mycket otillfredsställande.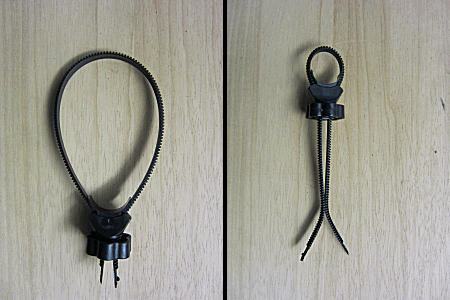 I claim my solution to be the absolutely best: These plastic clamps with screw nut shown above, called "MULTI CLIP". They are produced in the UK and can be bought in some DIY centers or via the internet. They are extremely fast and easy to use (even with cold fingers and without any extra tool), and can handle forces up to 1000 N!



Ich halte meine Lösung für die absolut beste: Diese Plastikschellen mit Schraubmutter wie oben gezeigt, genannt "MULTI CLIP". Sie werden im UK produziert und können in einigen Baumärkten oder über das Internet gekauft werden. Sie sind extrem schnell und einfach in der Anwendung (auch mit kalten Fingern und ohne Extra-Werkzeug) und vertragen Kräfte bis 1000 N!



Jag anser min lösning som den absolut bästa: Dessa plastklämmor med skruvmutter som visas ovan, med benämningen "MULTI CLIP". De produceras i UK och säljs i några byggmarknader och via internät. De går mycket snabbt och enkelt att hantera (även med kalla fingrar och utan extra-verktyg) och tål krafter upp till 1000 N!





The mast with installed "MULTI CLIP" clamps. The screw worms are cut to their necessary lengths.
When erecting the mast you follow the normal procedure: You start with the uppermost segment pulling it out while turning a bit.
Now the extra procedure: Loosen the clamp at the top of the segment, let it glide down until it pushes upon the next lower segment, screw it fast - that's all!
Do the same with the next segment etc.
Thus fixed, you'll not be able to push the mast together - more likely you'll destroy it.



Der Mast mit installierten "MULTI CLIP" -Schellen. Die Schraubwürmer sind auf ihre notwendige Länge gekürzt.
Beim Aufbau des Mastes folgt man der normalen Prozedur: Man beginnt mit dem obersten Segment - herausziehen und etwas drehen.
Nun die Extra-Prozedur: Die Schelle am oberen Ende des Segments lösen, heruntergleiten lassen, bis sie auf der Kante des nächsten Segments aufsteht, festschrauben - das war's!
Mit dem nächsten Segment fortfahren usw.
So befestigt, wird man den Mast nicht zusammenschieben können - eher geht er zu Bruch.



Masten med "MULTI CLIP" -klämmor installerad. Skruvmaskarna är kortad på deras nödvändiga längder.
Uppbyggandet av masten följer den normala proceduren: Man börjar med det översta segmentet - det dras ut och vrids lite.
Nu följer den extra-proceduren: Lösa klämman vid den övre änden, låta glida ner den tills den står på kanten av det näst-lägre segmentet, skruva fast - det var det det!
Fortsätta med nästa segmentet osv.
Fixerad på detta sätt kan masten inte skjutas ihop - hellre förstörs den.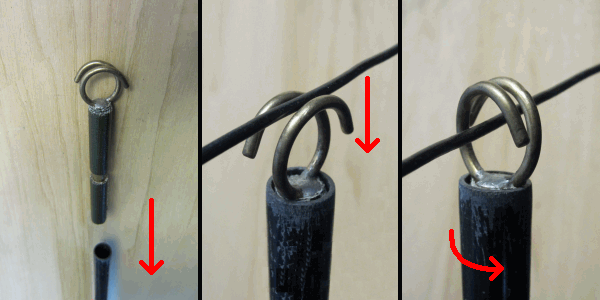 A slit-eye is stuck into the top end of the mast, holding the wire at its position. First then the mast can be erected.



Eine Schlitzöse wird am oberen Mastende eingesteckt, um den Draht in seiner Position zu halten. Erst dann kann der Mast aufgerichtet werden.



En slitsögla sätts in i den övre maständen, så att tråden hålls i position. Först därefter ska masten lyftas.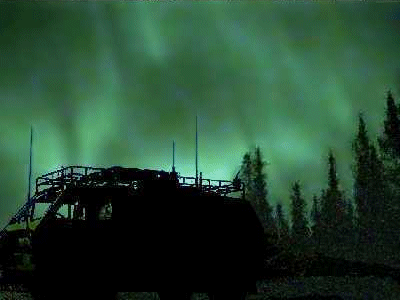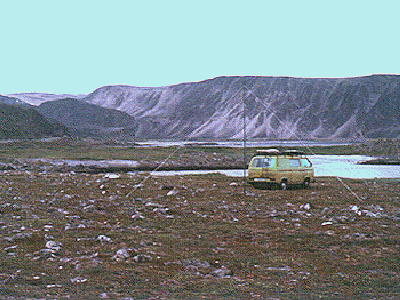 North of the aurora belt, however, no antenna can be large enough to get through to the south. Sometimes you can hear nothing at all on the higher shortwave bands - not even broadcasting stations - no chance for a contact. Maybe you can hear your radio friends down on 3 MHz - without S-value, but Q5! You can shout into your microphone, or better leave it - they won't hear you anyway!

For more information about the colorful miracle of aurora (polar lights) and their effects on radio communications have a look here:



AURORA

Nördlich des Auroragürtels jedoch kann keine Antenne groß genug sein, um nach Süden durchzukommen. Manchmal ist auf den höheren Kurzwellenbändern absolut nichts zu hören - nicht einmal Rundfunkstationen - keine Chance für einen Kontakt. Vielleicht hört man die Funkfreunde unten auf 3 MHz - ohne S-Wert, aber Q5! Dann kann man ins Mikrofon schreien, oder es besser lassen - sie werden ohnehin nichts hören!

Mehr Informationen über das farbenreiche Wunder der Aurora (Polarlichter) und ihre Wirkungen auf Funkverbindungen findest du hier:



AURORA

Norr om aurora-bältet kan dock ingen antenn vara tillräckligt stor för att nå södern. Det förekommer att inga signaler alls hörs på de högre kortvågsbanden - inte ens rundradiostationer - ingen chans att komma i kontakt. Kanske hör du dina radiokompisar nere på 3 MHz - utan S-värde, men Q5! Du kan skrika i mikrofonen, eller hellre låta bli det - de hör dig inte ändå!

Mer informationer om det färgstarka undret av aurora (norrsken) och dess effekter på radiokommunikationer hittar du här:



AURORA
---
PORTABLE - REMOTE
---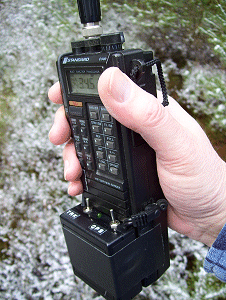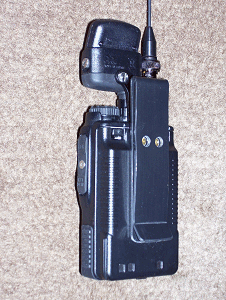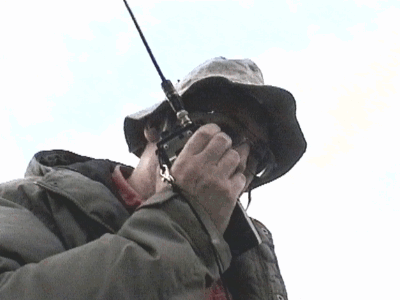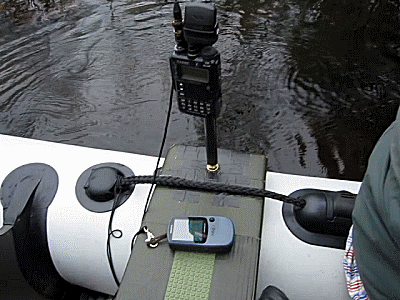 Some QSOs start far away on a boat or foot tour with a handheld VHF/UHF radio, reach the car, and are there fed by a remote control unit to the HF transceiver - and vice versa. As even APRS signals are sent this way, the handheld TRX is equipped with a small extra box, which houses a GPS-RX unit (GlobalSat/NaviLock EM-411) and a TinyTrak SMT APRS-TX modem. Since 2009 I even used Yaesu VX-8R handhelds with GPS-units and APRS, very smart parts, though a small improvement was neccessary: With the GPS-unit installed, the gravity center of the small rig is far too high for the original belt clip (oh Yaesu?/Vertex?/Standard?, what a shame!) - so I made some longer belt clips myself.



Einige QSOs beginnen weit weg vom Wagen auf einer Boots- oder Fußtour mit einem VHF/UHF-Handgerät, erreichen den Wagen und werden über eine Fernsteuereinheit zum HF-Transceiver übertragen - und umgekehrt. Da auf diesem Wege auch APRS-Signale gesendet werden, ist der Portabel-TRX mit einer kleinen Extra-Box versehen, die eine GPS-Empfängereinheit (GlobalSat/NaviLock EM-411) und ein TinyTrak SMT APRS-TX-Modem enthält. Seit 2009 benutzte ich auch Yaesu VX-8R mit GPS-Units und APRS, sehr schöne Teile, wenngleich eine kleine Verbesserung nötig war: Mit der GPS-Unit montiert ist der Schwerpunkt der Geräte viel zu hoch für die originalen Gürtelclips (oh Yaesu?/Vertex?/Standard?, wie blamabel!) - so habe ich dann einige längere Gürtelclips selbst hergestellt.



Det förekommer att ett QSO börjar långt borta från bilen på en båt- eller fottur med en VHF/UHF-handapparat, når sedan bilen, där en fjärrstyrningsenhet kopplar signalen upp till HF-transceivern - och tvärtom. Därför att även APRS-signaler sänds ut på den vägen, är handjagaren försedd med en liten extra-box, som innehåller en GPS-mottagare (GlobalSat/NaviLock EM-411) samt en TinyTrak SMT APRS-TX-modem. Sedan 2009 använde jag även Yaesu VX-8R med GPS-enhet och APRS, mycket avancerade prylar, fastän en små föbättring blev nödvändig: Med GPS-enheten monterad är tyngdpunkten mycket för hög för de originala bältesklips (oh Yaesu?/Vertex?/Standard?, vilken blamage!) - så gjorde jag ett par längre bältesklips själv.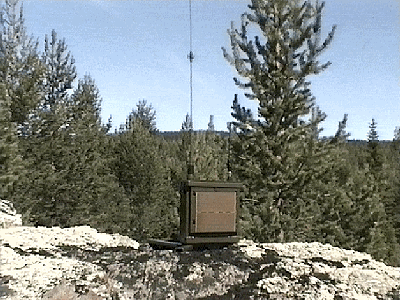 If the distances to the car get too long for direct VHF/UHF contacts, a portable transponder can be set up at a suitable place in the region. The weather proof portable transponder makes 2 x full duplex on VHF/UHF, includes a big battery pack and solar cells, so that it can work without service over several days.



Wenn die Entfernungen zum Wagen für direkte VHF/UHF-Kontakte zu groß werden, kann ein portabler Transponder an geeigneter Stelle in der Umgebung platziert werden. Der wetterfeste Portabel-Transponder macht 2 x Vollduplex auf VHF/UHF, beinhaltet ein großes Akku-Pack und Solarzellen, so daß er etliche Tage autark arbeitet.



När avståndet till bilen blir för långt för direkta VHF/UHF-kontakter, kan en portabel transponder bli satt upp på ett lämpligt ställe i terrängen. Den vädertåliga portabel-transpondern gör 2 x full duplex på VHF/UHF, innehåller ett stort akku-paket samt solceller, så att den fungerar utan tillsyn i flera dygn.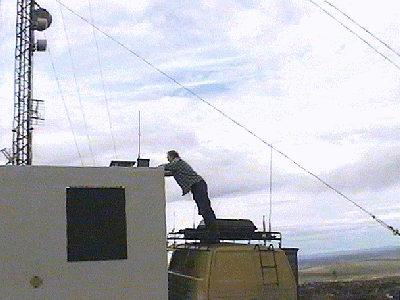 Though the transponder is mainly used on a hill somewhere in the forest, it has even worked at special places: Here it's being installed at a land mobile station near the finnish-russian border.



Obwohl der Transponder meist auf einem Hügel irgendwo im Wald benutzt wird, hat er auch schon an einigen besonderen Plätzen gearbeitet: Hier wird er an einem Land-Mobil-Standort nahe der finnisch-russischen Grenze aufgestellt.



Fastän transpondern drivs mest på någon kulle i skogen, har den redan varit i gång på ovanliga platser: Här installeras den på en land-mobil station nära den finsk-ryska gränsen.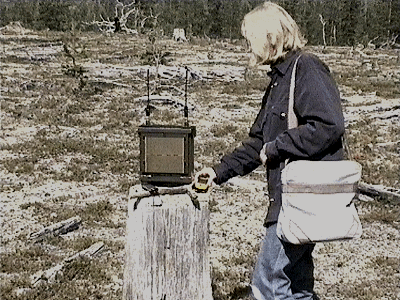 It has never been lost until now. No bear took it away as his new toy.



Er ist bisher nie verloren gegangen. Kein Bär hatte ihn als neues Spielzeug mitgenommen.



Den har alltid funnits kvar på plats. Ingen björn hade tagit den med sig som ny leksak.






---
ELECTRICITY - GENERATORS
---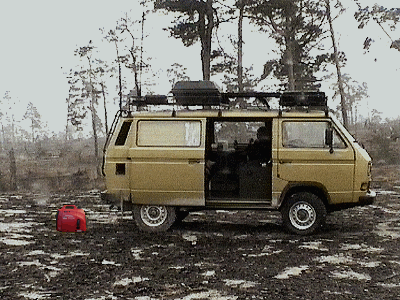 Even if the car is electrically well-equipped, with 90 A generator, 320 Ah batteries, and 120 W solar panel, it's good to have a small generator as backup, especially in winter. In 2006, I bought a chinese generator, a KIPOR SINEMASTER KGE 1000 TI. The advantage: it was cheap - the disadvantage: it was not really 100% reliable.
The link below shows some improvements I made at the KIPOR generator...



Obwohl der Wagen elektrisch gut ausgerüstet ist, mit 90 A Lichtmaschine, 320 Ah Batterien und 120 W Solarpanel, ist es gut, einen kleinen Generator als Reserve zu haben, besonders im Winter. 2006 kaufte ich einen chinesischen Stromerzeuger, einen KIPOR SINEMASTER KGE 1000 TI. Der Vorteil: er war preiswert - der Nachteil: er war nicht wirklich 100% zuverlässig. Der folgende Link zeigt einige Verbesserungen, die ich an dem KIPOR Generator durchgeführt habe...



Trots att bilen har en bra elektrisk utrustning, med 90 A generator, 320 Ah batterier, samt 120 W solarpanel, är det bra att ha en liten generator som reserv, särskilt under vintern. 2006 köpte jag en kinesisk generator, en KIPOR SINEMASTER KGE 1000 TI. Fördelen var det låga priset - nackdelen var att den inte var 100% pålitlig. Länken nedan visar några förbättringar som jag genomförde på KIPOR generatorn...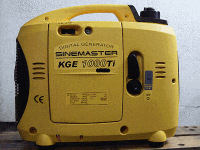 KIPOR KGE 1000
Since 2014 a HONDA EU 10I is in use, with clearly better reliability...



Sit 2014 ist ein HONDA EU 10I in Benutzung, mit deutlich besserer Zuverlässigkeit...



Sedan 2014 används nu en HONDA EU 10I, med tydligt bättre pålitlighet...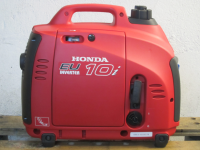 ---
DF8HL HOMEPAGE
---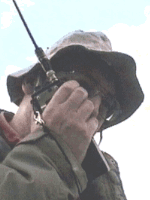 DF8HL HOMEPAGE