PICTURES 2011


BILDER 2011


BILDER 2011




In early March most of the sea in Karlskrona Skärgård is still frozen...


Anfang März ist das Meer im Karlskrona Skärgård noch überwiegend zugefroren...


I början av mars är havsytan i Karlskrona Skärgård övervägande täckt av is...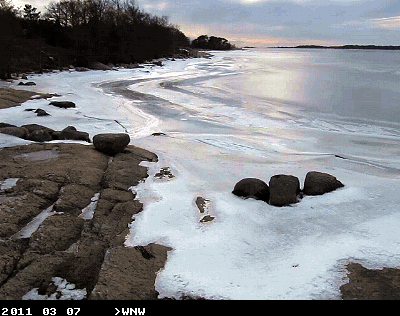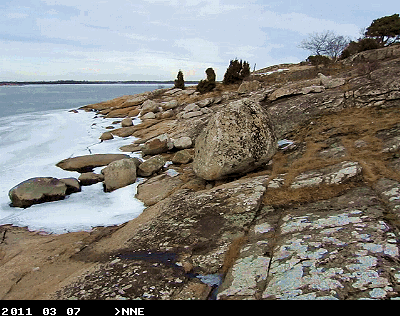 Whereas most of the land is already free of snow...


Dagegen ist das meiste Land schon schneefrei...


Landet däremot är redan nästan snöfritt...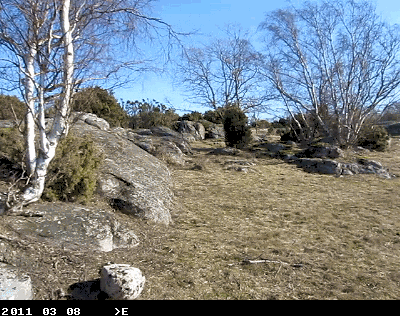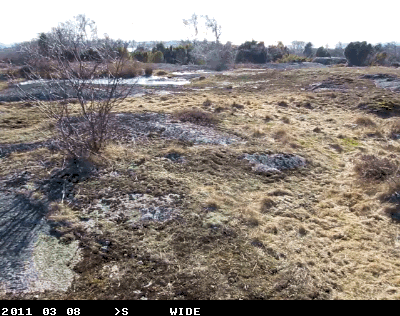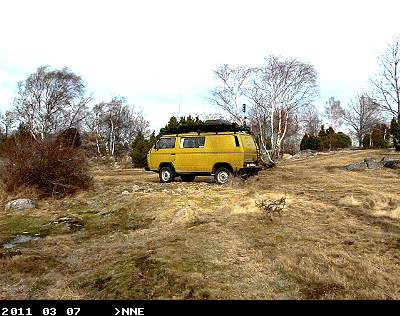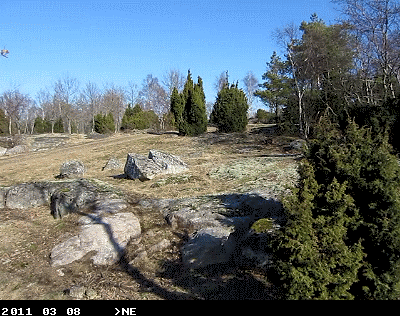 In the area of Karlskrona you'll find many military facilities, but most of them have lost their great importance after the end of the cold war...


Im Bereich von Karlskrona gibt es viele militärische Einrichtungen, aber die meisten haben ihre große Bedeutung nach dem Ende des kalten Krieges verloren...


I Karlskronatrakten finns många militäriska anläggningar, de flesta har dock tappat deras stor betydelse efter kalla krigets slut...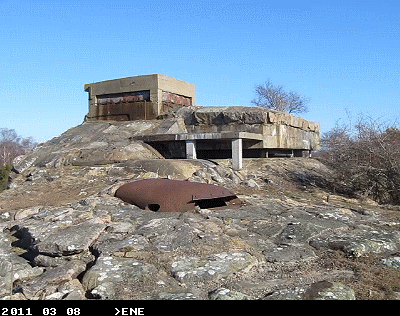 Hundreds of water birds have met on a small area of open water near the Gåsefjärden...


Hunderte Wasservögel haben sich auf einer kleinen Fläche offenen Wassers beim Gåsefjärden versammelt...


Hundratals vattenfåglar har infunnit sig på en liten yta av öppet vatten vid Gåsefjärden...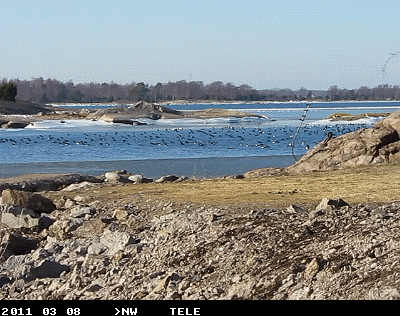 Evening impressions...


Abendimpressionen...


Kvällsimpressioner...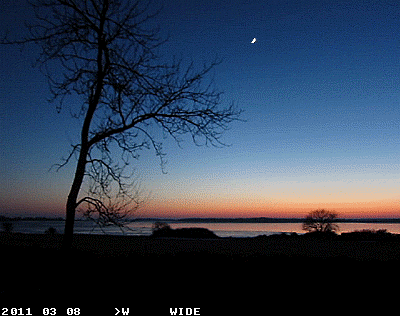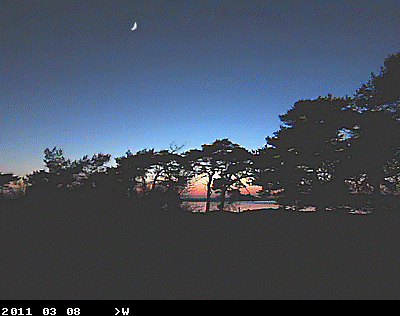 Our trip follows the coast of the Baltic Sea, here at one of our favourite places on Öland. On the car, our VW T3 Syncro 16", you see the actual version of mobile antennas for amateur radio, for more information have a look at DF8HL HOMEPAGE and at DF8HL RADIO RIG ...


Unsere Reise folgt der Ostseeküste, hier an einem unserer Lieblingsplätze auf Öland. Auf dem Wagen, unserem VW T3 Syncro 16", sieht man die aktuelle Version an Mobilantennen für Amateurfunk, nähere Informationen findest du auf DF8HL HOMEPAGE und auf DF8HL FUNKAUSRÜSTUNG ...


Vår resa följer Östersjökusten, här på en av våra favoritplatser på Öland. På bilen, vår VW T3 Syncro 16", syns den aktuella versionen av mobilantenner för amatörradio, närmare informationer hittar du på DF8HL HEMSIDA och på DF8HL RADIOUTRUSTNING ...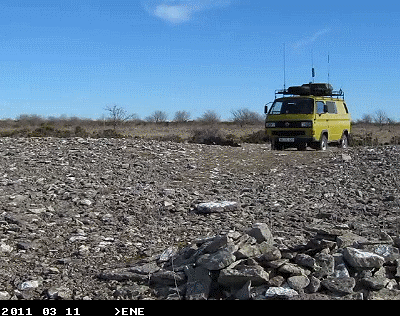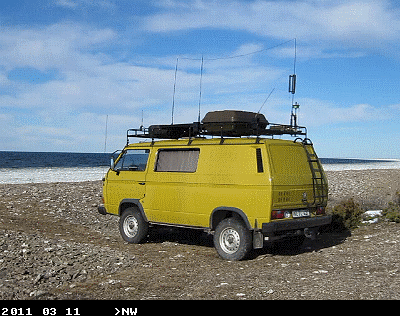 Later we follow the river Emån upstream into the inland...


Später folgen wir dem Fluss Emån aufwärts ins Inland...


Senare följer vi Emån upp till inlandet...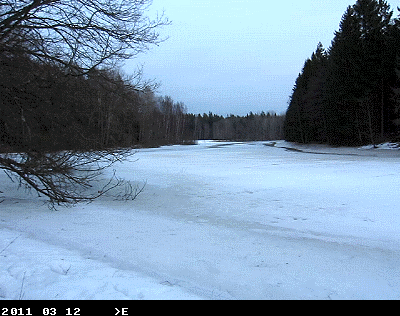 An excursion in a rocky region...


Ein Ausflug in einem Felsengebiet...


En utflykt i ett hällområde...



Our walk leads over a weak bridge over weak ice - to be crossed with care...


Unsere Tour führt über eine schwache Brücke über schwachem Eis - nur mit Vorsicht zu überqueren...


Vägen leder över en svag bro över svag is - en passage som krävs aktsamhet...



Another bridge (at Högsrum) - several centuries old but still in a better state...


Eine weitere Brücke (bei Högsrum) - einige Jahrhunderte alt und doch noch in besserem Zustand...


En annan bro (vid Högsrum) - flera hundra år gammal men ännu i bättre skick...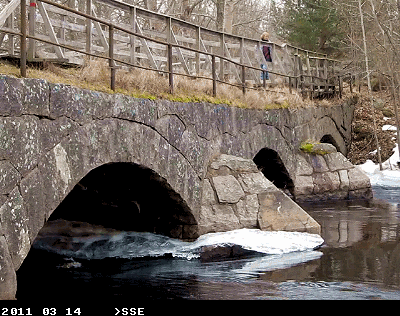 April brings warm spring days and we are in Dalsland again near a beautiful lake...


Warme Tage im April und wir sind wieder in Dalsland in der Nähe eines hübschen Sees...


Det är april med varma vårdagar och vi är en gång till i Dalsland i närheten av en fin sjö...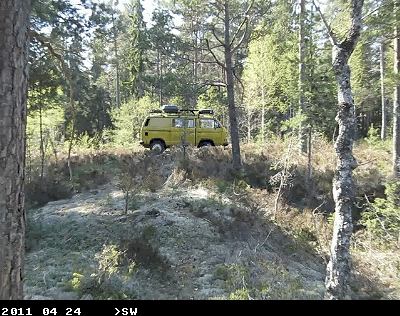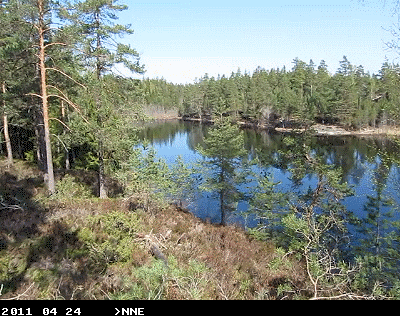 Several foot tours lead us through the surrounding area...


Etliche Fußtouren führen uns durch die Umgebung...


Ett flertal turer till fots leder oss genom omgivande trakter...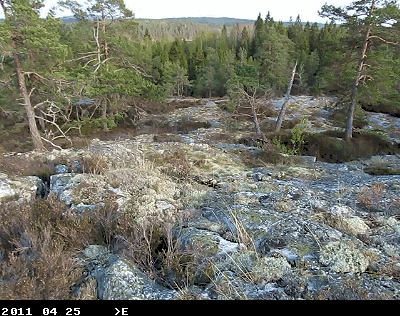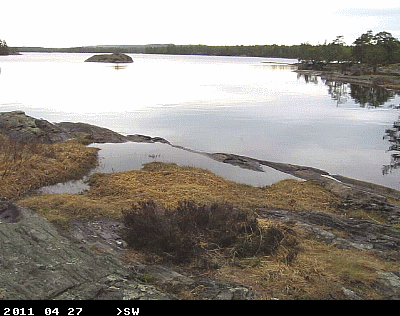 ..with a rest here and there...


..mit einer Rast hier und da...


..med en paus här och där...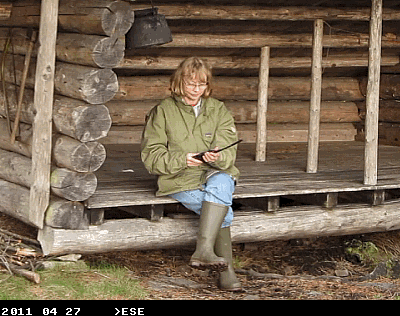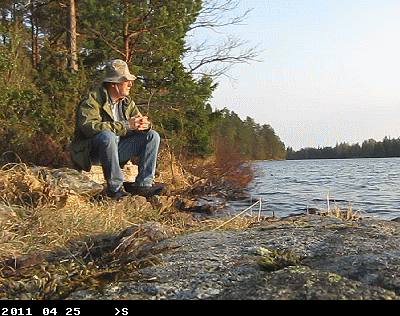 ..and a lot to discover...


..und vielem zu entdecken...


..och mycket att upptäcka...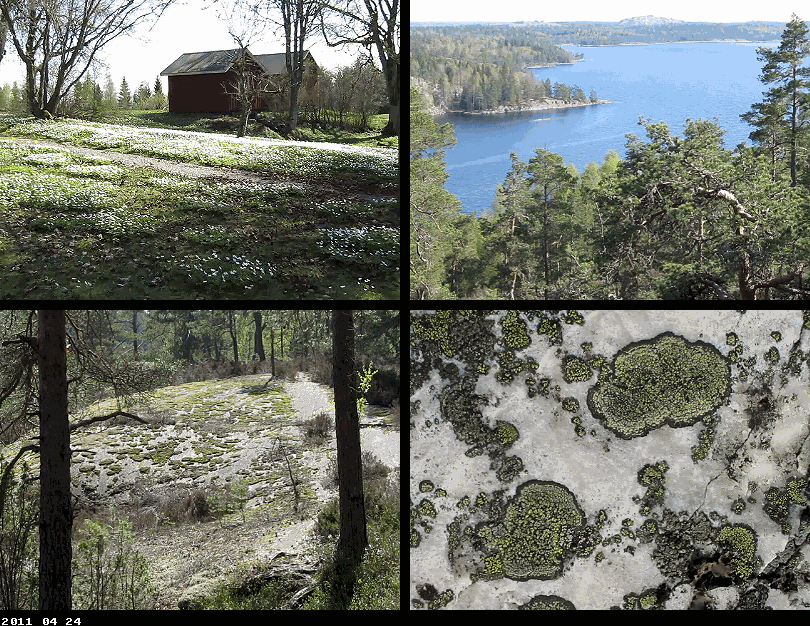 In the northeastern part of Tranemo kommun there is the small river Västerån...


Im nordöstlichen Teil der Gemeinde Tranemo gibt es den kleinen Fluss Västerån...


I den nordöstra hörnan av Tranemo kommun finns det lilla vattendraget Västerån...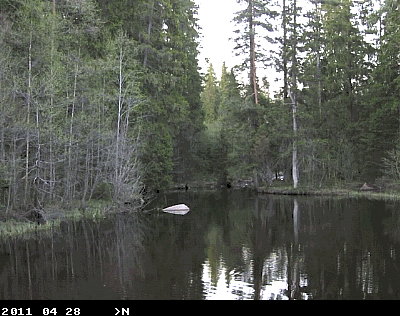 ..with the old mill facility Kvarnlyckan...


..mit der alten Mühlenanlage Kvarnlyckan...


..med den gamla kvarnanläggningen Kvarnlyckan...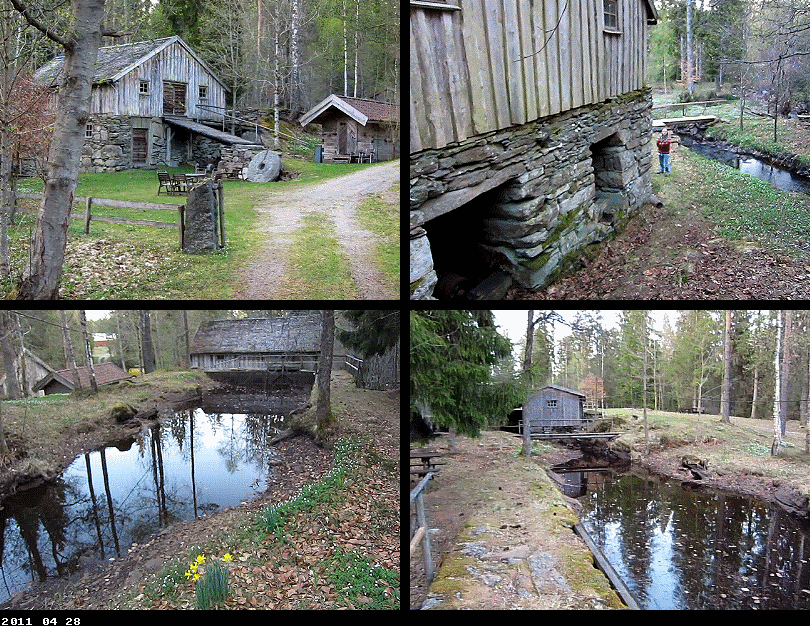 Now it is July and the radio car is on the road again...


Nun ist Juli und der Funkwagen ist wieder unterwegs...


Nu har det blivit juli och radiobilen är på väg igen...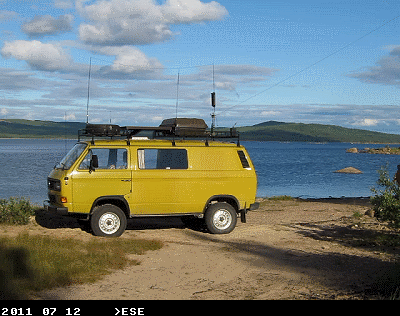 In the eyes of a radio amateur antennas are "art in nature"...


In den Augen eines Funkamateurs sind Antennen "Kunst in der Natur"...


I ögonen av en radioamatör är antenner "konst i naturen"...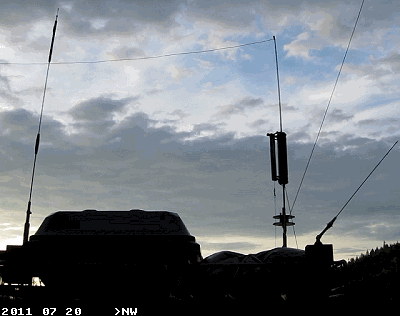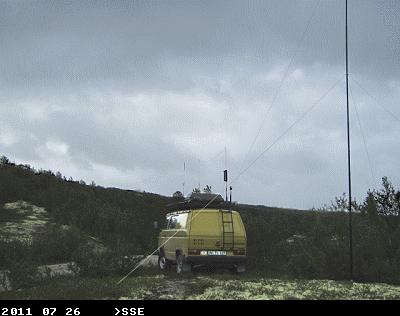 Right in the middle of a world of woods and water...


Mitten in einer Welt von Wald und Wasser...


Mitt i en värld av skog och vatten...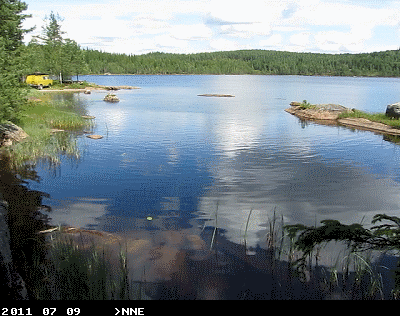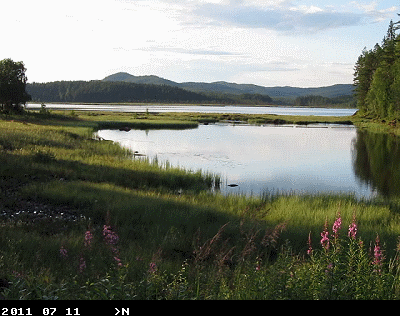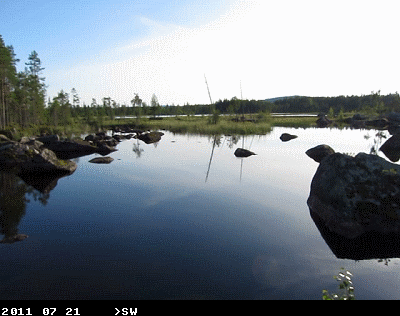 The boat takes us to places even further away...


Das Boot bringt uns zu noch entlegeneren Plätzen...


Båten tar oss till platser ännu längre bort...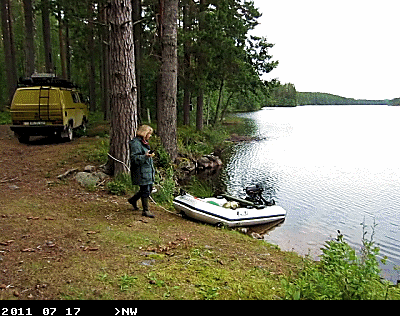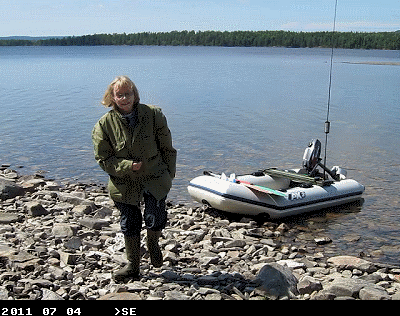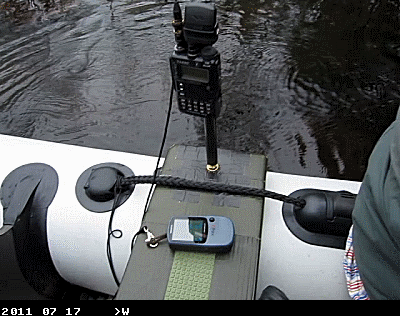 ..where we find remains of an early log drivers' cottage...


..wo wir Reste einer frühen Flößerhütte finden...


..där vi hittar rester av en tidig flottningskoja...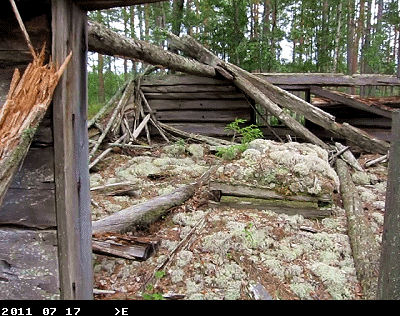 ..and end up in the beaver's empire...


..und landen im Reich des Bibers...


..och återfinner oss i bäverns rike...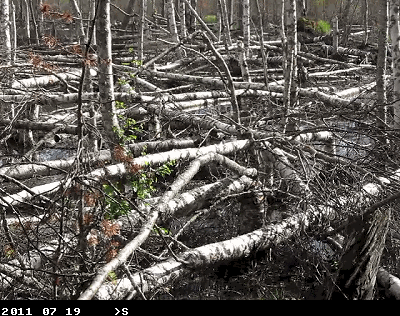 Views in the evening to the north over water are always fascinating...


Ausblicke am Abend nordwärts übers Wasser sind immer faszinierend...


Vyer på kvällarna mot norr över vatten är alltid fascinerande...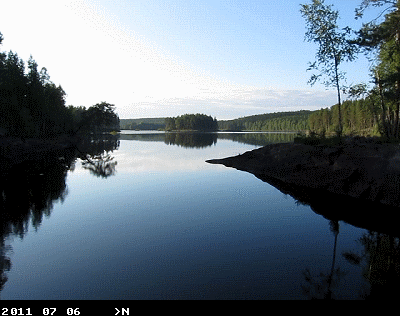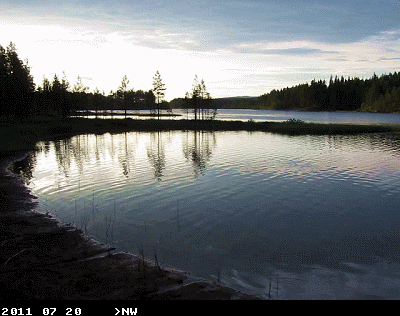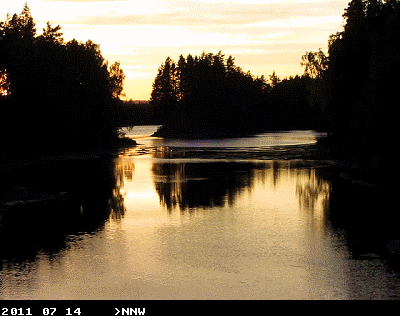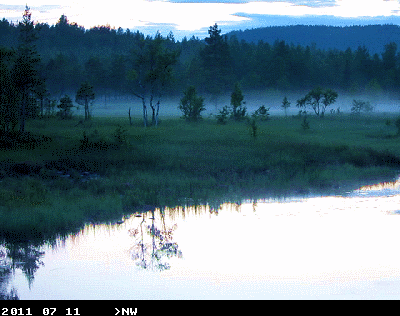 On an excursion by foot we visit a very remote old farm...


Auf einer Exkursion zu Fuß besuchen wir einen sehr abgelegenen alten Hof...


På en exkursion till fots besöker vi en mycket avlägsen gammal gård...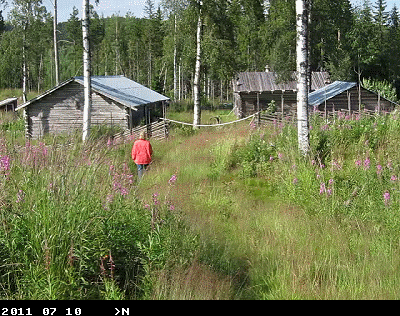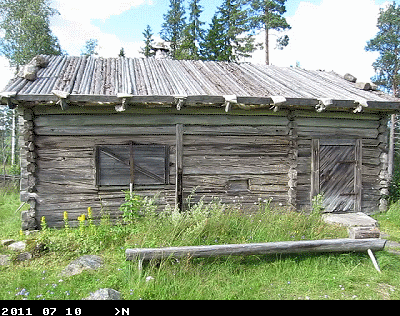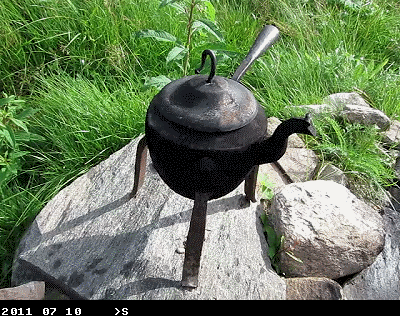 Several days of rain in Härjedalen - good to have four wheel drive on the small ways...


Mehrere Tage Regen in Härjedalen - auf den kleinen Wegen ist dann Allradantrieb gut...


Flera dagar med regn i Härjedalen - bra att ha fyrhjulsdrift på småvägarna...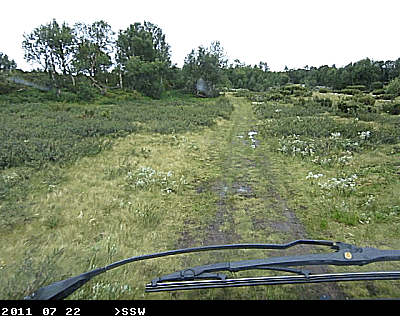 We drive to the other side of the mountain range, to Norway, where the weather is fine...


Wir fahren auf die andere Seite der Bergkette, nach Norwegen, wo das Wetter schön ist...


Vi kör till andra sidan av fjällkedjan, till Norge, där vädret är fint...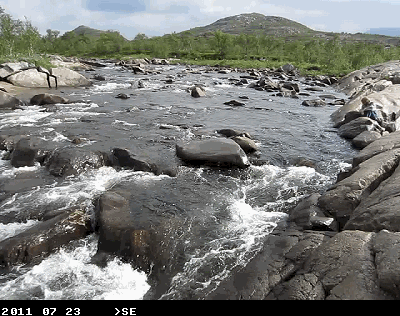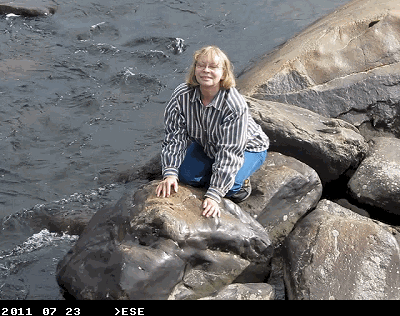 Wide mountain areas...


Weite Gebirgslandschaft...


Vidsträckta fjällområden...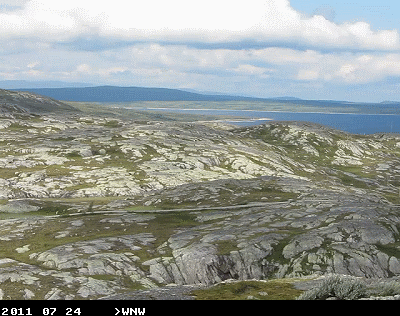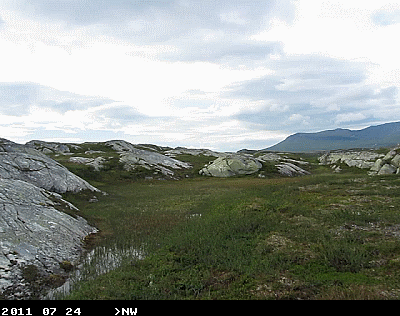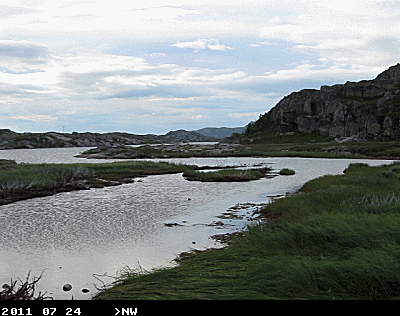 One night we see a reindeer herd which is passing through a flooding ford...


Eines Nachts sehen wir eine Rentierherde, die eine strömende Furt passiert...


En natt ser vi en renhjord som tar sig över ett strömmande vadställe...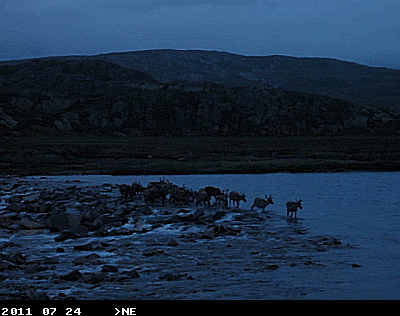 The day after: The water level has risen even more, and more reindeers are trying to get over - with dramatical scenes...


Am nächsten Tag: Das Wasser ist noch gestiegen, und weitere Rene versuchen herüber zu kommen - mit dramatischen Szenen...


Dagen därpå: Vattnet har stigit ännu mer, och fler renar försöker att ta sig över - med dramatiska scener...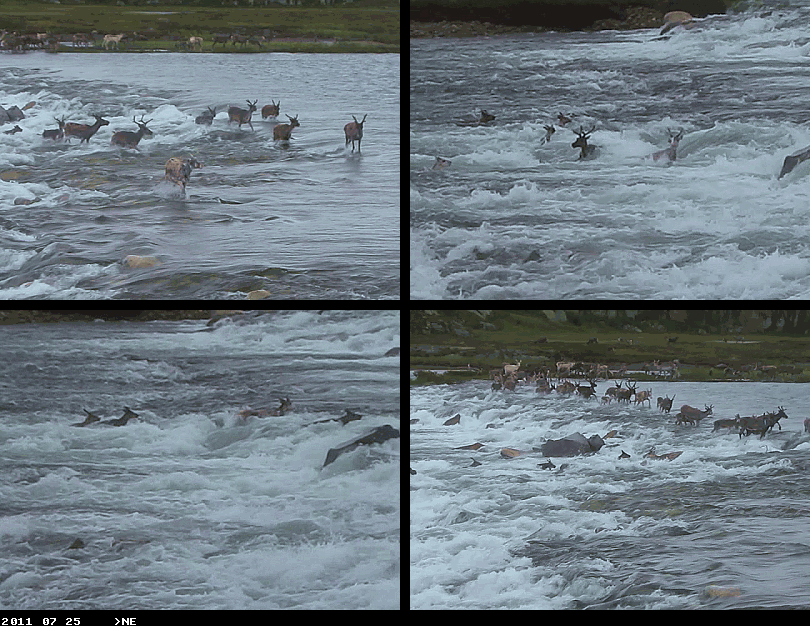 But miraculously: In the end even the last cow with calf reaches the shoreline undamaged...


Aber wie durch ein Wunder: Schließlich erreicht auch die letzte Kuh mit ihrem Kalb wohlbehalten das Ufer...


Men som ett under: Till slut når även den sista kon med sin kalv välbehållen strandkanten...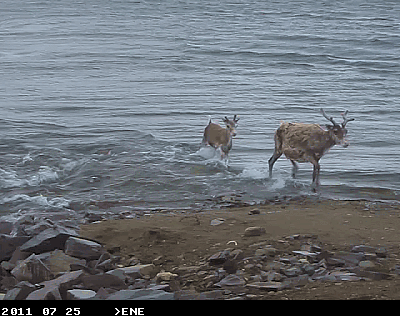 Grådalen (the grey valley) - which got its name because of the large areas of reindeer moss...


Grådalen (das graue Tal) - das seinen Namen wegen der großen Flächen mit Rentiermoos erhalten hat...


Grådalen - som fått sitt namn pga dess vidsträckta ytor med renlav...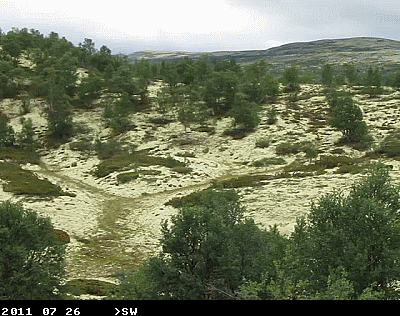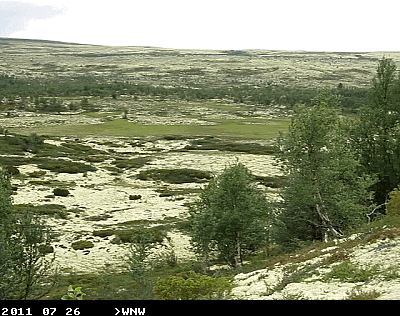 Finally we are back in Sweden - "at home"...


Schließlich sind wir zurück in Schweden - "zu Hause"...


Slutligen är vi i Sverige igen - "hemma"...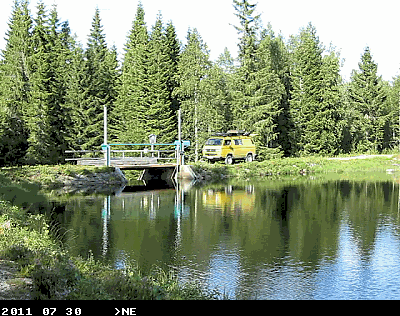 Farewell from a wonderful journey - the coast of Bohus...


Abschied von einer herrlichen Reise - die Bohusküste...


Avsked från en härlig resa - Bohuskusten...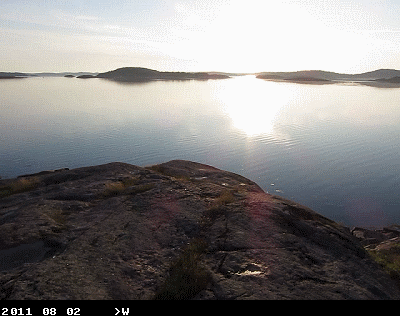 In October we visit a small hydropower plant at the river Flatån, built in 1914. The dam has several locks, one of them constructed for timber transport and another one is the start point of a big tube, which leads the water over a distance of 500 m and a height difference of 15 m to the generator building with 2 turbines/generators of totally 400 kW...


Im Oktober besuchen wir ein kleines Wasserkraftwerk am Fluss Flatån, gebaut 1914. Der Damm hat mehrere Tore, eines konstruiert für das Flößen von Holz, ein anderes mündet in einer großen Röhre, die das Wasser über eine Strecke von 500 m und ein Gefälle von 15 m zum Generatorgebäude leitet, mit 2 Turbinen/Generatoren von insgesamt 400 kW...


I oktober besöker vi ett mindre vattenkraftverk vid Flatån, byggt 1914. Dammen har flera luckor, varav en är konstruerad för flottningen, en annan mynnar i en stor tub, som leder vattnet över en distans av 500 m och en fallhöjd av 15 m till generatorhuset med 2 turbiner/generatorer med en sammanlagd effekt av 400 kW...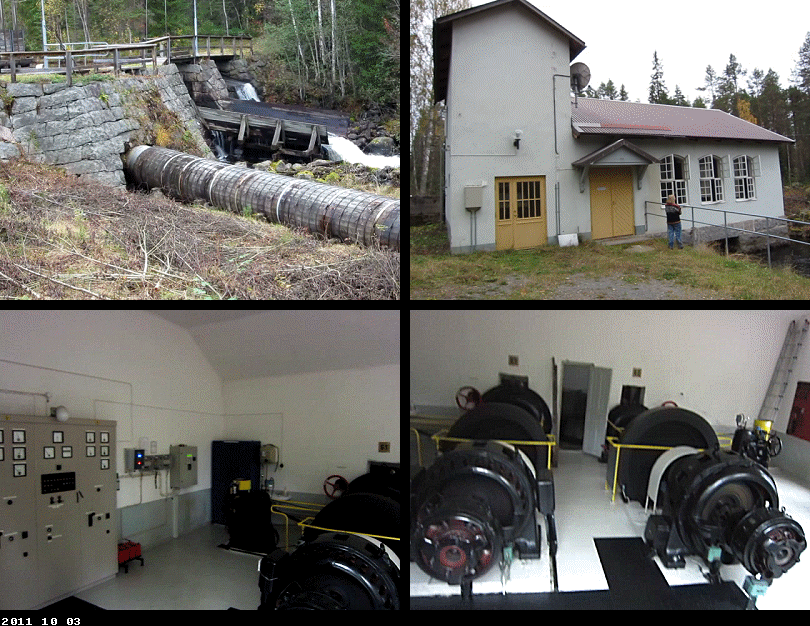 Further north, an evening at the river Björnån, at a place where stone walls hold most of the water in a small bed, while some of the water streams out and flows over flat rocks. If this would not be a timber floating facility from 1900, it could as well be a famous "art in nature" project from nowadays...


Weiter nördlich, ein Abend am Fluß Björnån, an einer Stelle, wo Steinmauern das meiste Wasser in einem schmalen Bett halten, während einiges Wasser ausströmt und über flache Felsen rinnt. Wäre dies keine Flößereinrichtung von 1900, könnte es auch ein berühmtes "Kunst in der Natur"-Projekt unserer Tage sein...


Längre norrut, en kväll vid Björnån, på ett ställe, där stenmurar håller det mesta vattnet i en smal bädd, medan lite vatten strömmar ut och rinner över flata hällar. Om detta inte vore en flottningsanläggning från 1900, kunde det även vara ett uppskattat "konst i naturen"-projekt från våra dagar...



Starting a walk at one of our favourite places...


Aufbruch zu Fuß an einem unserer Lieblingsplätze...


Uppbrott till fots på en av våra favoritplatser...




In the Fågelsjö-region we visit a canal from the timber floating period, called "Stenkanalen", which shortens the way through a widespread lake area. We even find remnants of a wooden bridge and of a cabin placed nearby. On the last picture you see the abutment of the bridge on the opposite side of the canal, behind it on the left is the pedestal of the fire place, at the right between the trees lies the forge...


In der Fågelsjö-Gegend besuchen wir einen Kanal aus der Flößerzeit, genannt "Stenkanalen", eine erhebliche Abkürzung in einem weitgestreckten Seengebiet. Dabei entdecken wir auch Reste einer alten Holzbrücke und die einer ehemaligen Hütte in der Nähe. Auf dem letzten Bild sieht man das Brückenwiderlager auf der anderen Seite des Kanals, dahinter links den Sockel der Feuerstelle und rechts zwischen den Bäumen liegt die Esse...


I Fågelsjö-trakten uppsöker vi en kanal från flottningstiden som kallas "Stenkanalen". Där hittar vi även rester av en gammal spång samt av en koja som stod intill. På den sista bilden ser man brofästet på andra sidan av kanalen, i vänstra bakgrunden står eldstadens fundament, på högra sidan mellan träden ligger rökfångeren...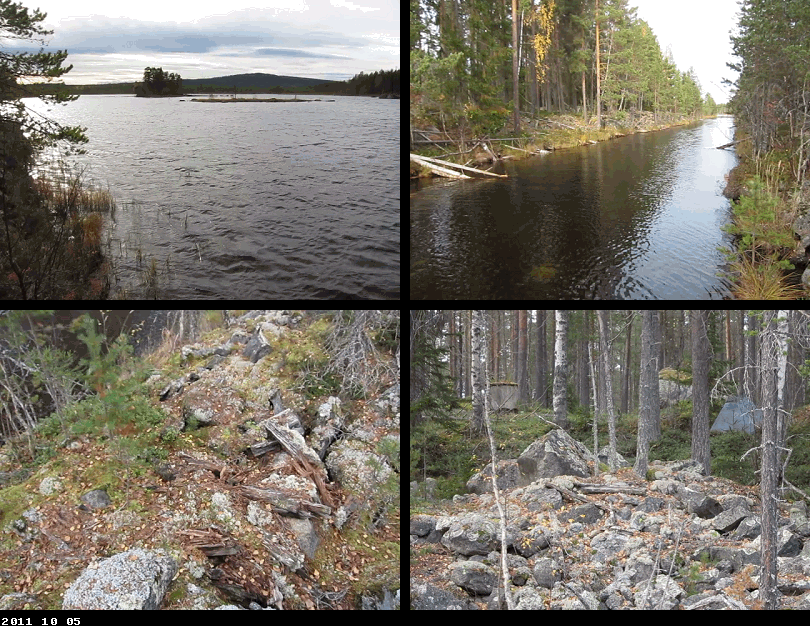 Later I find an old map, "Ekonomiska Kartan" with a background arial photo from 1952, © RAK 1958, which shows the bridge and the cabin and even more...


Später finde ich eine alte Karte, "Ekonomiska Kartan" mit einem Hintergrund-Luftbild von 1952, © RAK 1958, welche die Brücke zeigt und die Hütte und noch mehr...


Senare hittar jag en gammal karta, "Ekonomiska Kartan" med en bakgrundsflygfoto från 1952, © RAK 1958, som visar spången och kojan och ännu mer...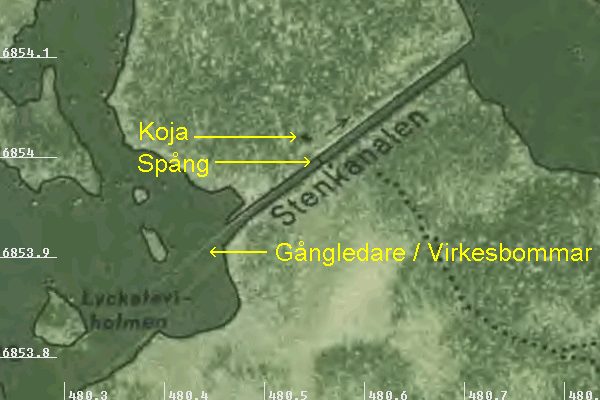 A sunny afternoon in western Härjedalen...


Ein sonniger Nachmittag im westlichen Härjedalen...


En solig eftermiddag i västra Härjedalen...